Emma Howell
15 November, 2021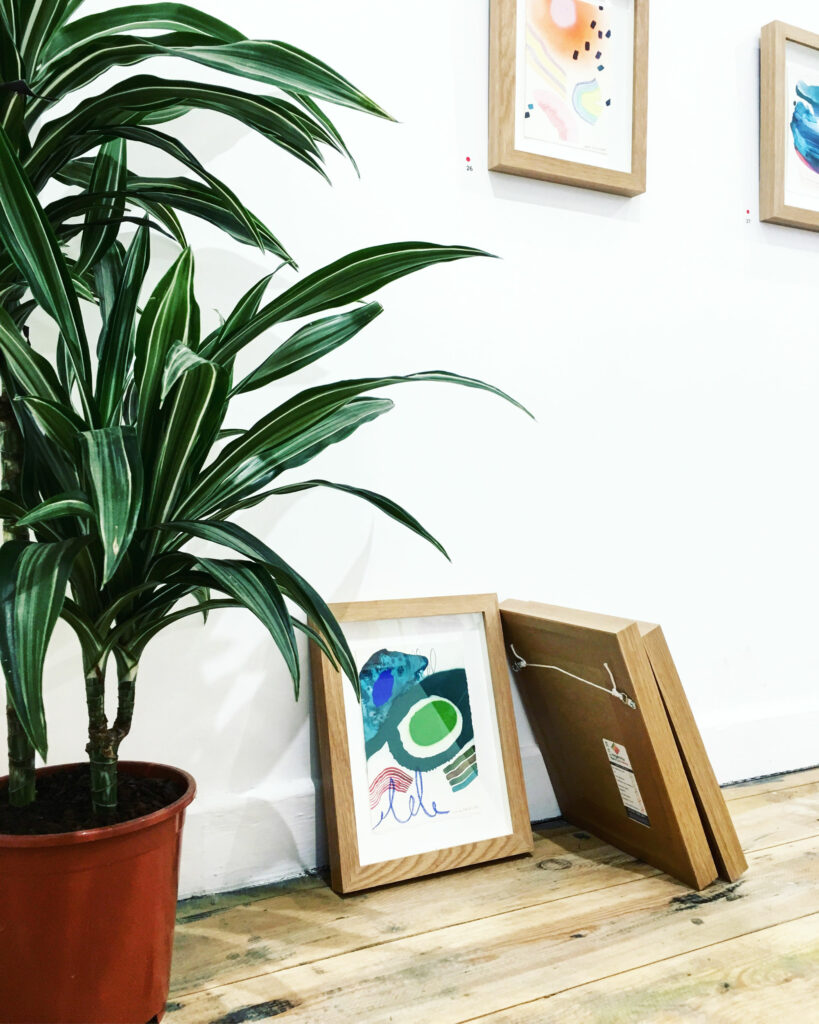 It's safe to say that Emma Howell artwork has explored a variety of avenues throughout the last four years; it has climbed mountains, dived down holes, traipsed through lagoons and road-tripped down highways. It's hard to see where it's headed, but I've no doubt it will continue to take you on more visual adventures in 2022.
As a prerequisite for my last collection of 2021, Fin, here is a throwback post to take you through the art collections created during the last four years.
The How Series (2018)
The How Series is comprised of 75 small original works on paper. Since 2018, this body of work has acted as a point of reference for other works, like a visual dictionary. Each piece is developed by deconstructing colours, marks and textures recorded in my sketchbooks and journals. The very first 10 paintings in this series debuted at my first solo show, Homegrown. For my watchers, this series is to remind you that there is more than one way to view the world.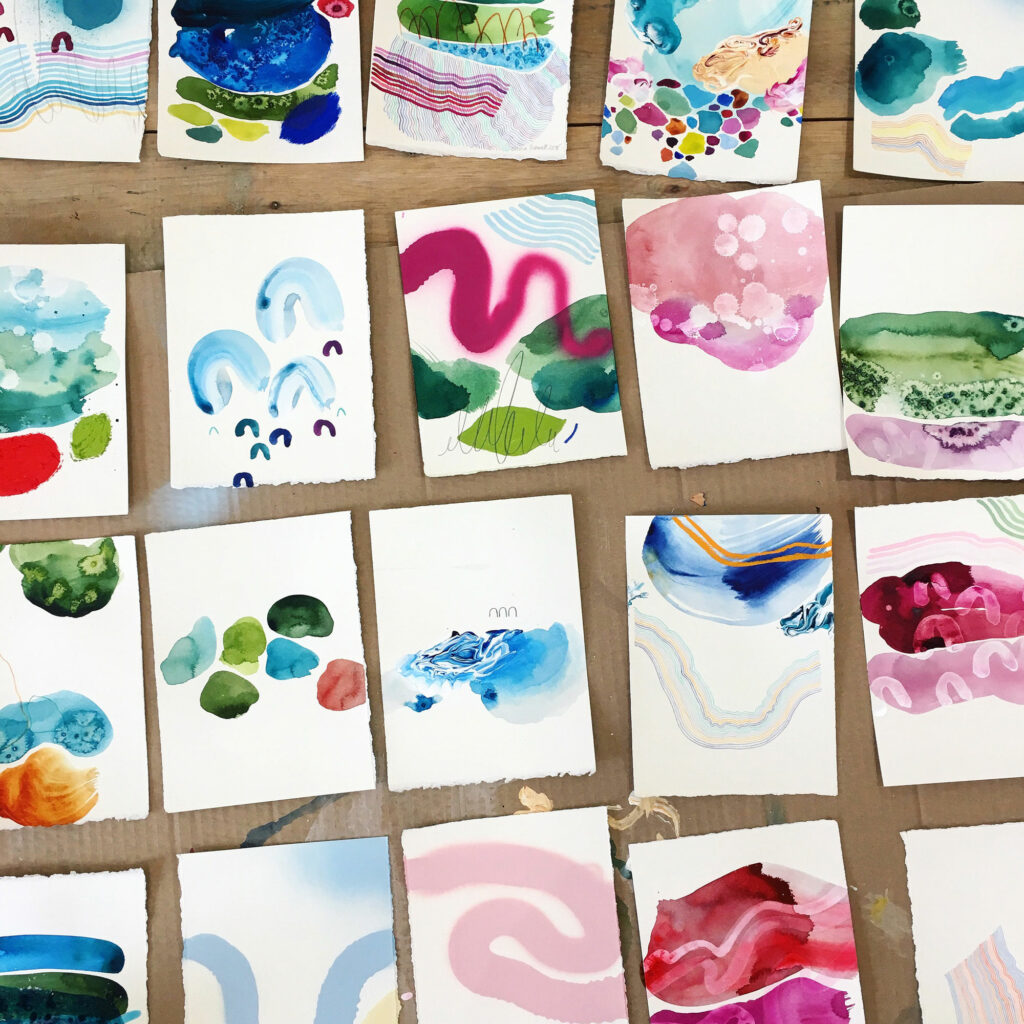 Homegrown (2018)
Homegrown was the harvest from 18 months of healing after I lost my Dad; it is evidence of rebuilding a new life without him and an attempt to view the world in a better light. Within each work, a quick corkscrewed scribble could be a sudden gust of wind or a rush of spontaneity; a bright block of colour is there to steal your gaze, induce a feeling or give a nod to a certain place – perhaps a field, the sky or a riverbank; repeated lines are meditative therapy, feeling bored or an environmental characteristic – like the flow of a river, rows of flowers or the jagged shape of a hill. These works made their debut at my first solo show, 'Homegrown', which was very kindly sponsored by Hobbycraft.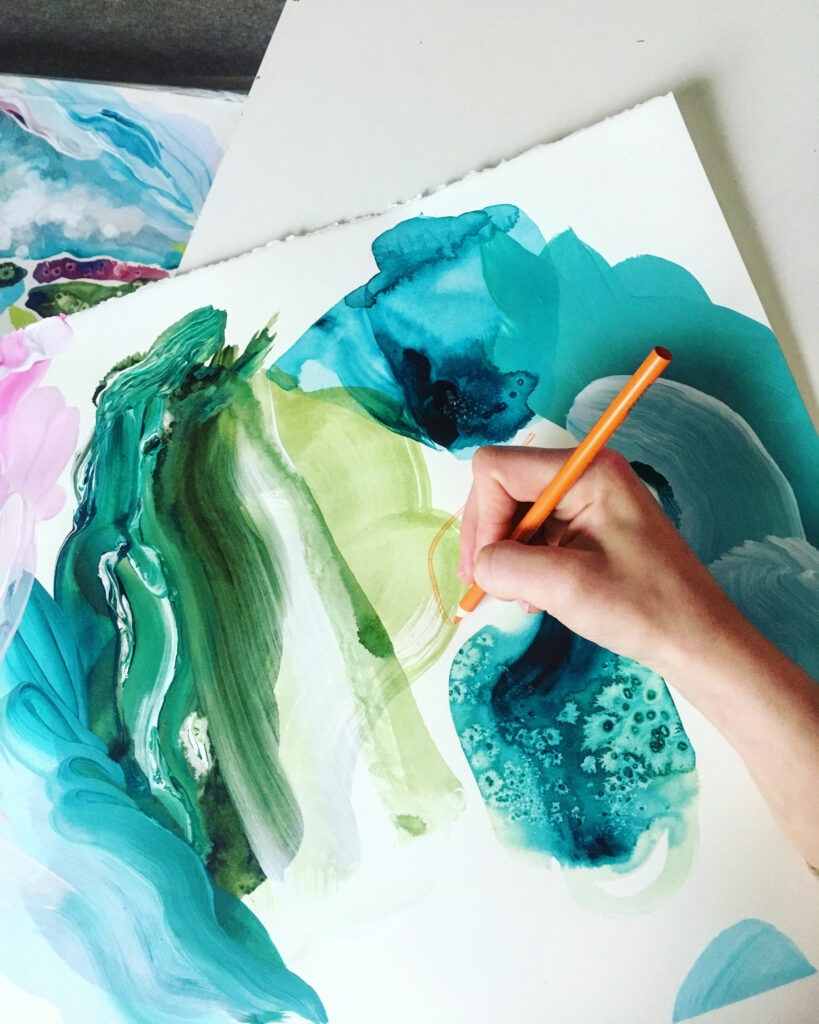 The 1320 Miles Series (2019)
On the long road from Washington D.C. to Nashville (and back again), I gave myself the challenge to create a small series of work with only pencil and paper. As I sat in the passenger seat of our borrowed Honda Civic, 12 dainty artworks slowly came to life during the two 12 hour drives. A variety of hues, shapes and compositions were taken from landscapes, weather, road signs, mountains, conversations, gas stations etc. and evolved onto delicate pieces of paper. With nothing to lean on but the back of my mobile phone, I somehow managed to develop an entire collection to represent this unforgettable adventure and to pay tribute to a stunning country.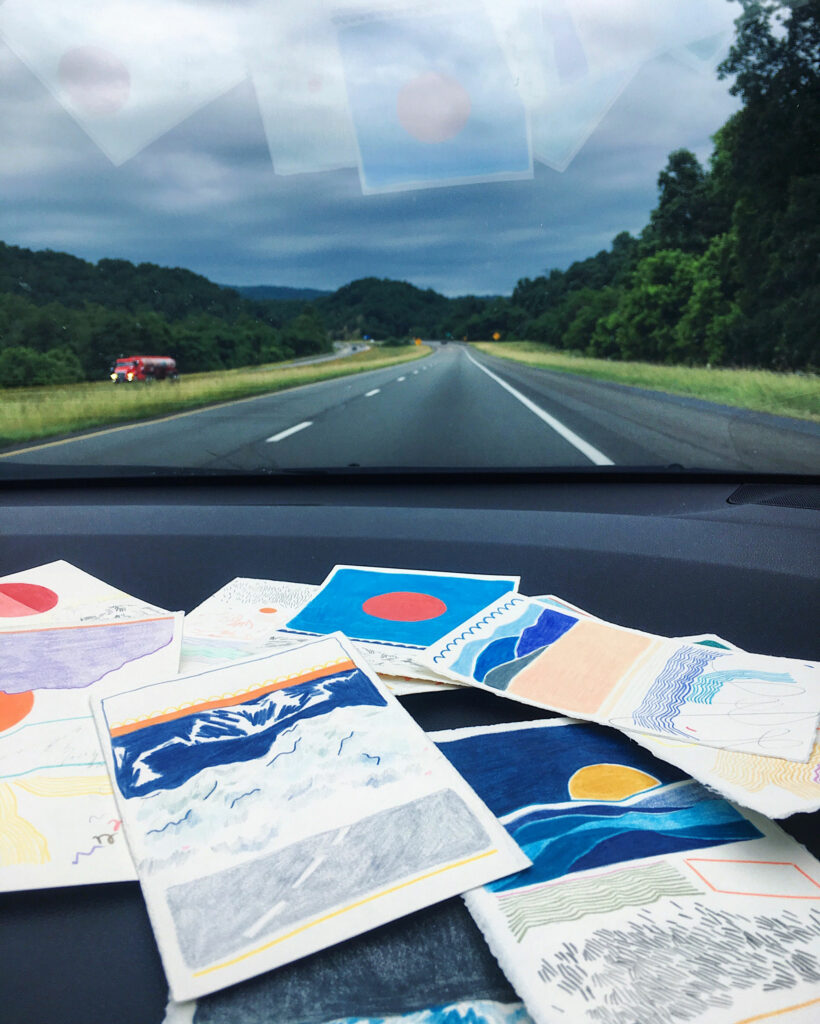 Some Adventures (2019)
These adventures on paper are a sequel to The 1320 Miles series. Rock formations, flowing water, huge moons, opulent forests and nighttime hues come together to form a collection of organic artworks that celebrate all that mother nature gives us.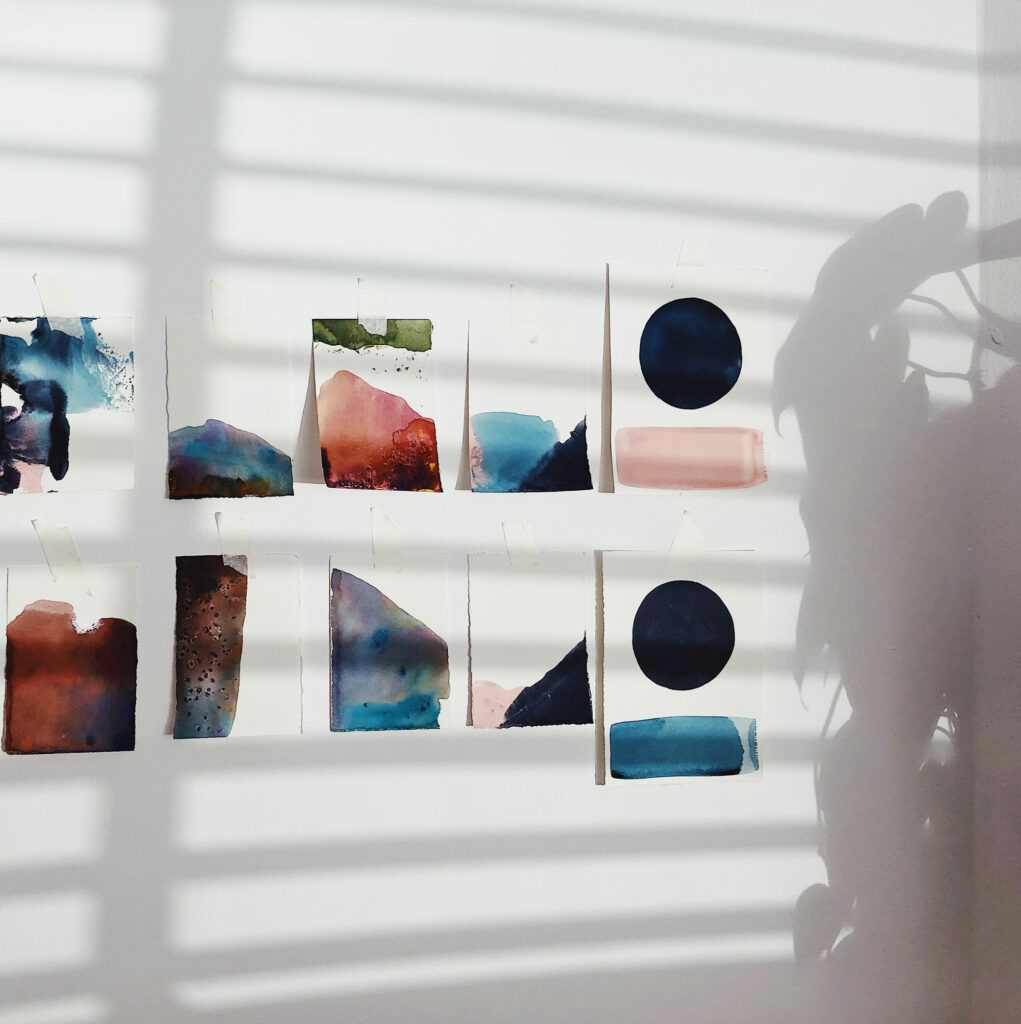 The Moon Series (2019)
This reflective series of moon paintings exhibited in Fragile Nature, a group exhibition at Groundwork Gallery, Norfolk. The exhibition featured myself, Lotte Scott, Elspeth Owen and Paca Sanchez, and focused on the delicacies of nature by bringing together our organic and diverse practices.
Viewing The Moon Series is a moment to take a step back from the fast pace of life. It's about observing the landscape, listening to the whistling wind, staring at the moonlight, taking a moment. Light and shapes observed during the blood moon in January 2019 catalysed the conception of this symbolic series.
Three of the moons are currently exhibiting at two local businesses, The Urban Meadow and Pea Green Physiotherapy Clinic.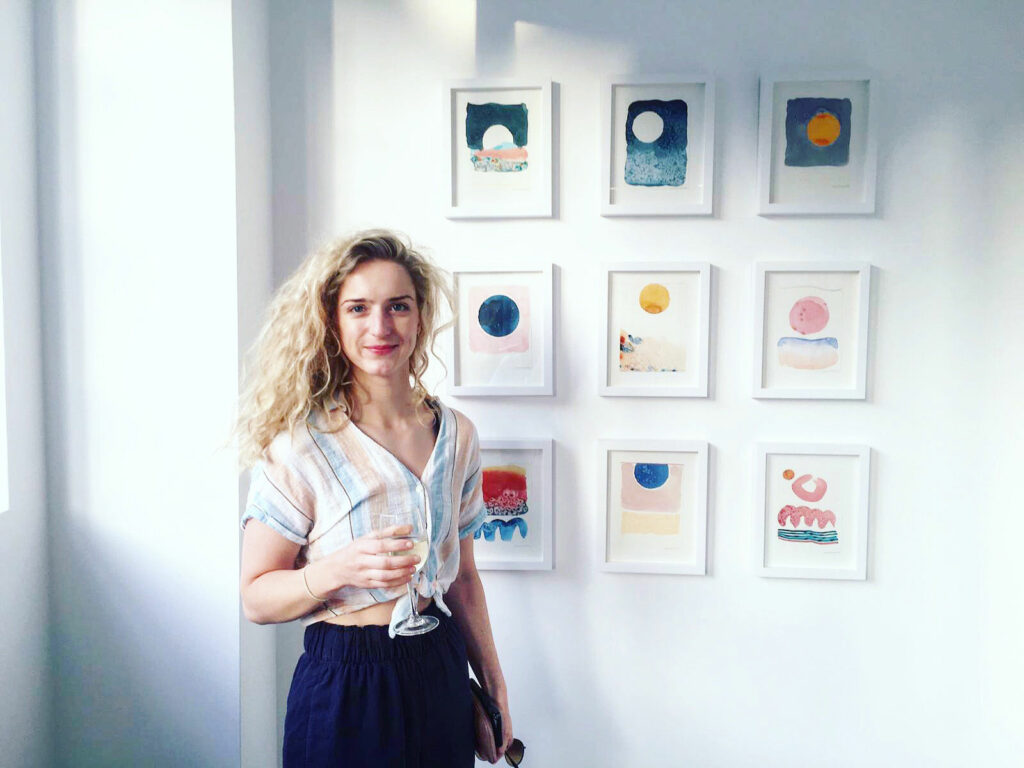 Raw Honey (2019)
Raw Honey is here to prove that something sweet can come out of trauma. 33 original paintings (on hot pressed paper and canvas) explore and evolve a plethora of perceptions experienced in 2019. Towering Greek mountains, a flooded 4×4, boxes of honey, rolling vineyards and a heated conversation all feature in this honest and adventurous collection.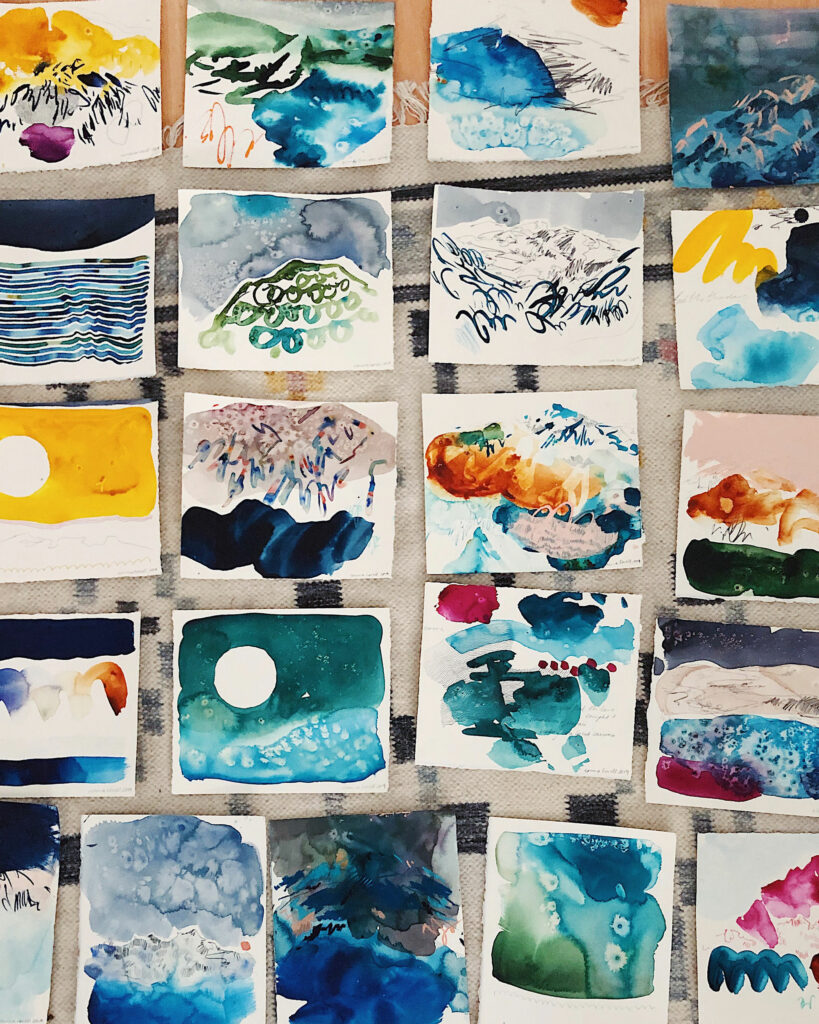 Mountain (2020)
The Mountain collection is here to pay tribute to the climb and descent of all our life mountains – physical and metaphorical. The physical mountain is jagged, dominant and kingly; an intimidatingly vast landform that is notedly one of the most striking views we experience. The metaphorical mountain is simply the challenge of life, the traumas we overcome and the meandering journey we embark upon to reach our goals. Colours, marks and textures you experience with this collection are sourced from both physical and mental landscapes.
Mountain was featured with Town & Country Magazine in April 2020.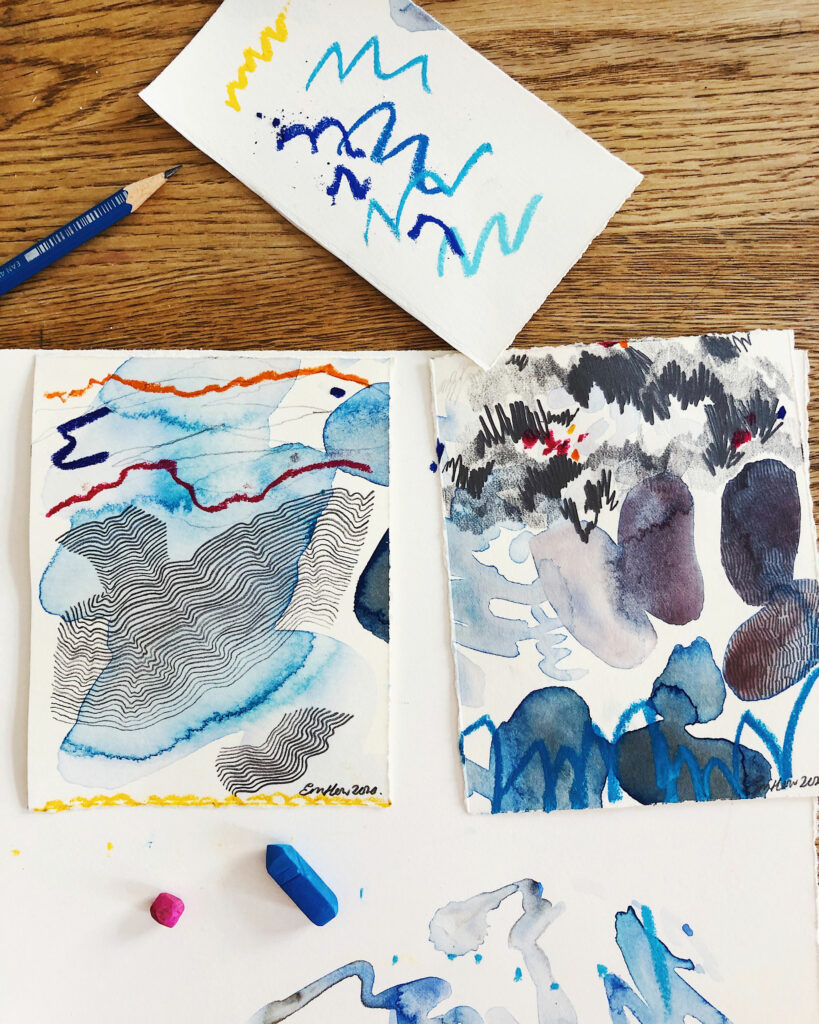 It'll Be Alright (2020)
It'll Be Alright, a bold and erratic collection, here to reveal spontaneous and emotive mental landscapes experienced after 47 days of the UK Coronavirus lockdown. Moments of enthusiasm, moments of self-expression, moments of loneliness, moments of frustration, moments of adventure.. It'll Be Alright takes you on a chaotic journey of impulsive creativity.
My fiancé, Jonathan, became a part of this collection. His mental mechanism is extremely different to mine. He's not particularly visual and has red-green colour blindness. Aside from this, he is a talented guitarist who channels his creative energy through music.
As Jonathan has – so far – had to endure 47 days of my artistic expression (aka mess) all over the kitchen and dining room, I've included him in this project by giving him the task to title all of the pieces.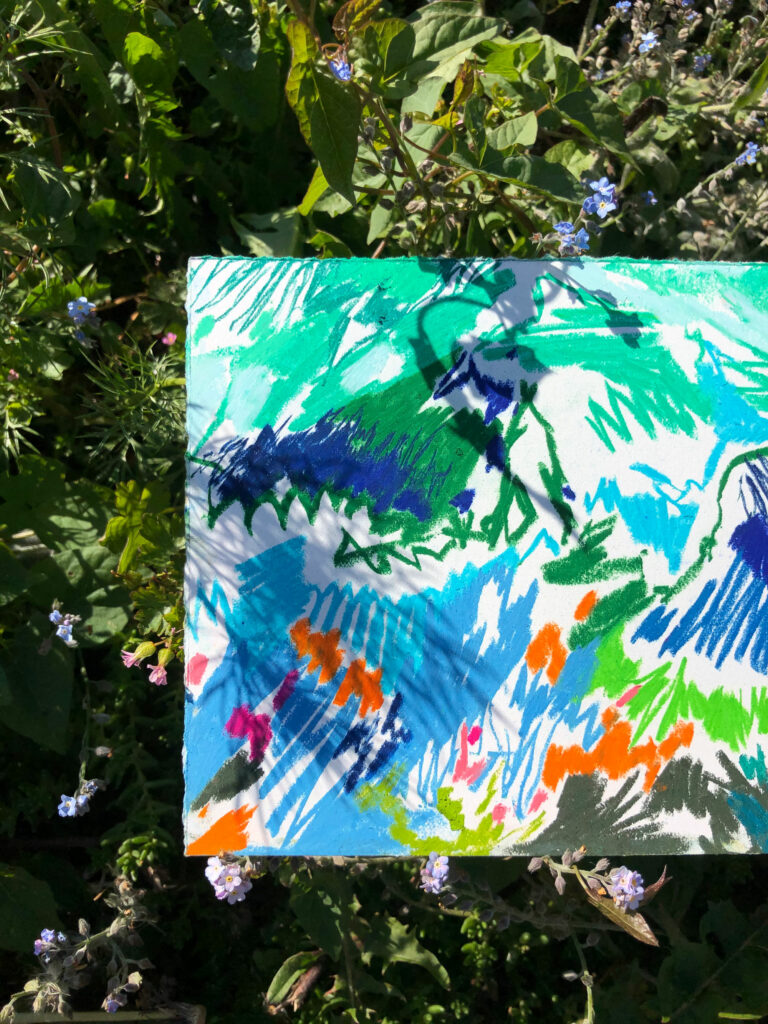 81 Wild (2020)
81 Wild, a 50-piece collection to visually take you to each state of America.
Aided by landscape descriptions submitted by my collectors and watchers around the world, these panoramic originals are an attempt to mentally, visually and creatively travel to the United States. Gathered words and images were abstractly translated onto paper, putting a spotlight on each state's landscapes – the weather, colours, textures, flora, fauna, sounds and culture.
This entire collection sold out in a matter of hours, making it my quickest selling collection to date.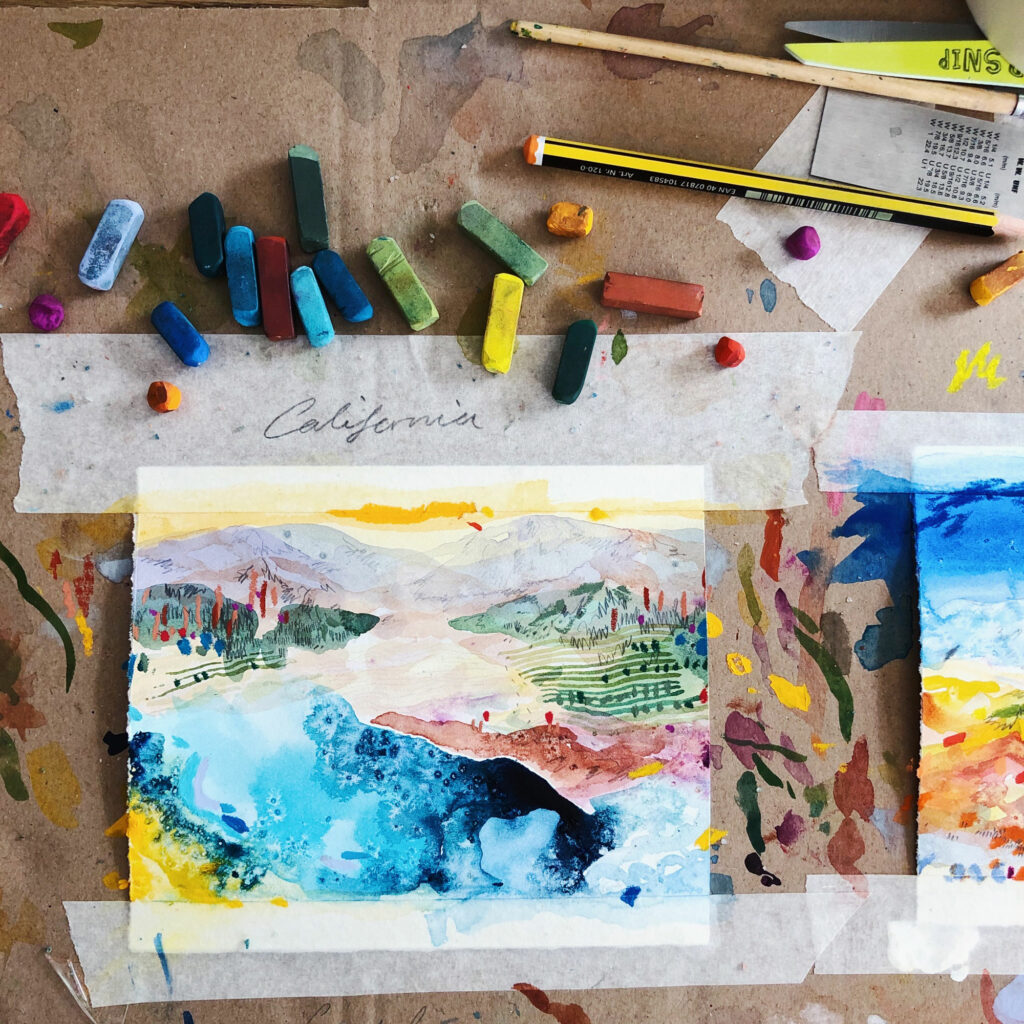 50 Paintings In 50 Days (2020)
Autumn of 2020, my Instagram watchers and collectors helped set the challenge of creating 50 paintings in 50 days. This exercise was the perfect opportunity to explore new styles and to take my practice down many different avenues, including still life, fauvism and gestural abstraction.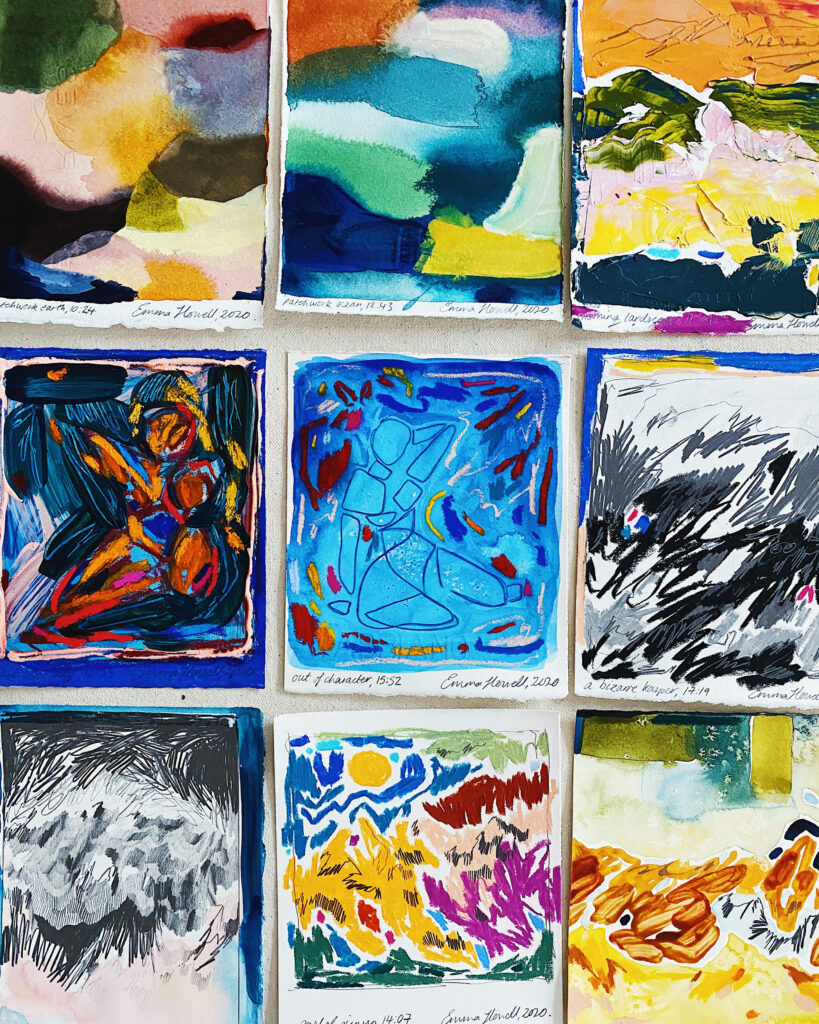 four year wild fire (2020)
Over the course of 4 months, the intense and eclectic pieces that make up four year wild fire evolved from words submitted to me by my audiences. In the summer of 2020, I asked my collectors, followers and watchers to submit stories, poems, songs, experiences, secrets and memories etc. with the intention to translate them into original abstract artworks. The first 3 years of my art practice was intense, full of my own grief and very me me me.. and four year wild fire was for me to take a breather from being in the spotlight. Instead, I switched on my ears, opened up my mind and put the spotlight on you. Next to each artwork, you will find snippets from the submitted words used to create that particular piece.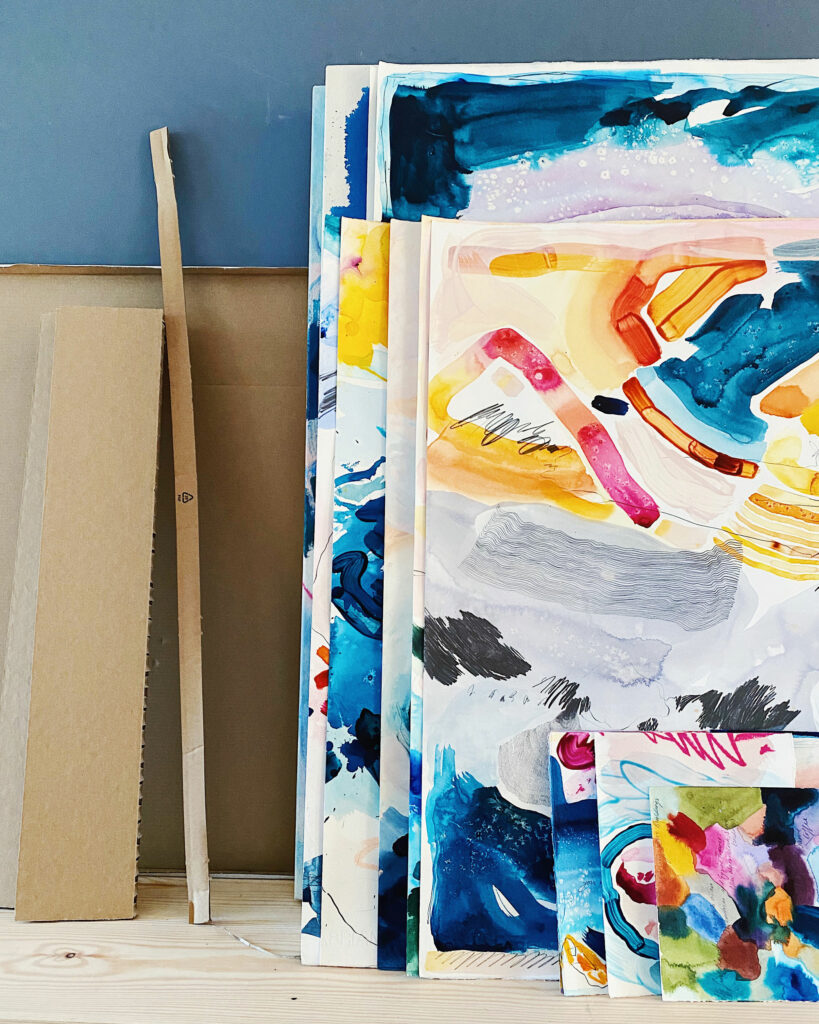 The 25 Mountain Project (2021)
Another artwork challenge to kickstart the new year of 2021, The 25 Mountain Project: one mountain every day for 25 days. Each mountain echoes an emotion, an experience or a particular sentiment linked to that day. May the mountain you collect remind you of the strength you've built over the last year and inspire you to keep on climbing.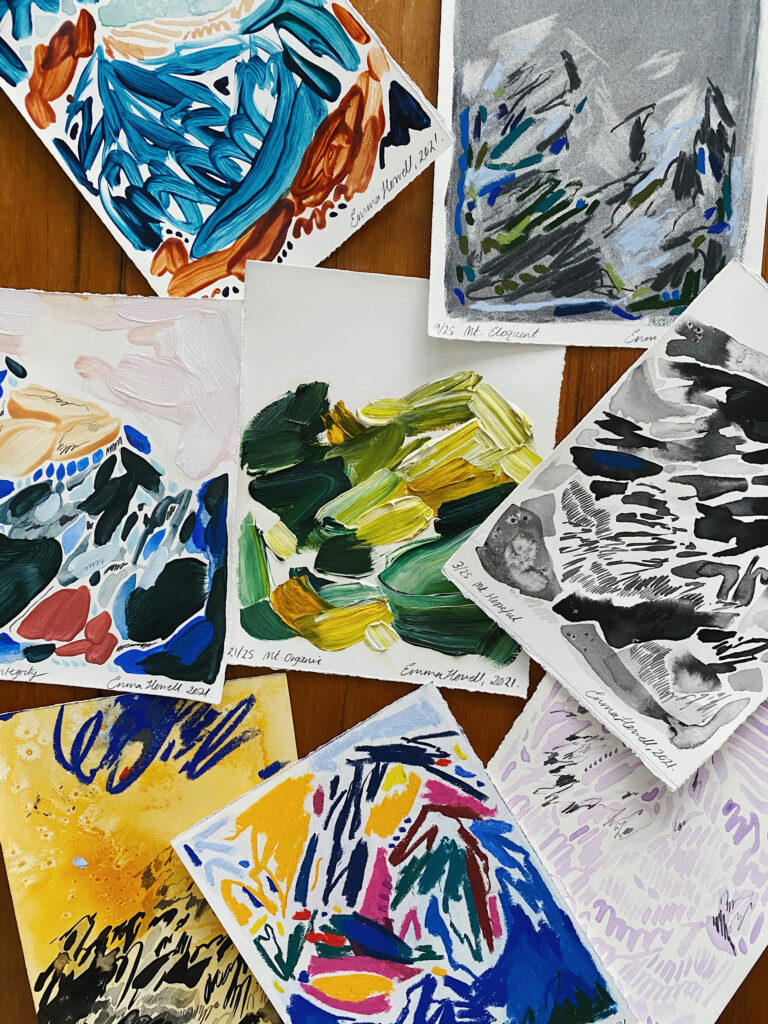 hike up harp hill (2021)
Similar to last year's American landscape collection (81 Wild), hike up harp hill explored the varying landscapes across the United Kingdom. With help from landscape descriptions submitted to me by my audiences, 75 pieces came to life and are here to shine a light on 75 different places in Britain. Rocky mark making, washes of water, earthy scribbles and bleeding bold colour work together to honour our rolling hills, grey skies, infinite crops, buzzing culture, weaving rivers and rich history.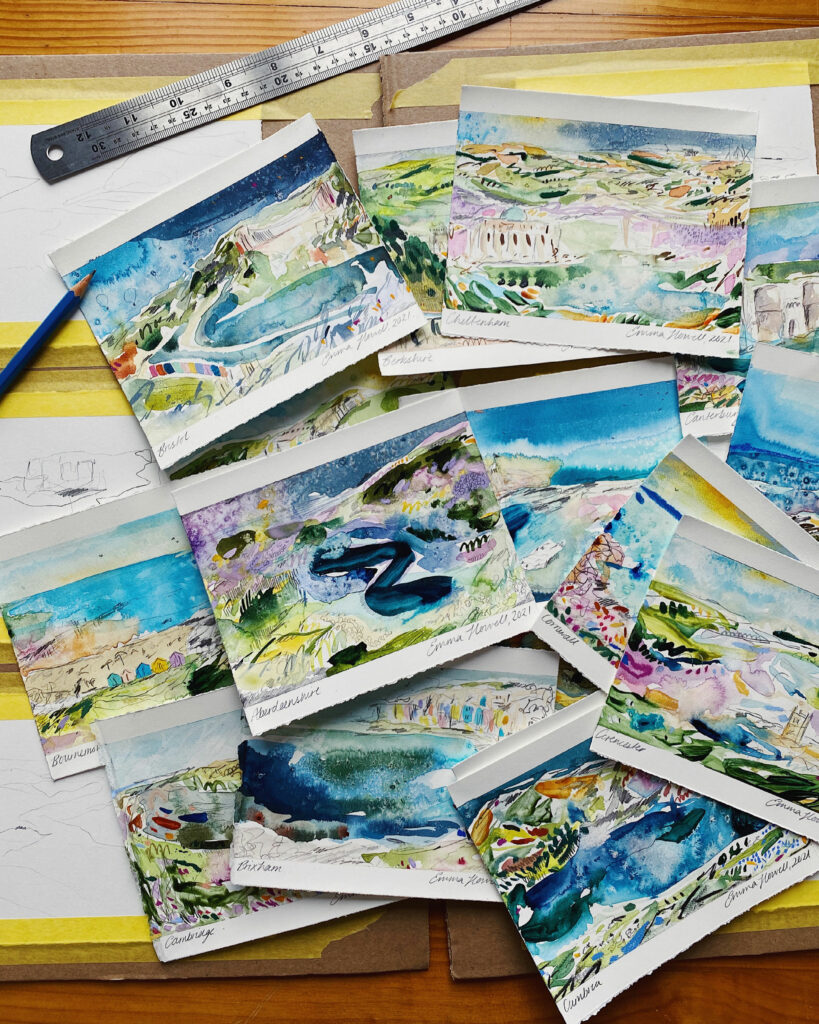 Café Fiasco (2021)
In the summer of 2021, Café Fiasco broke all the rules and made me push boundaries. After an obsessive bout of still life drawing in my private sketchbooks, I started to get the taste for this very different style of artwork. Being in and out of various lockdowns due to COVID (and turning into a bit of a hermit), I found myself seeking inspiration from my surroundings – plants, coffee cups, books, chairs and tables. My private artwork was changing quite rapidly right before my eyes, putting more emphasis on shading, accuracy and detail.. and there was only one way to go about it: create a collection. However, the abstract painter in me still remains, so it only made sense to balance it out and expose the true versatility of my practice.
Café Fiasco reveals the humdrum of everyday life in the form of still life paintings (views from home, books, plants and coffee), juxtaposed with spontaneous abstracts to unmask the distracted, erratic and creative psyche of an artist. This collection is ongoing, as I still have a few pieces left to unveil.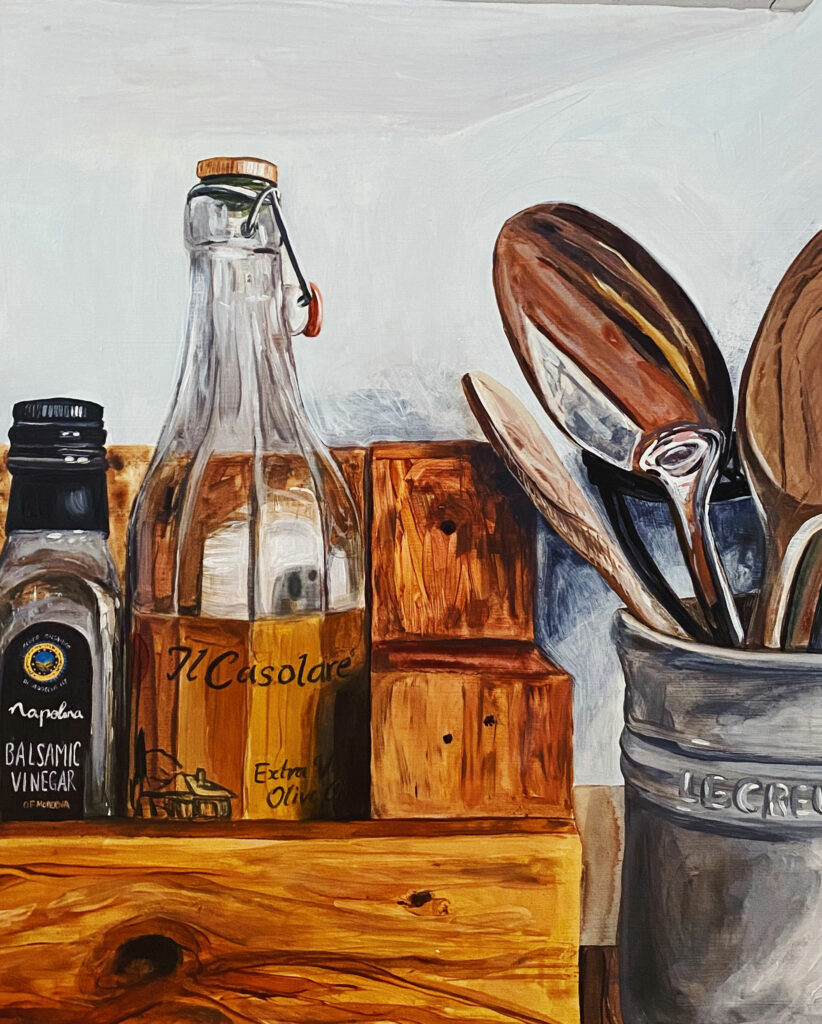 Raw Honey Part II (2021)
A sequel to Raw Honey, this new body of work digs even deeper and reveals a variety of new perceptions, places and memories that have been translated onto super smooth, hot pressed paper. Why did Raw Honey Part II happen? Well, towards the end of summer, I started to reminisce about past vacations (probably because it's been a while since my last, thanks COVID).. driving to Balos Lagoon and meandering through mountain roads hunting for tavernas.. Sharp feelings of grief were also reappearing, so the work was pretty impulsive; I went with my mind and hands. Raw Honey Part II just made sense.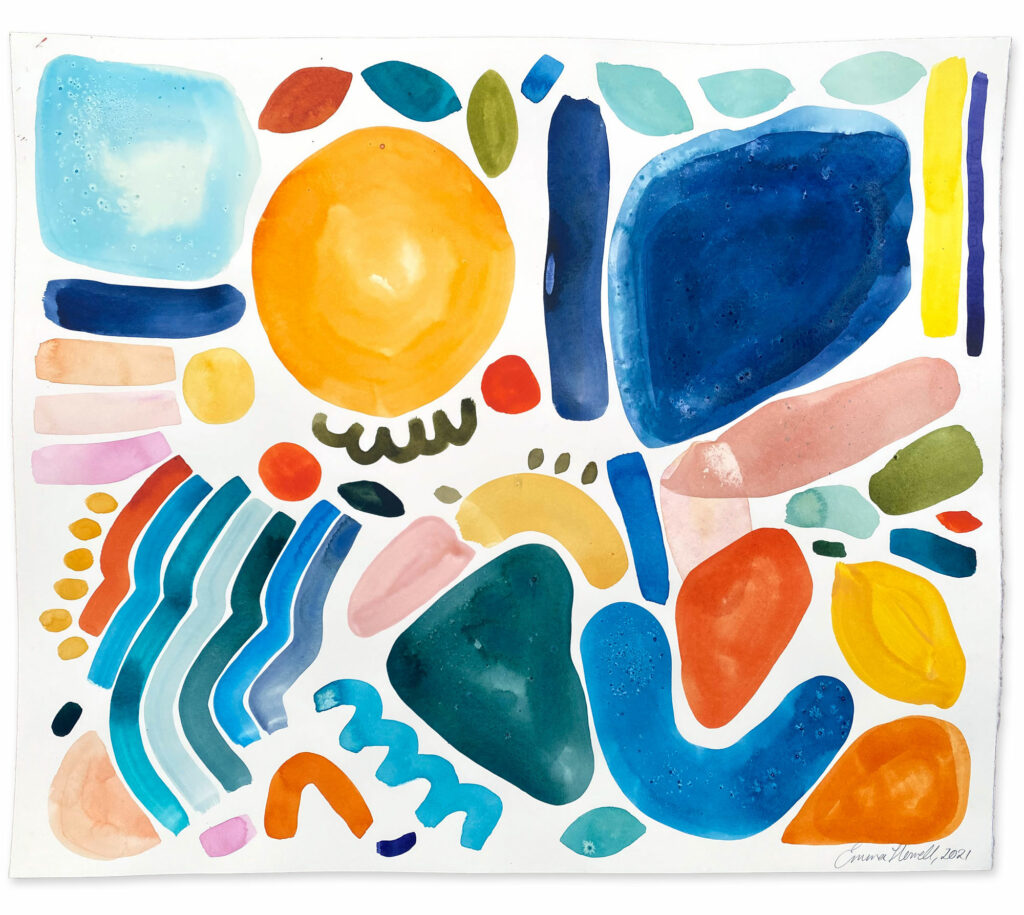 Classified (2021)
This year, I've had moments where I've felt the need to push limits and explore more avenues within my practice. Well, here we go again. As we start to focus on our home's interior design, the Matisse art prints that hang on our living room and hallway walls have been luring me in. Matisse's use of bold colour, unapologetic self-expression and his undeniable ability to give boring subjects an aura of radiance and luxury.. is sublime. So, I've been nurturing this fiery yearn to dip my toes in this water.
As a result, still life has barged its way back into my process.. but not at all like Café Fiasco. Pieces in Classfied have mostly come to life by pure imagination, and not by objects in front of me. Sure, I take inspiration from typical still life scenes or what I had for breakfast, but every artwork was impulsively composed. The works are still life blended with abstraction, a combination I've totally fallen for. Of course, you will still find my characteristic erratic mark making, pools of colour and raw brushstrokes – the abstract painter in me will never falter.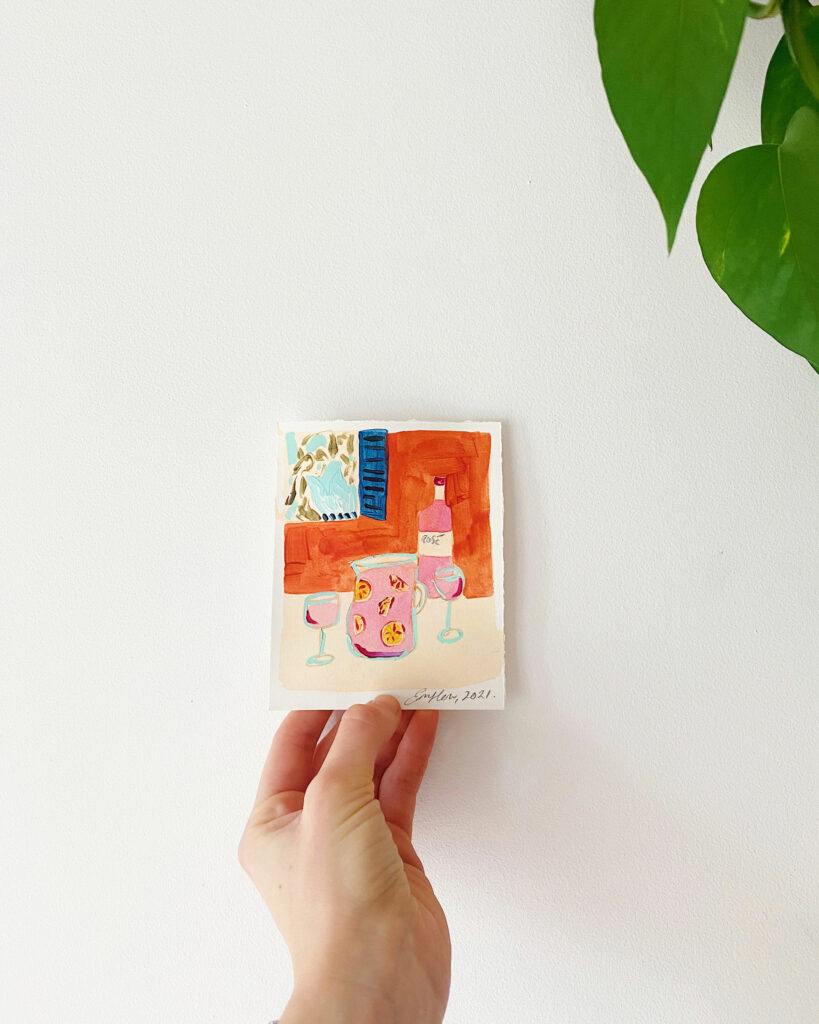 Fin (2021)
Fin is the last collection of 2021 and unites all past collections. This nostalgic and eclectic body of work fuses the past with the present, potentially revealing the paths to future work. Each piece in the collection puts a modest spotlight on all styles explored throughout the years – blending landscapes with breakfast scenes, mountains with emotions, bottles of wine with meditative mark making and coiling charcoal with careful colour choices. The creation process has been respectful to past works, but also venturesome – I hope you'll agree.
The collection launches Friday 26th November (Black Friday) for subscribers and Saturday 27th November universally. To access the private launch and get the exclusive Black Friday voucher codes, subscribe to my mailing list (button below).