Artist Biography
Through her paintings, British abstract artist Emma Howell explores and reveals new methods of sensation and perception. She's nurturing a new relationship with the world; a world that – after her father's death – she had deemed tiresome and melancholic. Emma's encounter with grief compelled her to build a deeper appreciation and more colourful affinity towards nature, society and culture. Now, as an active adventurer and explorer, Emma is taking you somewhere she's been and showing you how she sees it, feels it and hears it. All of her work is dedicated to her Dad, whose loss taught her how to embrace the adventure that life can offer.
Emma lives in the heart of The Cotswolds, in the regency town of Cheltenham. She graduated from the University of Gloucestershire with a BA in Fine Art, and has sold and exhibited work nationally and internationally across Europe, North America and The Seychelles.
To receive updates, subscribe to Emma's mailing list.

Artist Statement
Painting is to provide evidence of living, and a means to unfold new perspectives.
Through adventure and exploration of the near and afar, my work evolves from journal documentation of colour, texture, sound and conversation. By exerting the mind and body, mixed media is then applied to a surface to expose these perceptions and take you where I've been.
Open your mind and take my hand.
View available work and become a collector.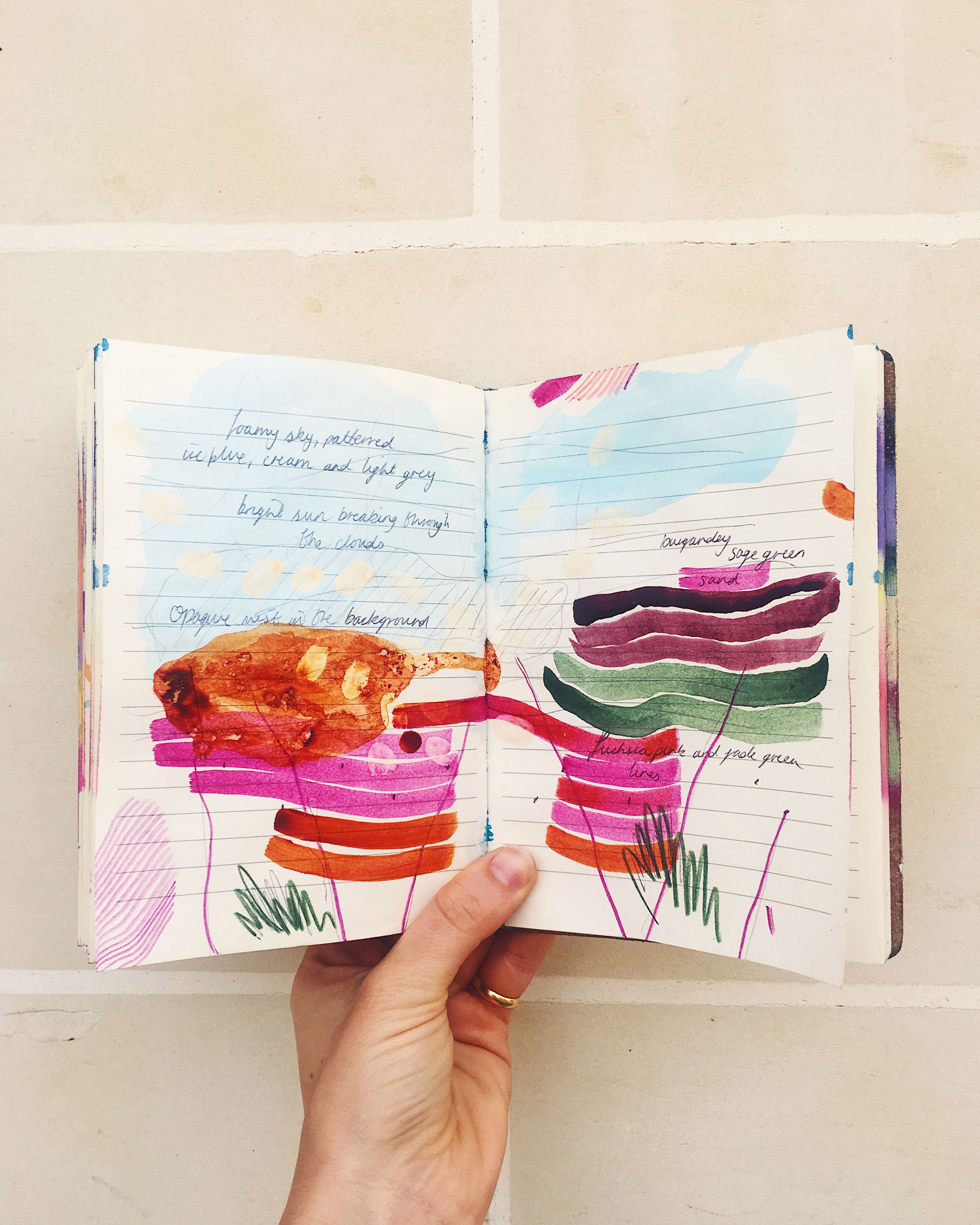 Curriculum Vitae
Education
2015
BA Fine Art – First Class Honours
University of Gloucestershire
Exhibitions
2019
Fragile Nature – Selected Group Exhibition at Groundwork Gallery, Kings Lynn, UK
2018
Homegrown – Cheltenham, UK / Sponsored by Hobbycraft
2015
ArtVenture Recent Graduates Exhibition, Cirencester, UK
Free Range Art & Design Show, London, UK
University of Gloucestershire Degree Show, Cheltenham, UK
Continuum Show, University of Gloucestershire, Cheltenham, UK
2014
Hans Brinker Budget Trophy, Amsterdam, The Netherlands
Awards
2019
Cotswold Painter of the Year 2019 – Nominee
Cotswold Artist of the Year 2019 – Nominee
2014
University of Gloucestershire: Travel Award to Washington, D.C.
University of Gloucestershire: International Exhibition Opportunity in Amsterdam
2013
University of Gloucestershire: PJ Crook Award
Artwork Collections
Raw Honey, Launching November 2019
The Moon Series, 2019
Some Adventures, 2019
The 1320 Miles Series, 2019
The How Series, 2018-
Homegrown, 2018
Publications & Features
2019
Lynn News – "Groundwork artists give message of hope at King's Lynn exhibition"
Groundwork Gallery – "Fragile Nature: Elspeth Owen, Paca Sanchez, Lotte Scott snd Emma Howell"
Hobbycraft – Instagram Takeover on Friday 16th August 2019
2018
Hobbycraft – "How to Create a Large Scale Abstract Artwork"
Candid Magazine – "Emerging Artists: Emma Howell"
Hobbycraft – "Homegrown: An Exhibition of Painted Adventures by Emma Howell"
The Local Answer – Artist Feature and Homegrown Promo
We Heart – Arts & Culture,  Emma Howell Interview
University of Gloucestershire Alumni –  Homegrown by Emma Howell Press Release
BBC Radio Gloucestershire – Artist Feature and Homegrown Promo
Hobbycraft – "How to Experiment with Watercolours"
Cotswold Allure Magazine – "5 Best Instagram Accounts To Discover The Cotswolds"
Hobbycraft – Instagram Takeover on Saturday 13th January 2018
Hobbycraft – "Meet the Makers: Catch Up Edition"
2017
Hobbycraft – "Meet The Artist: Emma Howell"
Collaborations & Partnerships
2019
Hobbycraft –  In-Store Marketing, "Art Sale" Point of Sale
Notable Collectors