Emma Howell
9 July, 2021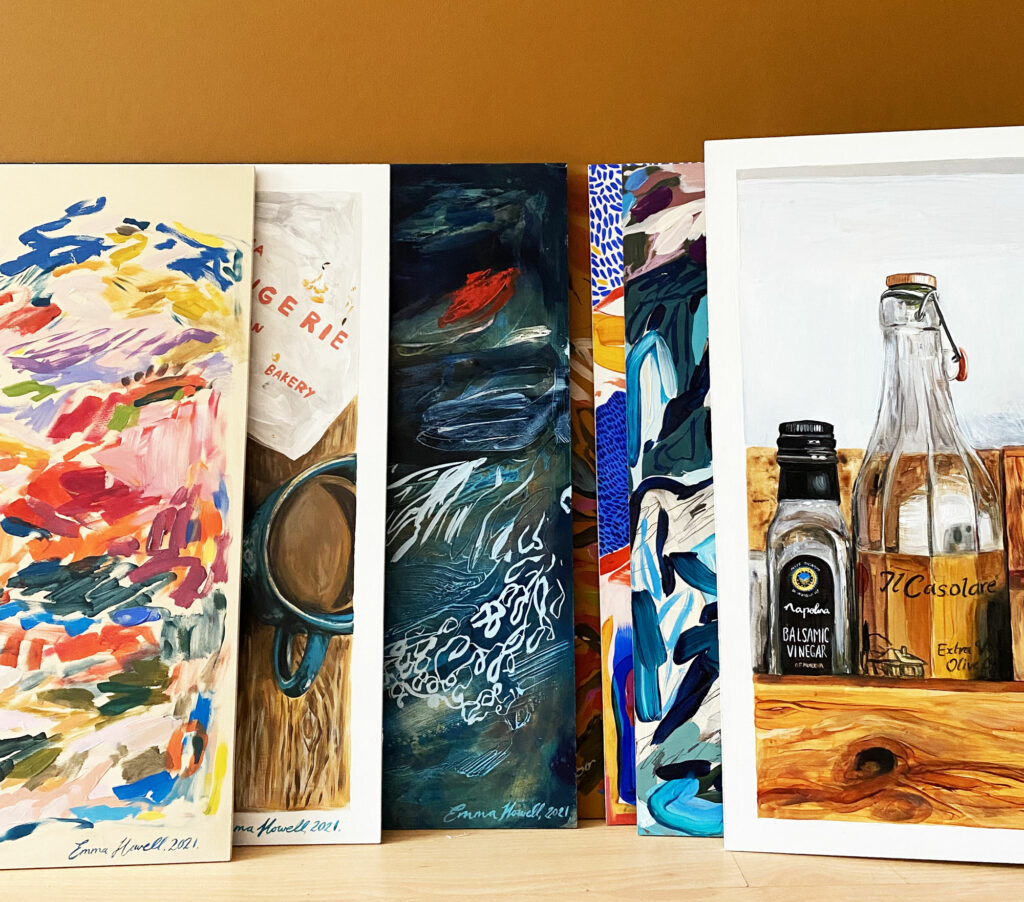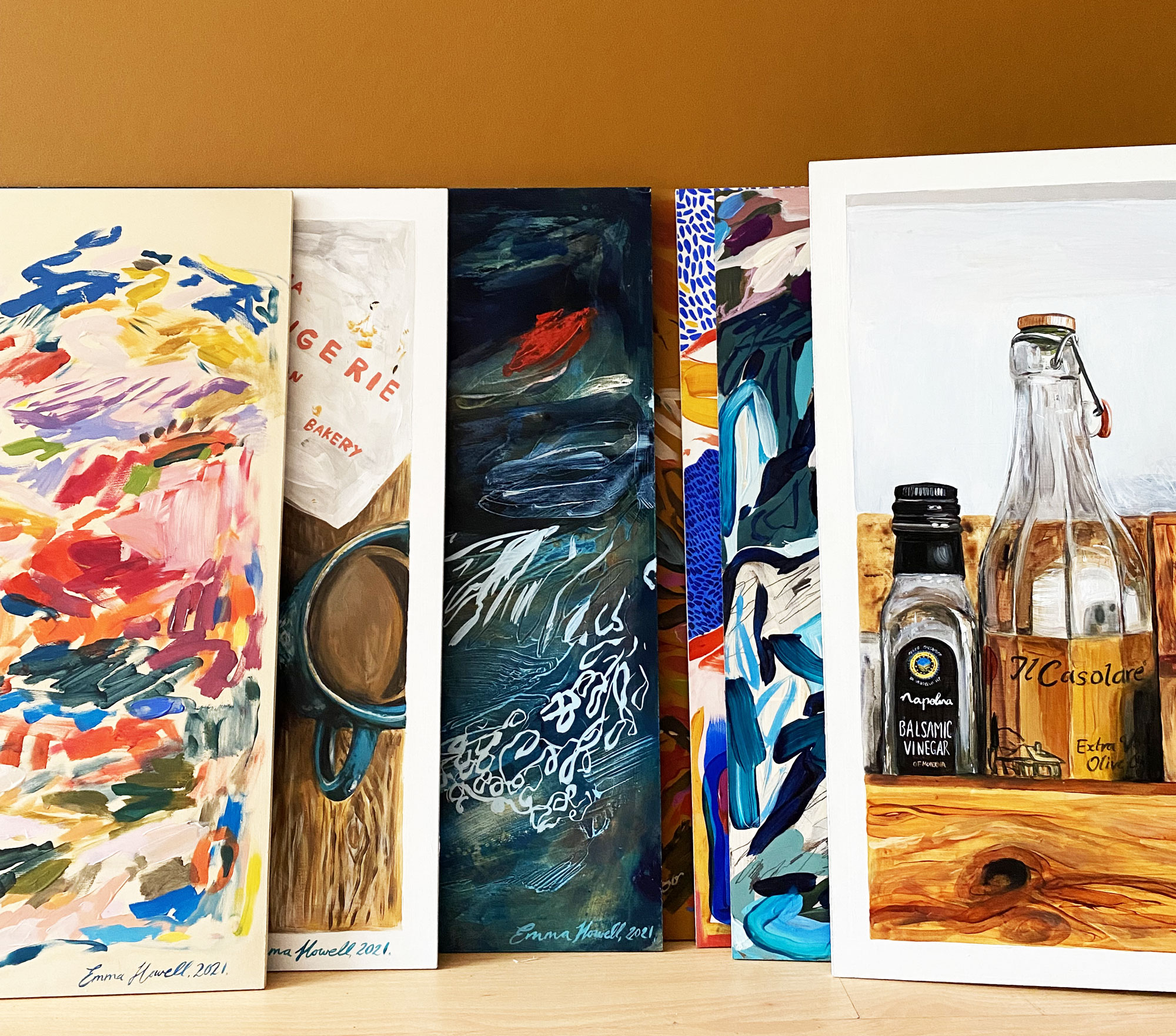 Café Fiasco (2021) is a two-part collection of 24 original artworks. This eclectic body of work has somewhat of a split personality and puts an honest spotlight on my tendency to "wear many hats" (personally and professionally).
The origin of Café Fiasco started out as a personal challenge. A challenge to simply create an entire collection from nothing – just my mind, hands and materials, with not much intent or deep ideology.
Seeing as my last few collections evolved from stories submitted by my audience, I felt the need to test my own intuition and push the limits of my art practice. And I'll tell you what – it's been hard. One thing I thought I wanted to commit to was naming each piece (before I start them) after negative words that have been said to me (e.g. "bad at maths" and "fragile ego"). This was with hope of turning some common pessimism into rare optimism. However, as 24 blank boards piled high in my dining room, this negative naming situation limited my thought patterns and I honestly didn't know where to start. My mind was sad/empty and my usual creative urge had left the building. Be that as it may, my commitment to the challenge didn't falter.
Eventually, as I scrapped the idea of initially titling the pieces, a few of the lifeless boards got slathered with paint and spontaneous compositions started to bloom. Well, that's what happened with the abstract ones anyway. Café Fiasco also features a number of still life works.
You predominantly know me as an abstract painter, but back in high school and university, a lot of my work (including photography) put heavy emphasis on the humdrum of our everyday and finding beauty in boring. So, after reminiscing about old work, I went with my instincts and changed my hat.
In both my personal life and professional life, "changing my hat" is something I'm very used to doing. As an extroverted introvert (who has also worked in retail for many years in the past), I often find myself having to very quickly flick a switch between a variety of emotions and personality traits. Nervous > confident, melancholy > elated, devastated > ecstatic, casual > professional, doubtful > certain, opinionated > sheepish, relaxed > constrained, paint > pencil, abstract > realism – you get the idea. My wardrobe is full of hats. How about yours?
Anyway, Café Fiasco not only shows you how my mind frantically fleets from one thing to another, but also the breadth of my techniques, styles and general artistry as a painter. The entire body of work reveals my everyday life in the form of still life paintings (views from home, books, plants and coffee) juxtaposed with spontaneous abstracts that expose my distracted, erratic and creative psyche.
I must tell you that these pieces mean a heck of a lot; I don't think I've ever felt so connected to artwork before. So, the prospect of launching such a personal collection makes me feel uneasy and vulnerable. Today, I even had the passing thought of keeping them all. Now, that's just nuts. Better change my hat.
The first 12 pieces from Café Fiasco will launch privately (with a password) for my subscribers on Friday 23rd July at 6pm BST, and Saturday 24th July at 9am BST for rest of the world. The second 12 pieces will launch throughout the rest of 2021 – and each work will be released one-by-one. You can sign up to my mailing list here.
Artwork details:
20″ x 22″
Mixed media on high quality 6mm board
£500 each
Optional bespoke bare oak frame (+£50)