Whether it be long or short, near or afar, an adventure is a physical and mental process of looking, seeking, finding and collecting. When you go on an adventure, you're capturing moments, making minutes count and living life to the fullest.
---
Emma
Adventure artist Emma Howell (b.1992) grew up and still resides in Cheltenham, Gloucestershire. From a young age, making art was an innate way for Emma to comprehend the world, and it was her foremost method of self-expression. The only way Emma was able to think, see and feel was creatively. Consequently, in 2015 she graduated from the University of Gloucestershire with a First Class Bachelor of Arts degree in Fine Art.
After losing her Dad in 2016 to a very short and sudden illness, Emma made a promise to herself that she wouldn't let life slip between her fingers. As her whole world had been turned upside down, she couldn't help but think about how short life was and that she'd been taking it for granted for too long.
Her Dad, who was an extremely talented bass player, had always encouraged her to work for herself and to not let anyone get in the way of her achieving what she really wanted in life. He'd always say 'never work for anyone else because being the boss is king', but Emma regularly ignored his advice due to teenage naivety and her lack of confidence – but boy, was she wrong to do so.
Today, she works as an artist and all of her work is dedicated to her Dad, Mark.
---
The Artwork
My paintings are adventures.
I explore my mind and the world around me to make work that tells stories. 
Wherever I go, I carry a journal with me to document my interpretation of that environment. I like to understand and interact with where I am – on a hilltop, at the side of a riverbank, in a noisy café, wherever –  the art I make is a translation of the sights, sounds, textures and feelings that I experience there.
Working with acrylics, pastels and various other materials, the pages in my journals get filled with gestural marks from sounds and textures, colours from landscapes and mood, and words from thoughts and overheard conversations. This documentation is then taken back to my studio to help evolve work on paper and canvas, outside of the books.
Referring back to my definition at the top of the page: with each painting, I want to demonstrate to people that going on an adventure isn't just a physical process, but also a creative and mental one. We all see this world differently and I'm showing you how I see it.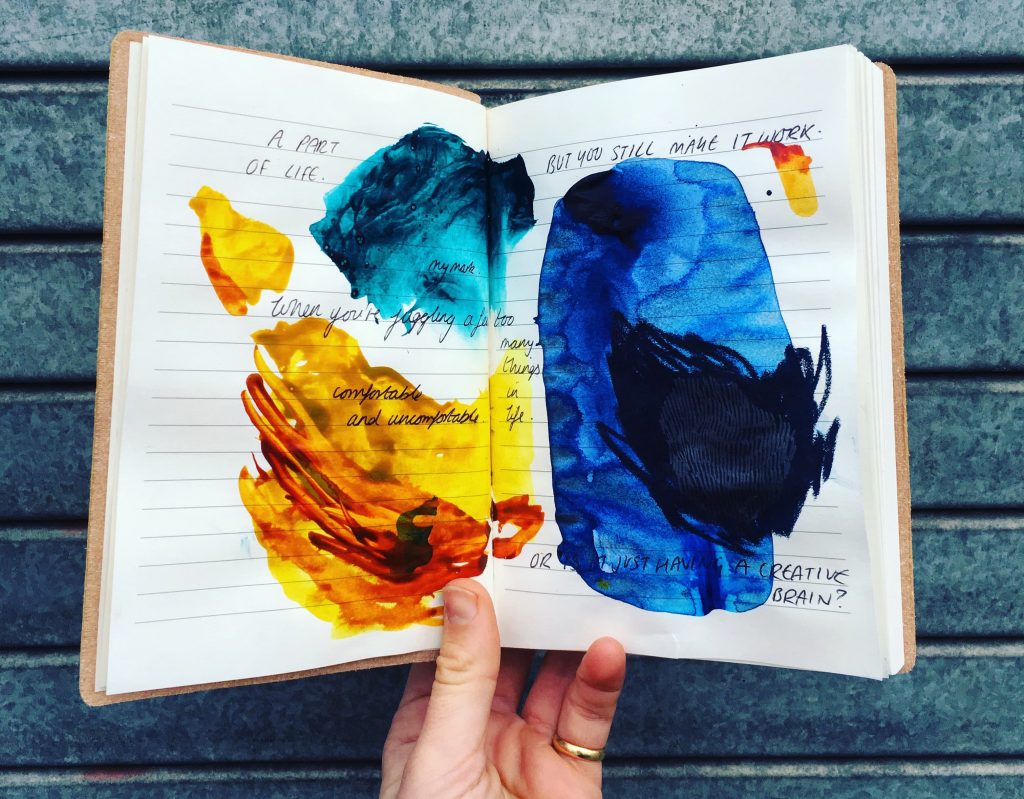 New work is currently under wraps, but you can now collect limited edition prints of pages from my adventure journals at my shop.
Follow my journey as an adventure artist on Instagram.
---
CURRICIULUM VITAE
EDUCATION
2015
BA Fine Art
First Class Honours
University of Gloucestershire
EXHIBITIONS & COLLABORATIONS
2015
ArtVenture Recent Graduates Exhibition, Cirencester, UK
2015
Free Range Art & Design Show, London, UK
2015
University of Gloucestershire Degree Show, Cheltenham, UK
2015
Continuum Show, University of Gloucestershire, Cheltenham, UK
2014
Hans Brinker Budget Trophy, Amsterdam, The Netherlands
AWARDS
2014
University of Gloucestershire: Travel Award
2014
University of Gloucestershire: International Exhibition Opportunity in Amsterdam
2013
University of Gloucestershire: PJ Crook Award
PUBLICATIONS & FEATURES
2018
Hobbycraft – "How to Experiment with Watercolours"
Cotswold Allure Magazine – "5 Best Instagram Accounts To Discover The Cotswolds"
Hobbycraft – Instagram Takeover on Saturday 13th January
Hobbycraft – "Meet the Makers: Catch Up Edition"
2017
Hobbycraft – "Meet The Artist: Emma Howell"
The Boat House Gallery – "Prussian Sea Dive II"