Emma Howell
13 January, 2020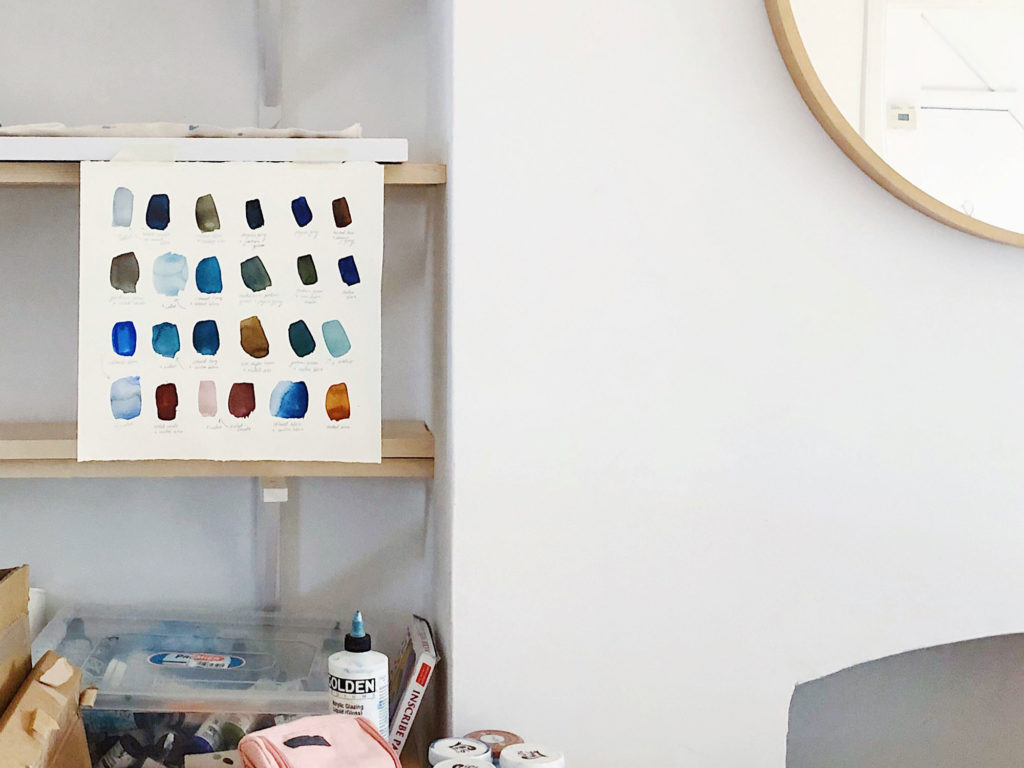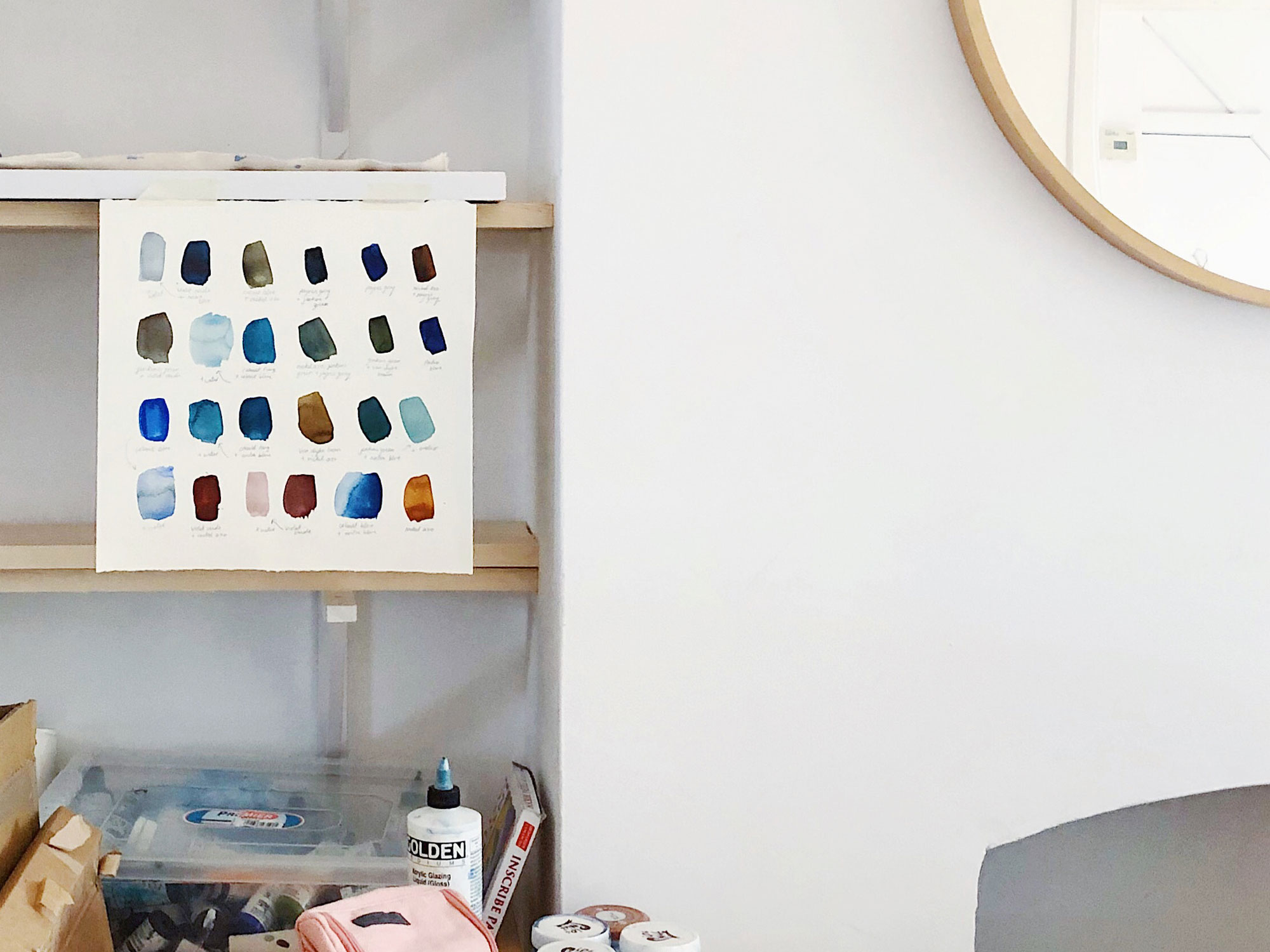 Here's a round up of FAQs gathered from my audience over on Instagram:
How do you motivate yourself when you really don't want to "do"?
Admittedly, I used to get days when all I wanted to do was hibernate and pretend that the day hadn't started. However, nowadays, I don't allow myself to have the time to get to those thoughts. As I'm a lot more productive in the morning, I make sure to get up early (5:30am), go to spin, lift some weights and/or have a long walk, then over breakfast I'll open up my weekly planner and scan through my to-do list (I write a list of everything I have to do that week). So, I don't really give myself the option to be unmotivated because I have boxes to tick.

If I'm having some brain fog, I'll plan out the next few weeks ahead, write a blog post (and never publish it..), mix up some colours and/or read through some of my old journals to get my brain going.

Self-discipline and having a strict routine is very important when you're self employed.

Oh, and as I mainly work from home, I also procrastinate a lot by doing housework with RuPaul's Drag Race on in the background. Sorry not sorry.

What other job/s do you do to support your art practice?
To financially top-up my art practice, I work 2 days a week for a marketing agency as a Content Marketing Specialist. Here, my job consists of blog content generation, building relationships with publications, writing briefs for copywriters and a few other things. It's pretty handy, as by doing this I'm also developing marketing skills for my own website/business.
Do you have any works that you could never sell?
I have many many artworks in my "home inventory", which basically means that they are stored away in a pile and left to work on later, release later or never release. Many works just don't make the cut – they either don't sit right visually for me, been overworked or just don't reflect my practice's aesthetic. These works are quite often ripped up and used as thank you notes that get packaged up with sold artwork.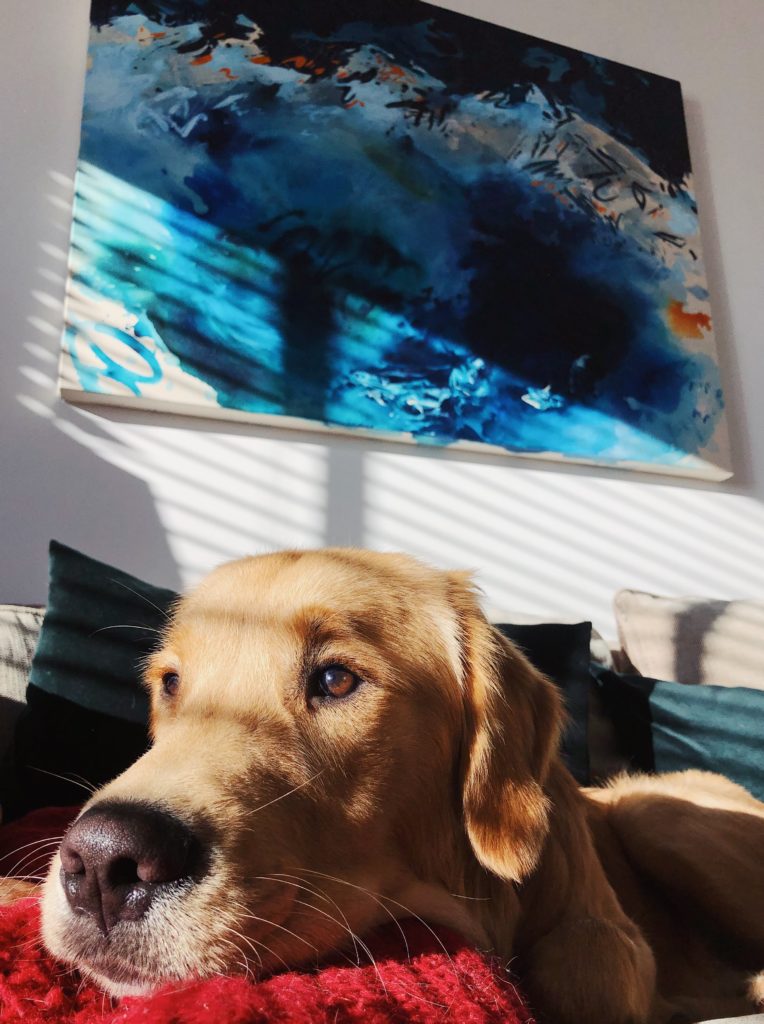 Tell us about Gibson!
Gibson (KC registered as Elwyn John) is our golden retriever, who was born in Cambridgeshire last April (2019). His name, Gibson, is a make of guitar and was chosen as a tribute to my Dad, who was a bassist and music shop owner. He was nearly called Marshall (another musical instrument brand), Monty (cute name) or Timber (his Dad's name), but we finally imagined that a strong and adventurous dog standing at the top of a mountain would be called Gibson.

When he meets you, he will wrinkle his nose and show you all his teeth – which may seem menacing at first, but you'll then notice that his tail is wagging round and round in circles. Believe it or not, this is actually him smiling at you. After your introduction, he will then want you to be his owner and totally ignore Jon and I for the rest of the time you're here. When you leave, we're given the cold shoulder for a good few hours. But it's okay, he just wants to be everyone's friend.
How does your commission process work?
A commissioned artwork starts with a digital document for my client to fill out. It consists of a series of questions that will cover the budget, size, orientation, surface, colour scheme, representation, framing etc. or a large blank space for my client to write an entire brief from scratch (if they wish). Then after I've received the document back, I will work out a quote for the time frame and cost of the commissioned piece, and ask any questions if I need some clarification. Once we've come to an agreement, I ask for 30% deposit and then get to work on the piece.

Throughout the process, I will keep in contact regularly and send progress shots, if the client wishes. The rest of the payment is due on completion and then the work will be ready to ship/be collected.
I'm interested in collecting a painting – how do I view available pieces and are there any framing options?
Exciting! If you head to my Art page, you can filter the works by availability. Unsold artworks will display first and sold artworks are labelled with a red dot. You can also browse through different collections by heading to the collections page.

If an artwork is eligible for framing, the details will appear in the text next to the work. All original works on paper and all small canvas works can be fitted into a bespoke wooden frame (natural oak, dark stained or plain white), handcrafted by my framer here in The Cotswolds. The cost of your frame and extra shipping will be invoiced to you separately from your online purchase.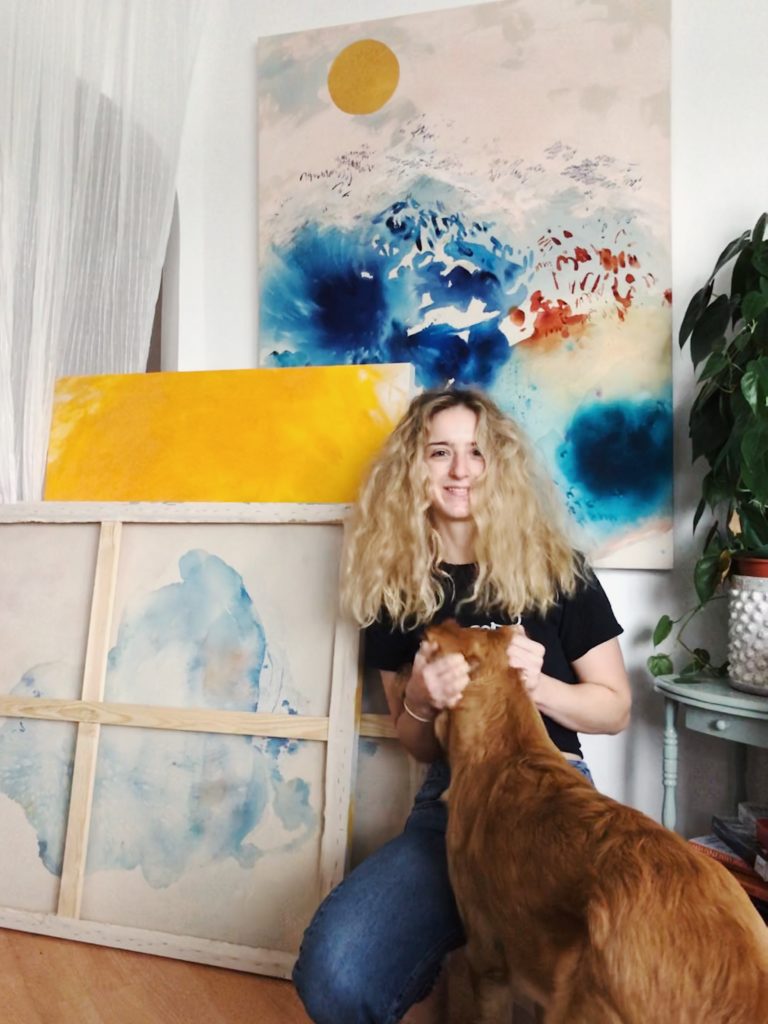 What kinds of things do you document in your journals?
As many of you will know, my journals are my practice's main sustenance.

After my Dad passed away, I rejected life and everything it had to offer. The world outside my front door seemed dull, pointless, unfair, monotonous, unappealing, nauseating, intimidating, you get the idea… Even when Jon and I were in Hawaii for a wedding, the sound of the ocean outside our room irritated me.

It wasn't until I started painting again when I finally felt the need to go outside. I wanted to see some colour, hear some sounds, feel some textures and smell some fresh air to help fuel some creativity.

Ever since, I've developed a habit to record experiences and observations from places I go in small journals. Quite often, I will jot down overheard conversations, document colour combinations, translate sounds and movements into marks, write down whatever is on my mind, describe textures, copy landscape compositions, anything. These recordings will then evolve onto paper/canvas and help develop entire collections of artwork.

The last words written in my latest journal were "Sunday Monday thinking and rock climbing".
Do you have one all time favourite piece of work that you've made so far in your career?
This question is always very hard. I have sentimental connections with the majority of my pieces, but lately, I've felt very attached to my latest collection, Raw Honey. You can read about it in more detail here.

Heading To A Greek Taverna (available) is a special piece and also Amari Honey Boxes, which now lives with its new collector in Australia.

I also remember the exact moment that Road To Roanoke from the Some Adventures collection evolved in my head. We stopped by a small diner for pancakes in Damascus, VA and then headed to Roanoke on Interstate 81, surrounded by mauve mountains.
Do you find it difficult to part ways with your artworks once they've sold?
Yes and no. I'll always be a little emotional when I say goodbye to a work, especially if it's heading to the other side of the globe. However, this is always overpowered by the incredible fact that a piece of work I have made with my bare hands now lives somewhere else in the world. Having a piece of me brighten up someone else's life beats any feeling of separation anxiety.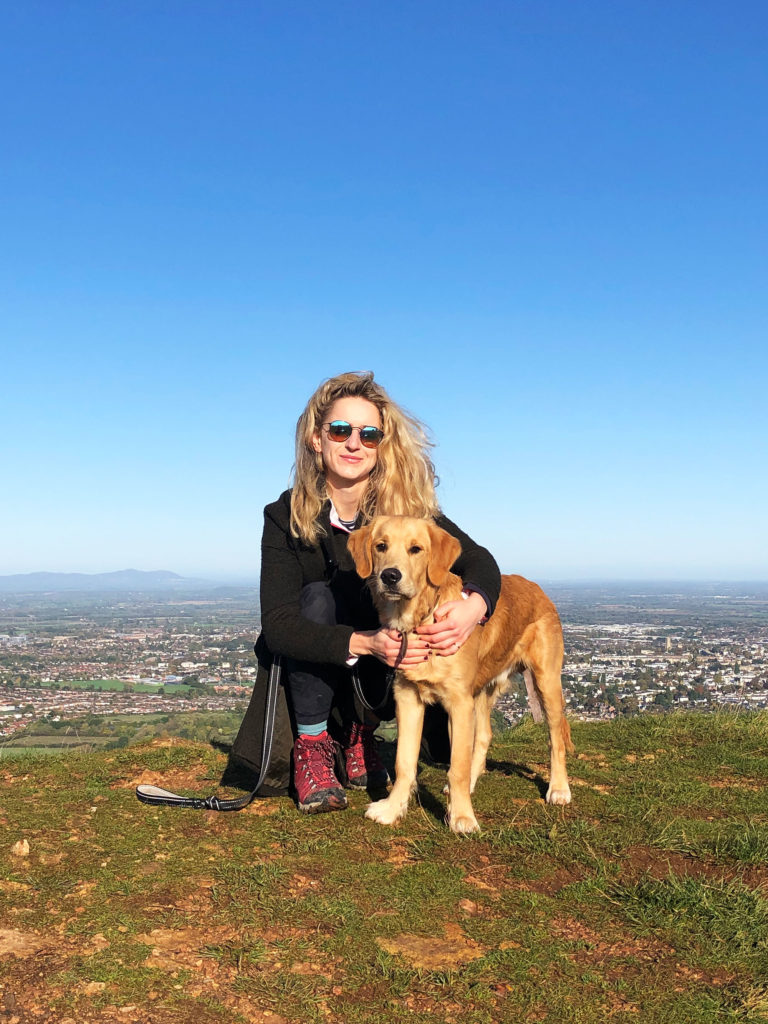 Do you ever struggle with being an artist on Instagram?
Yes. 1000 times, yes.

I can't knock Instagram for how incredible it has been for the development of my practice. I've made genuine friendships with people all around the globe and my list of worldwide collectors continues to grow thanks to the platform.

However, it's also a very difficult place to expose my work. Not only is there a lot of copying, harassing and trolling, there is also a pressure to keep content up to date and an obsession to stay in-the-know with account analytics.

Be that as it may, I'm very disciplined with how I approach Instagram – it's not a personal account, it's my business and a means to show the world my work (almost like an ever-evolving online art exhibition, with progress shots too). Of course, I will show a few bits of my personal life, but I make sure to keep some things private.

Sometimes, I find it very hard to expose my raw feelings to the world, especially in regards to grief and depression. The fact that people I know are reading what I'm thinking is always embarrassing, but at the end of the day, the honest words I write are intertwined with the aesthetic of my practice.

Instagram is also a time sucker.
Did you go to university and what did you study?
Yes, I did. I've actually been to university 3 times.

The first time was straight after high school; a clueless dive into a Psychology degree at Oxford Brooke's University (dropped out after 8 months).

The second time was another clueless dive into a Forensic Science degree at the University of Kent (dropped out after 7 weeks).

The third and final time was what I should have done from the beginning, a degree in Fine Art at the University of Gloucestershire (although, I wish I had gone to one of the art schools in London). I completed this one with First Class Honours.
What advice would you give to somebody who has just lost someone?
For anyone who has suffered a big loss and is in the process of grieving, I'd tell them to find a creative outlet. Whether it's painting, dancing, writing, or whatever, keep doing it until you start to feel more in control of yourself. You basically need to 'find yourself' again. You need to redevelop yourself into someone that has to exist without the person you lost. Perhaps think about what they would want you to do.
The fight or flight response is by no means a myth. Believe me, your mind and body will fight as hard as it can to make you survive this new life without your loved one. You will get through it.

And I can honestly say (however tragic this may seem) that I am a stronger, braver, and more independent person than I was when my Dad was alive. It's just a shame that I've had to suffer this tragedy to grow into the artist I was always destined to be – and that he will never see it.