Emma Howell
6 July, 2018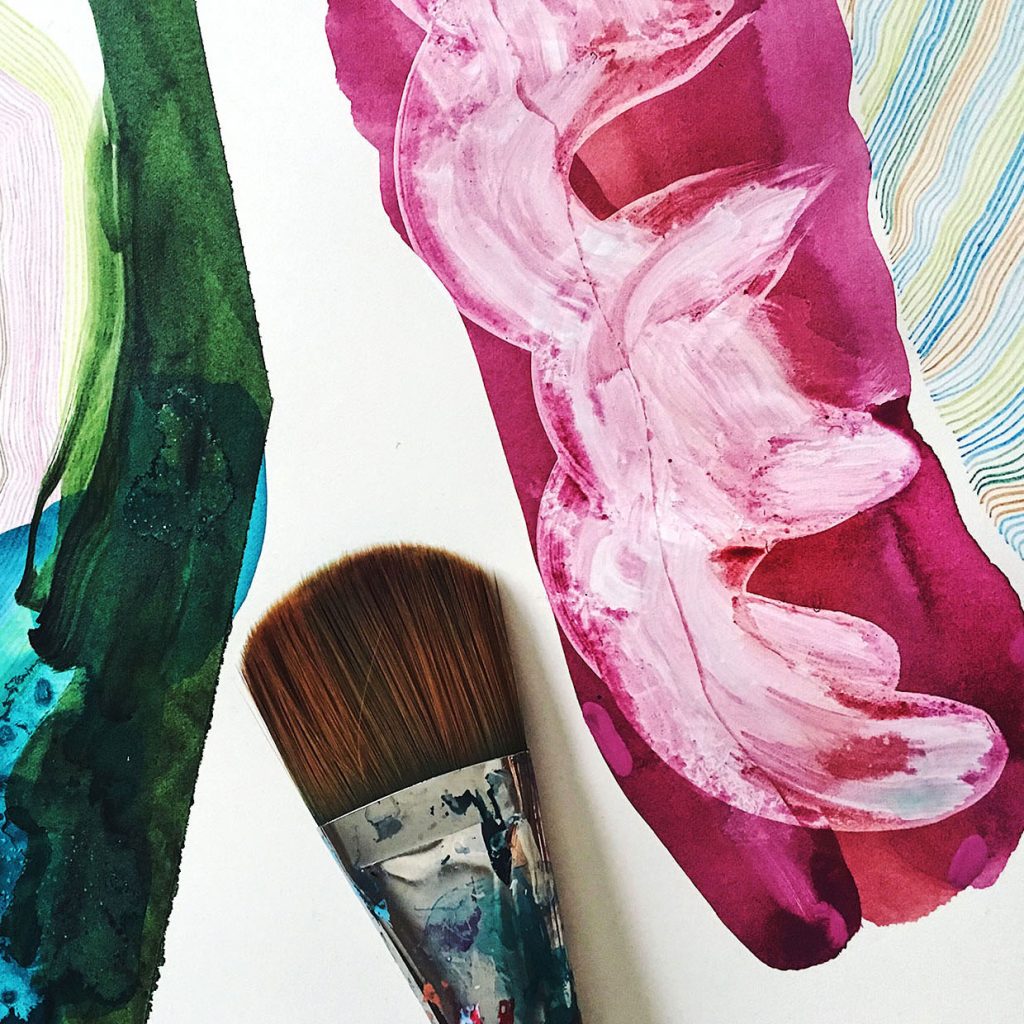 First things first, being a fine artist is hard.
So, if you've just graduated in Fine Art, this post will hopefully guide you in the right direction and help you decide what to do after your Fine Art degree.
So, your degree is finally over
You're feeling really good. All of the work is finally over. Your dissertation is in, your degree show has come to a close and perhaps you've even sold an artwork or two as well. It's a great feeling of accomplishment – I remember it well.
So, what do you want to do now? Perhaps give yourself a break and go on holiday – or swiftly throw your CV out here, there and everywhere to start earning some money in the "real" world. It's a pretty tough time, despite the celebrations.
My transition from graduating to working as an artist was not smooth, at all. I completed university at the end of 2015 and got back into painting at the beginning of 2017. That's a pretty big gap.
To be honest – when I graduated, I wanted to escape Fine Art. However, I did make an effort to research potential jobs, like a gallery intern, a school art technician or an artist's assistant – but found myself feeling nauseous about the whole notion of "The Art World". It didn't feel very me (at the time). So, in the two-ish year gap, I bounced from role to role, trying to figure out what I wanted to do. I worked in a clothes store, behind a bar, at a school and in a nutrition centre – but nothing brought me happiness. Unfortunately, I had to suffer a tragedy to realise that working as an artist was, in fact, what I was meant to do from the start.
Looking back, I only wish that I'd found a blog post about what to do after a Fine Art degree – it would have made it a lot easier to make a decision.
So, what should you do now? Keep reading.
Like I said, "The Art World" is pretty intimidating
You've got to accept this. The Art World is a huge industry and it's very competitive, often pretentious and all-in-all a scary place to be. You'll know from your course that putting your artwork in front of the world is quite frightening – so are you ready to take on the challenge of trying to make money this way?
There are thousands and thousands of artists in the UK trying to make it – and most likely in all the other countries too. The market is overcrowded, but does this mean you shouldn't bother? Absolutely not.
You can fit into the Art World in whatever way you want to – just don't expect Charles Saatchi to chase you at the start of your career.
Well.. you never know.
Let's be frank: you need to get (another) job
You know the whole 'starving artist' notion? Well, it's damn true for the majority of us. We are poor and busy, so we have to sacrifice a lot of things (our social life, holidays, relationships, clothes, stuff..) in order to stick to our plan of being a full time artist – it sucks.
Quality art supplies are also extremely expensive. And when you're adding this cost to your studio rent, house rent, bills etc. your outgoings are getting pretty hefty.
So, when you're a recent graduate – unless you've made killer connections, have a financial aid or already have an ace reputation – it's going to be very hard to fund your whole art business on art sales alone.
Don't put all your eggs in one basket. Go get a regular job – for the time being.
Having another job also gives you more social interaction and an opportunity to step back from your work once in a while. So, try not to feel bogged down by a bar job, office work or making coffee because it's only temporary.
But what's it like working for yourself?
Do you like working for someone else? Or do you dream of being self-employed?
I'll tell you now – working for yourself (particularly as an artist) is risky, terrifying and unpredictable; some people may call you mad, stupid and/or reckless. But do you know what I say to these people?
I say "yeah, you're right – and look how much freedom I've got".
Freedom.
Working for yourself grants you omission from a crowded office, an intimidating boss and the requirement to wear smart clothes. Working for yourself means that you have no choice but to grow into a strong, independent and business-savvy person – no choice.
Which brings up a slightly negative aspect of self-employment: for someone who isn't blessed with the gift of mathematics, who lacks organisational skills and a self-esteem (me), it's very hard to get the hang of taxes, marketing and self-promotion.
You feel out of your comfort zone 24/7.
But isn't that marvellous?
What better way to learn how to swim than to constantly be in the deep end.
Hold up. What about an MA?
This is a tricky one – and it all depends on you and your lifestyle.
I was urged by my course leader to do an MA in Fine Art. My first thought was absolutely not – can I have a break from education please?
However, last year, the prospect of going back to study art at a higher level (and at a more prestigious art school) seemed rather appealing. I'd followed a few art schools on Instagram, and found myself craving the routine and academic/social aspects of university life. So, whilst I was on the plane home from Greece, I wrote pages upon pages listing the pros and cons of studying an MA.
Here are some points I deduced:
Pros
Relevant networking/making connections

High end galleries

may

favour your CV

Potential to learn more (first-hand) from academics

You get a studio space (hopefully)

Interaction and collaboration with other artists
Cons
It's very expensive – do you want to be in more debt?

It does

not guarantee success – by any means. In this day in age, more and more artists with no qualifications

are being considered by galleries and businesses.

It will take up more of your precious time

You're location dependent – again
When I returned to Cheltenham, I sat on the floor of my studio and looked around at what I'd already achieved (without an MA) – and at that very moment, I decided to not go through with it.
My student loan is already over £30k and to be honest, I don't feel like I need an MA. I have faith that I'll be successful without the letters after my name.
But, please – if you want to go for it, go for it; It will be an incredible experience, regardless!
Finding a studio space
So, if you've decided to hold off on the MA for the time being, it's time to find yourself a place to develop your art practice.
One common notion among local artists I've spoken to is that finding a space to create your work can be a very frustrating and expensive ordeal.  At the beginning of your art career, your space to work in is likely not going to be glamorous.
Do you have a spare room? Do your parents?  Perhaps there's a local space for emerging artists in your hometown? I've seen some artists working in garages and heard about some who rent desks in an office – yes a desk in an office. Unfortunately, at this stage in your career – you need to find wherever you can to do your work.
I don't advise that you use your living room or bedroom – this is what I did for the first 6 months. I found it claustrophobic and felt as though I couldn't take a step back from my work; I was constantly immersed in it, which isn't always good.
As an example, imagine being stuck in a room with one person – day in day out. You do like that person, but there are moments where you just need to walk away for some air, some space, some perspective.
Having your artwork spread out in front of you, alongside all of the paints, brushes and materials can also get pretty cluttered – so, not ideal for a living space. You've also got to be respectful towards your housemate, if you have one. Sorry for the messes I used to make, Jon.
My studio situation is both unfortunate and fortunate. At the beginning of 2017, I moved into my studio (and now gallery space), which sits above my Dad's music shop. It's quite a large room with a 12ft ceiling, old wooden floors, plenty of wall space and a large window that looks out to Cheltenham's busy lower high street. In a lot of ways, this space could be considered an artist's ideal studio space – and I'm very grateful for that.
However, the only reason I've moved there is because the room was cleared out after my Dad passed away in 2016. It used to be a stockroom and bass showroom for the music shop – but since my Mum took the reigns, she's cut down the amount of stock in the building. Thus, leaving a lovely room – steeped in history – empty. And that's why I moved in.
As American author Rick Riordan says, "out of every tragedy, comes new strength" and losing my Dad was where I found the strength to pursue a career as an artist.
Back to you – is your work crap?
Yes, you've completed a 3 maybe 4 year degree in art and you may be totally confident with your current style. But have a look around, what is the art world looking like. Be smart with yourself – are you making crap art?
If you intend to sell your work, you not only need to be really confident about it, but also you need to be realistic about a target market. Is there a particular market you want to sell to? Do you want to have gallery representation? Where do you want your work to hang – in hotels, in coffee shops, in people's houses? Being focused on your work goals makes business a lot easier.
Of course – you are entitled to make whatever art you want to (I certainly do) and you could be just as successful as someone who's planned it all out. But in this ever-expanding community of artists, does your work stand out – and is it good enough?
To figure this out, it's important to know yourself and your work. So, grab a notebook and jot it all out.
Many, many times I've written down (and answered) these questions:
Why are you an artist?
What are you trying to show/prove?
Why is your work important?
Why should someone care about/collect your work?
Why do you use these particular materials?
Answering these questions keeps your head (mostly) clear, enables you to set goals and then learn how to reach them. If you have a scatterbrain like me (apparently quite common among creatives), you'll need to regularly tune in with yourself. If you keep asking yourself why and how, I've found that it prevents those 'what am I doing with my life!?' and 'my work is a load of crap' moments.
Keep a level head and be realistic with yourself.
OK – and how do you make money as an emerging artist?
At present day, artists are being given more and more opportunities to make money – and not just by selling artwork. This is obviously the numero uno goal – make work, exhibit work, sell work, repeat. However, if you contact/are spotted by the right people/brands – and provided the collaboration would be ethically sound – you're able to earn money through sponsored posts and targeted marketing campaigns.
Be smart and savvy with your art business. What are your skills other than creating artwork? Could you also teach and provide online content, like video tutorials and ebooks?
.. and that's just the digital world.
What about the real world? Where you can host local workshops, set up market stalls and talk to real people about who you are and why what you do is important. Make friends. Make connections. Make business. Make money. (More on this in the next section)
So, how do you get 'known' or 'spotted'?
This is tricky and it varies from person to person.
To get spotted, you need to put yourself out there – locally, regionally, nationally and internationally (usually in that order). Aside from social media, you need to network with the right people, in person.
'To get spotted' is actually something you shouldn't rely on. From my experience, the best thing for you to do as an emerging artist is to ask for opportunities, and don't wait for people to come to you because 9 times out of 10, they won't – sorry for the bad news.
Ask for advice from other artists.
Ask a business if they'd like to see your work.
Ask a brand if they'd be willing to collaborate.
Ask an influencer on social media to share your work with their audience.
Ask your audience what they think of your latest piece.
It may take 100 asks to get 1 yes, but this is a lot more productive than waiting for people to find you.
But make sure you're super confident in what you've created before you go out and ask – otherwise you won't be confident to ask people. Once you've grown your confidence, find people and tell them who you are and why they need your work in their life.
In addition to this, an online audience is extremely helpful for exposure. Yes, I'm talking about Instagram followers, Facebook fans etc. It's apparently meant to be the time for artists to get on the Instagram train. It's very quickly zooming by, so throw yourself on – if you can.
Regularly publishing your artwork on social media (Instagram, Facebook, Twitter, Pinterest etc.) is a way to get more eyes on your work – and this is what you need. More eyes.
More eyes = more opportunities.
There are over 800 million active monthly users on Instagram. So, if you manage to ace the right kind of strategy, there is a lot of potential to grow your business here. It might be worth setting up a Facebook business page too. 
You'll be able to read how to promote your art on Instagram soon on my blog.
Hey – what about artist residencies?
An artist residency is a great option for young artists and recent graduates.
But what exactly is an artist residency?
They are programmes that give artists the opportunity to stay and make art in a place that is outside their typical working environment, away from their usual hustle and bustle. They give you the chance to develop your practice in a new location, potentially with new materials and quite often, among other creatives (and mentors). Bear in mind that many residency programmes come at a cost – and quite a hefty one at that. Conversely, there are paid opportunities too – you've just got to find the right one for you. Whether it be at your old school, in your capital city or on the other side of the globe in Bali, there are thousands of places you can dwell and develop your practice.
Residencies look pretty good on your CV too, so perhaps consider applying for a few when you're ready.
Artsy have a great guide on how to go about artist residencies.
Get a website and start a blog
Seriously – do this now.
You need to get writing about your work, your influences, your inspirations – anything. You need an online presence that isn't owned by a third party, like Instagram. Imagine if they got hacked or stopped completely, like Vine did (I loved Vine – anyone else?!).
You need to own your own online space where you can market yourself. Save up and pay for a website, or sign up to a free blogging platform. Do what you can to obtain a place to direct people, so that they can learn more about your work.
As well as being an artist, I also work in an SEO agency to help fund my practice. Here, I've learned a lot about the importance of a website for a business – especially in this day in age.
Write often and write well. You want people to find you – and Google love regular and unique content. No copy and pasting – you'll get found out and it penalises your ranking on Google.
Once you've set up your website/blog, you've given yourself a huge marketing opportunity. And now, all you need to work out is how to get people to your website. Again, a very difficult task.
In addition to this, you could also consider setting up an online shop on platforms like Etsy or Shopify. You want to sell artwork – right? So, this is a great way to get started. But bear in mind that you won't get many sales without a marketing strategy – yes, that word again. So, try and not waste your time..
To be able to market yourself, you've got to believe in yourself
Remember what I said earlier about confidence, marketing and self-promotion?
Well, to succeed as an artist, you must be able to talk about yourself and your work – confidently and regularly. If you don't believe in your work, your talents – yourself – you cannot expect anyone else to believe in you. There's a quote somewhere for this..
Most of us are self-critical and our own worst enemies when it comes to career/life goals. You know, that voice in your head that's like "you can't do this", "your artwork sucks", "you're so out of your depth" and "this will take you years – don't bother". If you've ever said any of these to yourself, you need to go back to square one and ask yourself those questions I asked earlier.
When it's time to start marketing yourself as an artist, you've got to make sure that you're ready to talk about your work confidently and also, be open to criticism. Yes, there will be people out there that will hate your artwork. But that's fine – because this means that there are people out there that will love your artwork.
Land your first "real world" exhibition
Set this as a goal and work towards it.
You may feel that this is well out of your reach right now – and hey, it probably is. But for you to make it in this world as an artist, people need to see your work. So, to begin with – go local. Ask local coffee shops, restaurants, offices, even art galleries how they'd feel about exhibiting your work. Tell them that you're an emerging artist and looking for opportunities to increase your visibility. You'll get a handful of no's but remember what I said earlier, it may take 100 asks to get 1 yes.
Get the ball rolling. Once your work hangs in one place, it will start a chain reaction and create more opportunities (e.g. commissions, artwork sales and further exhibitions).
Generate local buzz, tell the press your story and promote the hell out of your work. Share it online and ask your friends, family and colleagues to spread the word. After a while, people will start talking about you and BAM you've got local exposure.
After you've had your first exhibition, whack it on your CV and then repeat the process. Perhaps go a little bigger next time and approach galleries/businesses in a neighbouring city.
Over time, your reputation will grow.  But remember – this will all take time, so be thankful for your other part-time job at this point.
It's all about the long game.
What to do after your Fine Art degree checklist
Take a break but don't lose momentum
Decide whether or not to do an MA
Get a part-time job (seriously)
Find a space to work
Develop your practice and be honest with yourself
Consider an artist residency
Introduce yourself online (social media and your website)
Introduce yourself offline (talk to real people and attend events)
Ask for opportunities
Write regular essays/blog posts on your practice
Develop and ace your marketing strategy
Land your first show
Network, network, network
Repeat
So, do you still want to be an artist?
You've done so well to get where you are now; you should be proud of yourself.
Now, are you ready to climb the first rung of the ladder to be a full time artist?
Or is it all a bit too risky?
Up to you.
---
If you'd like to talk to me about this post, please do get in touch and I will respond as soon as I can.