Emma Howell
7 January, 2014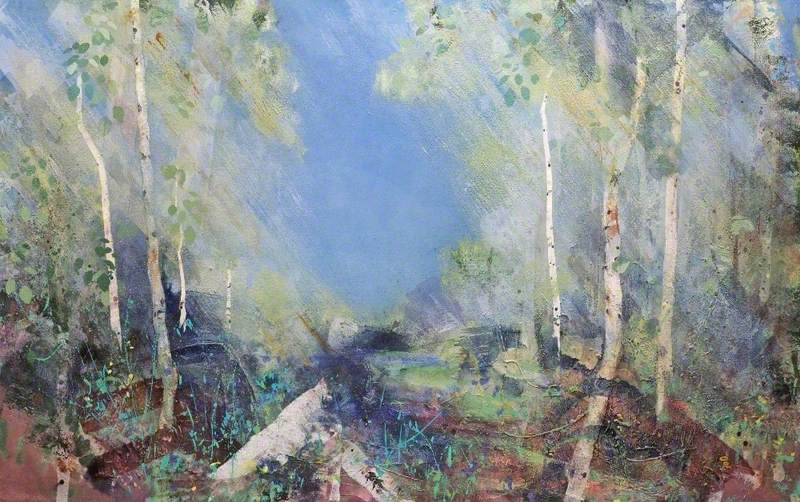 Bob Davison, currently the Head of Fine Art, Painting and Drawing at the University of Gloucestershire (and one of my tutors) gave a personal talk about his route into the Art World and what opportunities there are for us as Art students.
He began the talk by giving us some background information about himself and how he got into the art world. I actually found it very interesting and endearing to find out that Bob was very keen on the subject of Science, as I am too. I took comfort in this fact because I've always been concerned that I'd have a different way of thinking in comparison to my peers who have studied Art foundation or been 'arty farty' their whole life.. and to know Bob has similar interests.. makes me feel better! Anyway, Bob was a physics technician for numerous years whilst having a passion for painting landscapes. He saidthat he believes paintings are all about space, construction, abstraction and colour.. and that artwork can change with time.. a painting has different elements in it, which can be taken away, added, changed, distorted.. in anyway the artist desires… Different things can be seen within one image.  This idea that Bob explained, definitely took a weight off of my shoulders- in regards to painting a picture. Stop copying a photograph and stop planning exactly what you're going to paint.. just go with it… I like this way of working- his paintings were beautiful- full of energy, layers, texture, movement, emotion and vibrancy!
Another thing Bob talked about was the broadness of work in Art Galleries. He explained that the work entails hanging shows, publicity work, catalogue production, preparing upcoming shows, documentation of shows, art fair preparation and more! He basically put us at ease by telling us that there are plentyof opportunities out there for us, as art students. Obviously working in an Art gallery isn't the only door we can go through.. I'm actually very interestedin branding/advertising/design, so I'm thinking of going down another route.. but yes, there are many many things that we can go into with Fine Art degrees. He did say that moving to London is very helpful.. but lets not get carried away!
All in all, Bob's talk was very informativeand helpful in regards to how we can develop ourown artwork and where it can take us in the future.
This post was written in 2014, during my Fine Art Degree. One part of a module suggested that we start a blog to document our practice – and even though I cringe at my method of writing (spelling, grammar and tone of voice), I'm very glad I got started. You can find more up to date posts on my blog listing page.