Emma Howell
29 January, 2015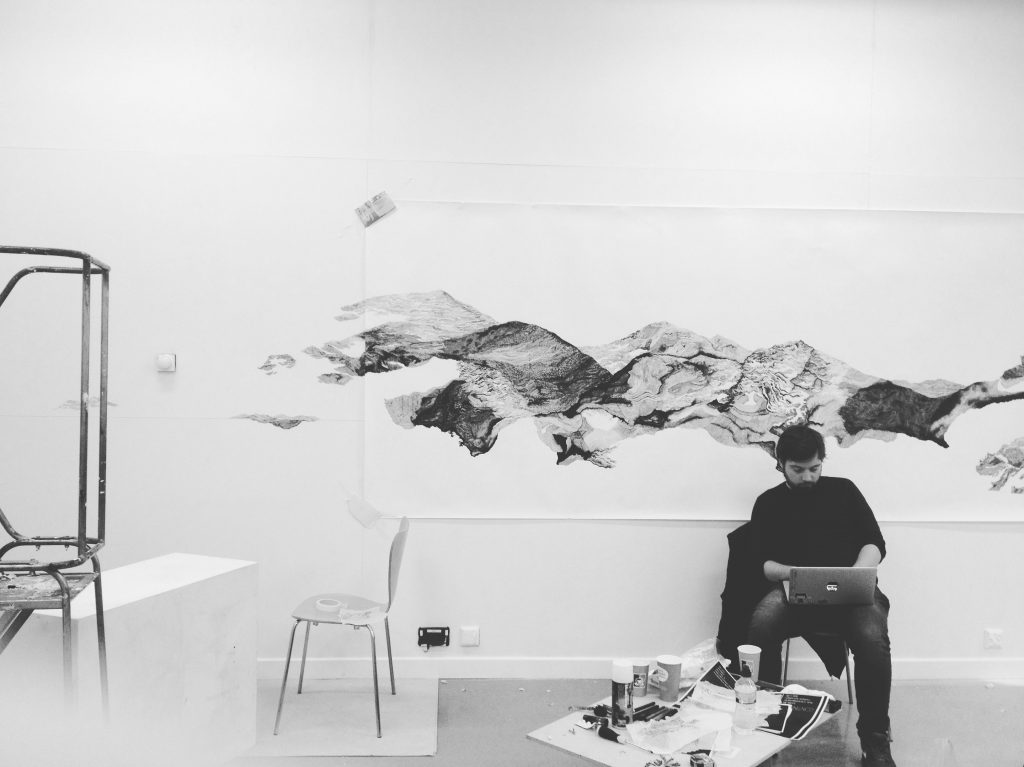 Some how, I'm halfway through my final year.. with real life starting in 5 months time.
I cannot believe how fast time goes. It's scary to think that in 153 days I will be saying goodbye to school holidays, financial assistance and the decision of whether or not to get out of bed; and saying hello to mortgages, bills and early commutes.
Anyway, the last 5 months have been all about mark making, repetitive strain injury and the creation of a large landscape of imagination. Bear in mind, these did not happen without a little blood, sweat and tears.. It's been a bit of a roller-coaster.
Amsterdam
I've been working hard to nurture and advance my studio practice, so much so, I was lucky enough to be chosen (along with 4 other students) to exhibit and compete in Amsterdam at the Hans Brinker Budget Hotel. The competition involved approximately 35 students from 6 different Art Schools all in the running to win 5000 euros. We were randomly designated a ground floor hotel room to exhibit our work with one other student from a differing Art School. I was happy with how my exhibition space turned out; I exhibited 4 screen prints and a large landscape drawing. Unfortunately, there was no winner from the University of Gloucestershire.. the winner's work was on another level above the rest of us; it was obvious he was going to win.. and consequently too many Heinekens were consumed that night, catalysing a few tearful moments.
Anyway, the whole experience really boosted my confidence and enabled me to have more faith in my artwork. It was also great to experience life as a true artist and go through the whole process of presenting artwork to the public in a real exhibition.
Landscape Drawing
So far, my final year has been all about mark-making. The summer before term I began filling a sketchbook with various types of marks, using only fine liner pens. I carried on with this book throughout the first term and translated the invented marks onto a large scale roll of paper; consequently leading to the making of my landscape drawing.
In May 2014, I flew across the pond to Washington D.C and New York City. Here, I documented my journey with my Nikon D60, recording treks through the vineyards of Virginia, hikes up the Blue Ridge mountains and the rush of the big apple. These images now act as main reference points that inform the marks made in my drawing process (e.g. a close up of the rough surface of a paving stone in New York). This amalgamation of marks has built up over the course of about 4 months, forming a very personal and intricate landscape that represents my journey. Currently, the drawing depicts a visual road of self discovery and is a visual representation of myself as an artist, which almost exists as a wordless diary.
So far, it has taken 25 fine liners, a couple of bruised fingers and consistently numb hands to create, but all in all, I'm truly excited about my progress with this drawing and have ambition to ensure that my part in the University of Gloucestershire Degree Show (in 4 months time) will be awesome.
Next time, I'll be writing about my enthusiasm towards the medium of photography with references to the great works of Garry Winogrand and Vivian Maier.