Emma Howell
28 August, 2018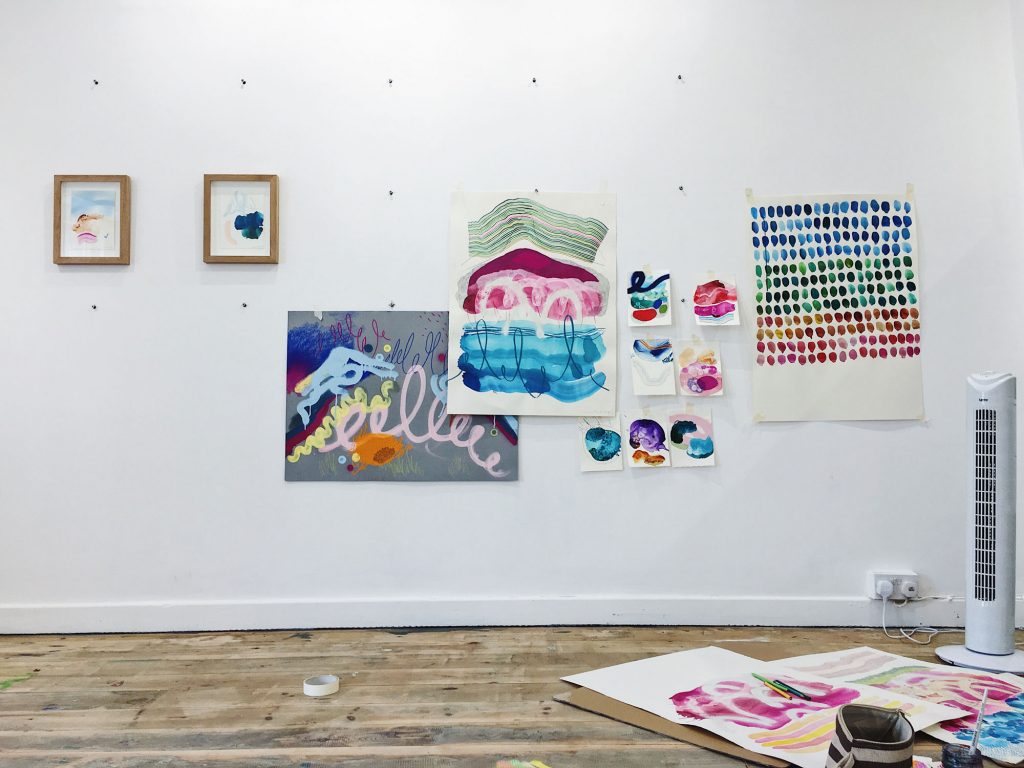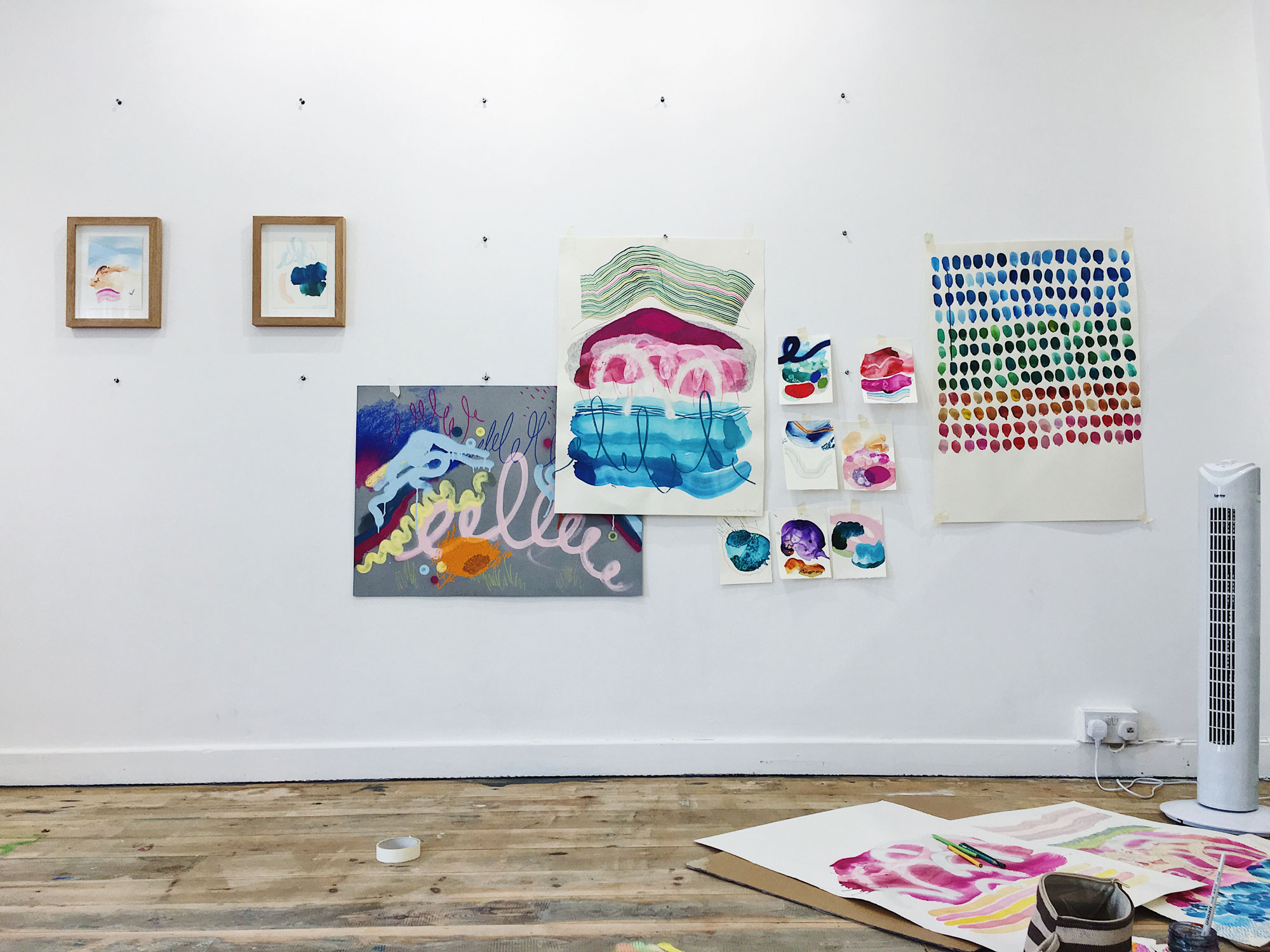 Here are a few answers to the questions I was asked last week on Instagram:
What things do you do other than your art business?
In regards to work, besides painting and running my business, I work part-time in a marketing agency (very flexible, usually 2-3 days per week). Here, my work consists of searching the web for blogs, developing relationships with other businesses and writing emails. I won't bore you with the details, but this type of work helps me develop my digital marketing skills for my own website.
Outside of work, I go to the gym 3-4 days a week to keep up with a powerlifting programme written by my trainer (and sister-in-law) Hannah Howell. At weekends, my boyfriend and I will try and make an effort to go on mini local adventures – usually hiking, cycling, walking or road-tripping (typically to places where I can sit and sketch/paint). If we don't, duvet days do happen – or admittedly, I work on growing my business at weekends.
What is the hardest part about being an artist?
Ugh. I can't name one thing. Despite what most non-art-focused individuals probably think, being an artist is really really really hard. It isn't just slathering paint across a surface and getting people to buy it. Many do not realise how big the art career jigsaw is (e.g. networking, handling finances, generating leads, sending hundreds of "check out my work" emails, keeping up with social media marketing, sporadic income, artwork inventory, responding to emails, battling with self-doubt, photography, framing, spending all my money on supplies, rejection, rejection, generating new content, constant need to innovate, insomnia, rejection..). Not only is it big, it is also terribly difficult, and there are some moments when all I want to do is give up and throw it across the room. Seriously – despite my successes, I doubt my ability to continue the art career jigsaw weekly. No, that's a lie – daily.
So, perhaps the hardest part about being an artist is maintaining the faith.
Another hard thing about it is having to walk this earth feeling very misunderstood. Let's face it, there are so many people out there that have bad things to say about us who make paintings for money. Even in the gym the other day, I was telling someone what I do and they responded with: "That's not a job?! Is it?!" – a fake smile and laugh moment, I must say. Abstract art, especially, is quite often not well received. But I'm kind of over this one – I think. Until I'm not. Admittedly, I sometimes feel that if I painted fantastically accurate paintings of horses or emotive landscapes, I'd have a much better time showing people my work.. but, I don't enjoy that type of painting (at the moment, anyway).
Spreadsheets, finances and talking about myself isn't that easy either.
What's the best thing about being an artist?
Freedom.
How do you ship your artwork?
Artwork that is framed with glass is carefully packaged and shipped with a local courier. Masking tape is applied to the glass in strips, so that if the glass breaks in transit, it will remain in place and won't damage the artwork. Acid -free tissue paper and a layer of bubble wrap is folded and placed on top of the glass, then cardboard corners are fitted. The entire work is then wrapped in acid-free tissue paper and multiple layers of bubble wrap. Finally, the package is tightly wrapped and taped up in cardboard, so that the work cannot move around. I haven't had a single breakage reported yet.
Unframed paintings are wrapped in acid-free tissue paper, placed in a clear cellophane pouch and shipped in a firm envelope.
Canvas work is typically removed from its stretchers and rolled in a tube. However, this method is being reconsidered for those who'd rather it be still on the frame.
I ship worldwide and prices vary depending on the type of work and its destination. For larger works or framed works, your shipping cost will be invoiced to you separately.
Local pick-up is available and occasionally, I can personally deliver works (in this instance, there will be a cost for the petrol and you'll be invoiced separately).
Can you recommend any places to visit in the UK?
So, I can recommend a few places, but unfortunately I'm actually not that well travelled within the UK. However, this will be changing soon, as my next art projects involve exploring my homeland. There are many places I want to go, like Durdle Door, the Lake District, Pembrokeshire Coast, the White Cliffs of Dover.. to name a few.
Here are places I have been that I think you should visit:
Cheltenham, Gloucestershire (my hometown) – particularly Cleeve Hill at dusk or dawn.
Broadway, Worcestershire – go for a walk up to the tower then grab a pub lunch at The Lygon Arms.
Pen y Fan, Powys, Wales – hike to the top, the views are incredible.
Centre of Liverpool – like a mini London on a harbour, great places to eat/drink and super clean.
Bath, Somerset – if I didn't love my hometown so much, this would be my second choice of places to live in the UK. It's colourful, friendly and has great markets.
Canterbury, Kent – really lovely cathedral city, steeped in history.
London – just because you have to go to there at some point in your life.
And a few more.
How do you juggle everything? (E.g. painting, your other job, hobbies, writing a blog)
I don't. I am forever dropping the juggling balls.
But these help: spreadsheets, an 18 month diary/planner, a boyfriend who is a Web Developer, beer, a free PT sister-in-law, the mere sight of a dog, 9pm bedtimes and 6am wake ups. Just don't waste time and get shit done – simple. Unless you want to binge watch Orange Is The New Black or Friends because that's totally OK.
What piece of advice would you give to someone who has lost someone close to them?
I briefly touched on this in my interview with We Heart but I'll reiterate:
It hurts, all the time. So, for anyone who is suffering with loss and stuck in the crossfire of grief, find an outlet. Particularly something creative (and positive), like painting, dancing, playing the guitar, writing or whatever; something that enables you to feel some sort of control over yourself. Because control is something that you may feel you're lacking right now – I certainly did. A creative outlet also steers you away from other types of negative outlets (e.g. excess drinking, emotional bingeing, drugs and social isolation etc.).
Life didn't make sense after my Dad passed away. How could someone be taken away from me just like that? It didn't feel real, so my everyday started to feel like a hallucination. I can't explain the feeling, but if you know, you know. I basically had to "find myself" again.
You've got to, somehow, redevelop yourself into someone that has to exist without the person you've lost. Perhaps think about what they would want you to do.. because they certainly wouldn't want you going mad and crying all day.
Honestly, however hard this is to believe now, you will be a stronger and braver person because of this. Keep fighting.
What paints do you use?
A bit of a hard question to answer because I use a variety – depending on the surface I'm working on and also what I feel like using. Golden Fluid acrylics are my usual go-to, but I also use Montana Gold spray paint, Lukas Cryl Studio acrylics, Golden Heavy Flow acrylics and Winsor & Newton tubed watercolours.
What one piece of advice would you give to an artist JUST starting out?
Firstly, you may find this blog post useful.
One piece of advice I'd give to artists who are just starting out is: hunt down and ask for opportunities yourself because no one is looking for you. Harsh but true.
Also, get yourself a website and document, document, document.
Which is your favourite "How" painting?
There are a number I've warmed to. But the most I'd say is How #31, which is actually still available.
Are there any foods you hate?
Great question. Yes – I really just cant handle raw tomatoes. I've really tried – believe me. Cooked tomato and tomato in any other form is absolutely great. But if you give me a raw one, it won't be well received.
Tell us about your dogs
(This is for my lovely artist friend, Heather.)
My family have two dogs: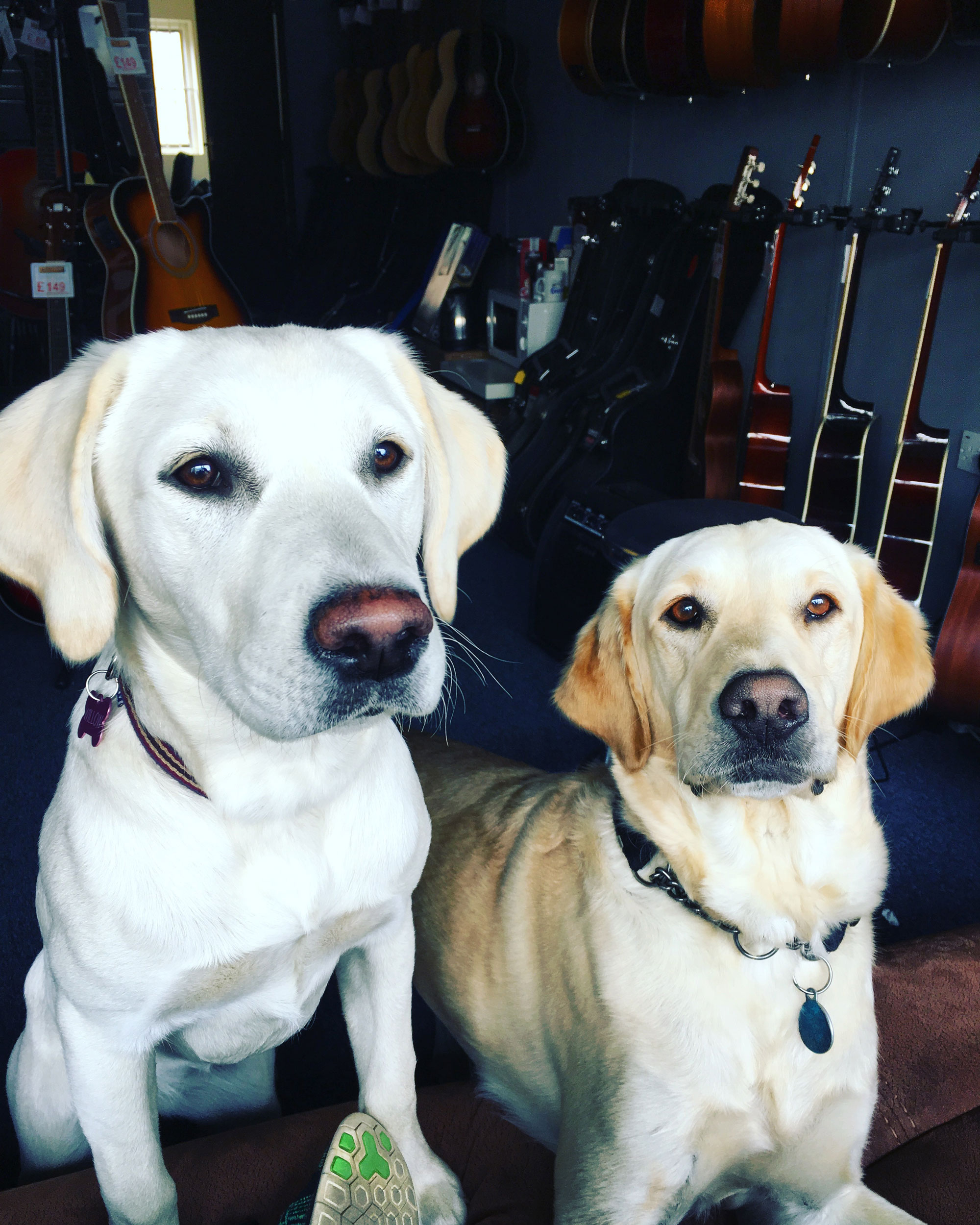 Rambo (right), a highly intelligent 5 year old Golden Retriever X Labradoodle. He only accepts affection on his terms and likes to be on guard to make sure no squirrels and cats enter his garden. He's also absolutely fascinated by balloons and is the ultimate fly catcher. Many people can't quite understand how he's part poodle, but if you study him well, you'll see that he's got quite a pointy nose and a tail that sticks up quite vertically, just like a poodle. Funnily enough, Rambo looks absolutely nothing like his full siblings, who are much smaller with curly poodle hair. He was a complete anomaly.
Willow (left), Rambo's half-sister, an almost 2 year old Golden Retriever X Labrador. She definitely doesn't share Rambo's vocabulary, but she does try her best to copy his odd behaviours. She will only sleep in human beds, is mad for water guns and likes to sit upright with her legs wide open (very classy). If we buy them both toys, Willow will only accept the one that is in Rambo's mouth. She's not a very loyal dog, as she loves absolutely everyone – everyone except for children. She's not aggressive, but she barks at them and we don't know why.
Update: This is Gibson, our 8 month old dark golden retriever. He's very very greedy, obsessed with carrots and absolutely wonderful.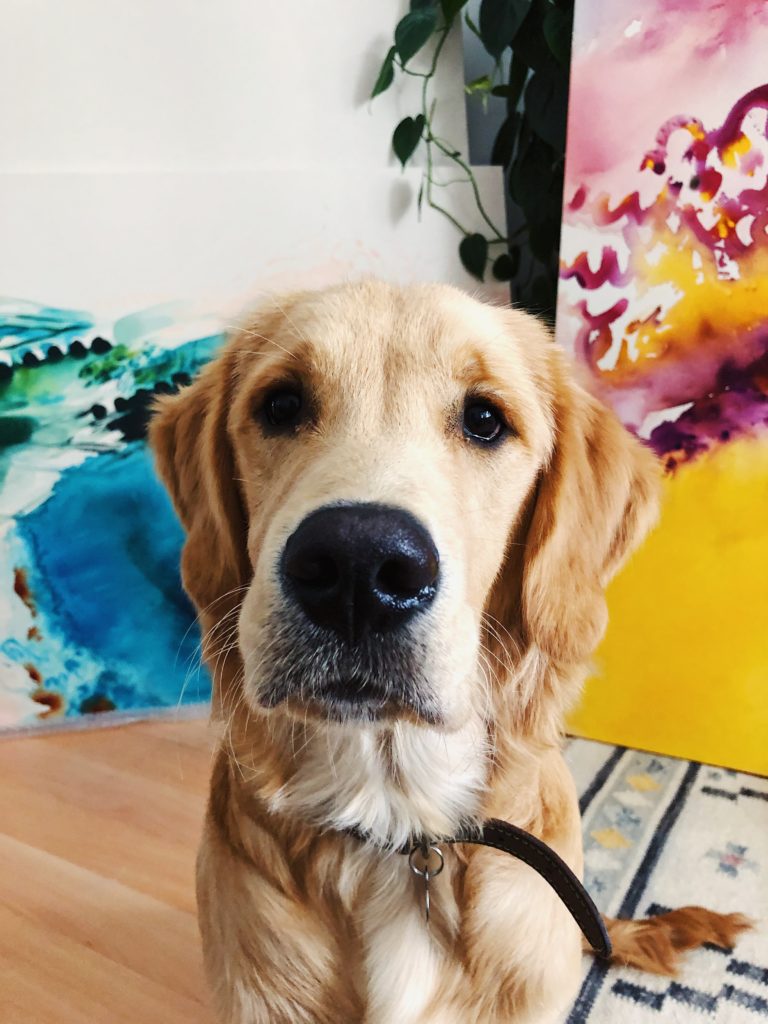 What are your next plans?
I've got a few things in the pipeline at the moment:
I'm talking with various UK based universities about the prospects of being a guest lecturer, hoping to talk about life as an emerging artist and ways to get started. I'm working on another exciting painting project with Hobbycraft, which is likely to be shown in stores early next year. I'm planning some trips around the UK, on the hunt for new colours, marks and textures to document for my next series of paintings.