Emma Howell
6 August, 2018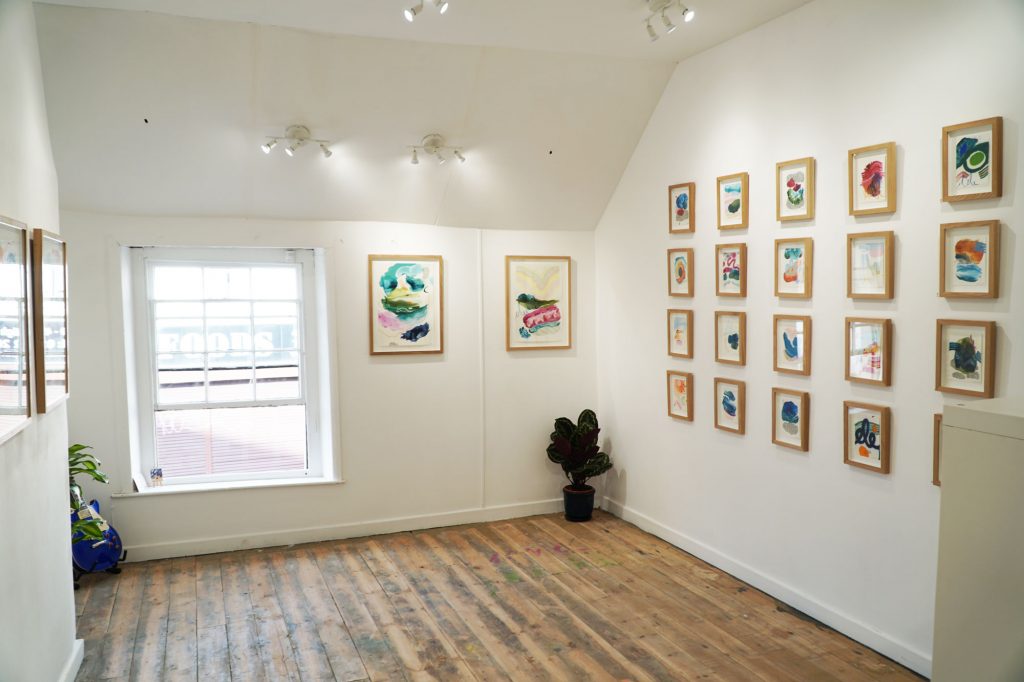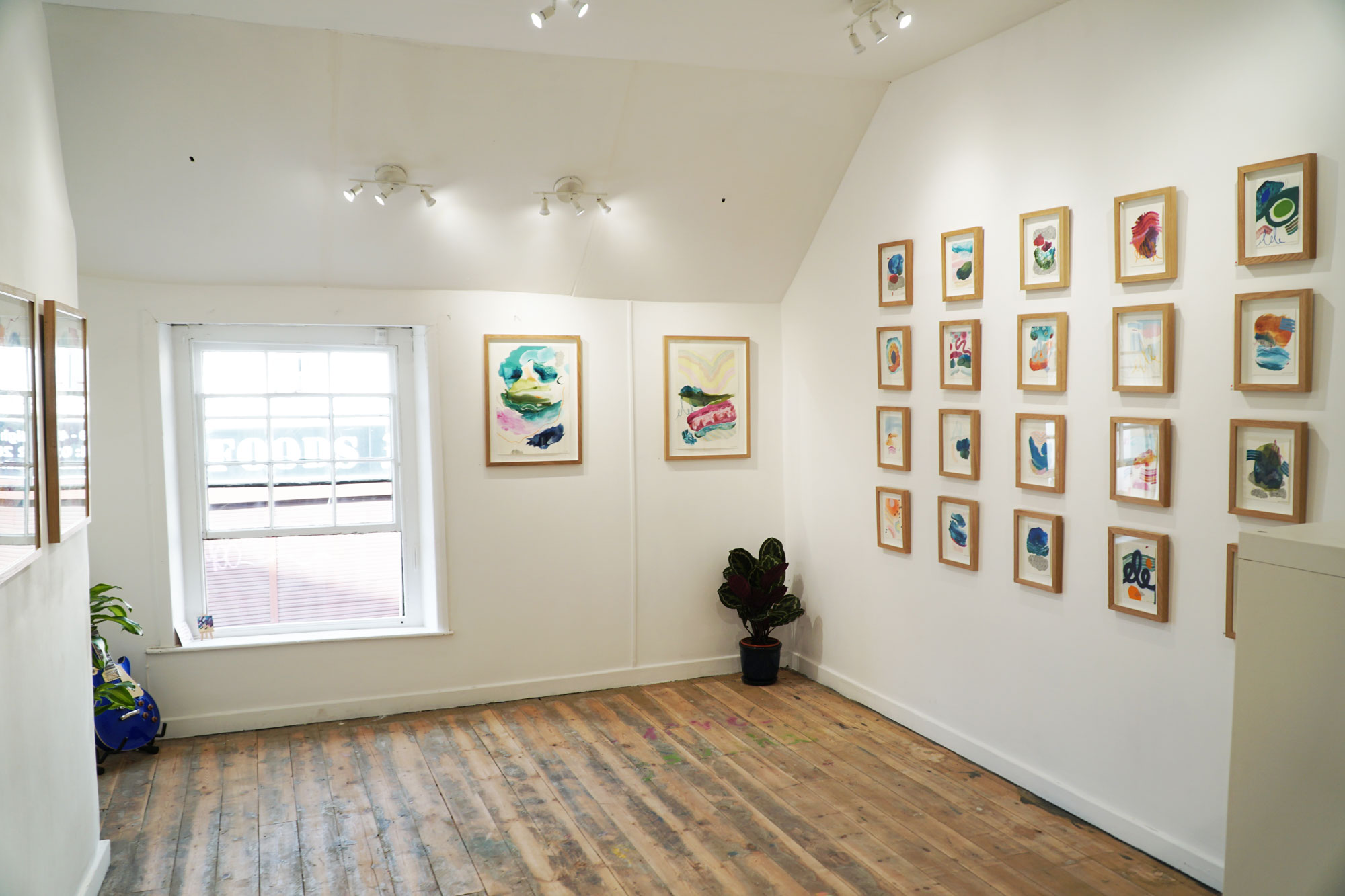 Firstly, I'd like to thank Hobbycraft for sponsoring the exhibition. I'm very grateful for the support I've had from them over the last few months and it was a delight to meet Gemma and Beth from the HQ at the show! You can read their evaluation of the opening event over on their blog.
The Gallery Space
Homegrown takes place in my studio-come-gallery space above my Dad's music shop, Aroundabout Sound. For a long time, the 12-foot room was used as a bass showroom and stockroom for the shop. But after my Dad passed away, the stock of instruments was significantly reduced, leaving the space empty, mouldy and lifeless.
Last year, in desperate need of a larger space to paint in (that wasn't my flat), I moved my art supplies into the upstairs room and started using it as a studio. For about 6 months, I painted in an unwelcoming environment – the walls were lemon yellow, the ceiling black and the carpet grey, stained and mouldy.
When I decided to plan a solo show, and after finding out that local galleries were way too expensive and hard (as an emerging artist) to exhibit in, my family persuaded me to put on my own show in the large space I'd been working in for the last few months. So, with the help of my friends and family, we renovated the entire space from top to toe: re-plastering the walls, painting them white, ripping up the carpets and fixing the light fittings. It took 5 months of blood, sweat and tears – but we did it.
In the near future, my Mum and I are hoping to exhibit the work of other artists in this space. To enquire about this or to show us your work, please get in touch.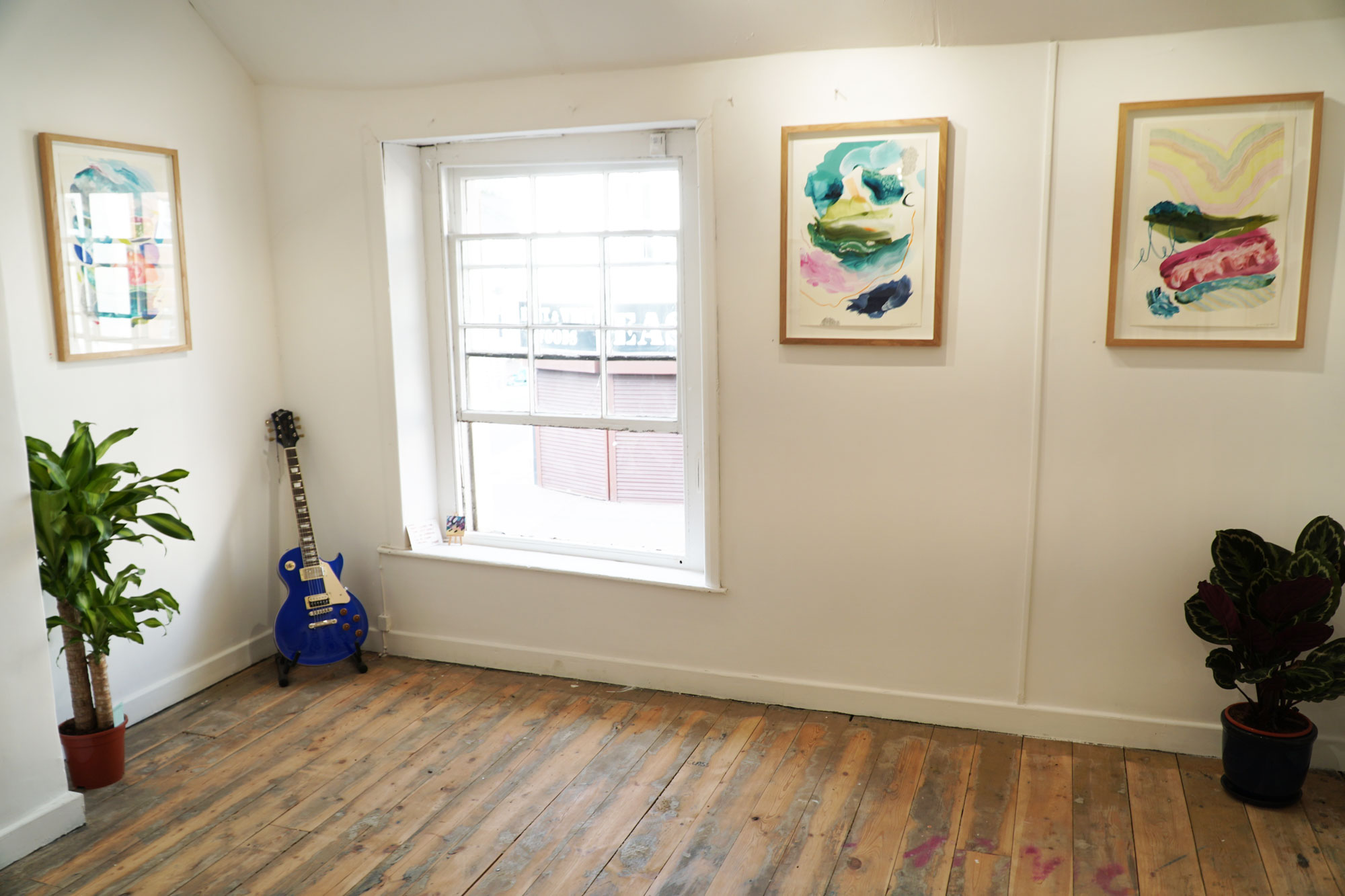 The Curation
I want you to feel comfortable and uplifted when you enter the space. The clean white lights, rustic wooden floors, pastel flowers and dark green plants are there to not only bring the space together, but also to make you feel at home. In two different corners of the room, sits a sunburst bass and an ultramarine electric guitar to give the space context, add to the home decor vibe and harmonise with the coloured works on the walls.
Homegrown has been curated in a way for you to walk easily around the space. The larger paintings in the show hang quite low (approx. eye level) and close together, so that you're given the opportunity to get lost in each work and embark upon your own visual adventure. Then there is a quick and clear path to move onto the next piece.
The curation of the smaller works, The How Series, was inspired by Heather Day's exhibition last October. These simple and intimate works are to show deconstructions of colour and mark combinations sourced from my journals. For me, they act as reference points for future works and for you, a reminder that there is more than one way to view this world. I find it important that these works are viewed together, as one series – like a visual dictionary.
The deckled edge of each work is exposed in bespoke natural wood frames made by Regency Gallery and Framing – adding to the organic, rustic and homey feel of this new gallery space.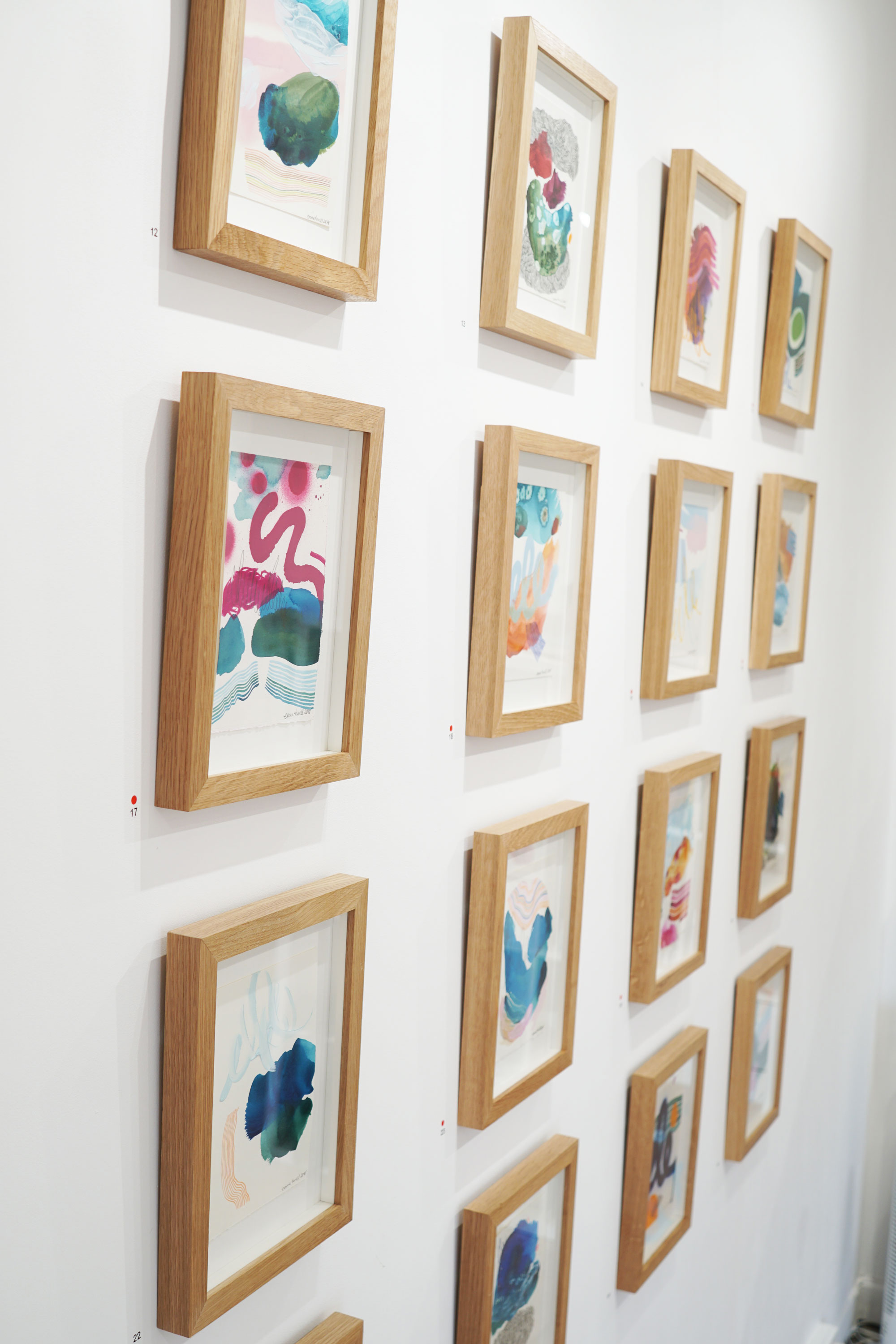 The Music
Having had a musician for a father, music has played a significant role in my upbringing. Consequently, after his death, I found listening to any kind very difficult.
The uplifting and inspiring songs played in the space are the ones I've relearnt to listen to and have fuelled my creative process in ways I would never have expected. I wanted visitors to feel comfortable and uplifted whilst they viewed the artwork, so I felt that having background music would add to their journey in the space.
The Opening Night
At various intervals, 107 people in total wandered up the stairs with glasses of Prosecco in their hands. Within the crowd was Stephen Marston (the Vice Chancellor of the University of Gloucestershire), Michelle Fyrne (the co-founder of So Glos), Heather Toward (wonderful artist and illustrator) and several not-so-familiar faces turning out to be lovely social media followers.
22 out of the 30 paintings exhibited have sold already and I can't thank my new collectors enough for supporting my practice as an artist – it means a lot.
So, the whole night (albeit very overwhelming) was pretty successful –  I must say.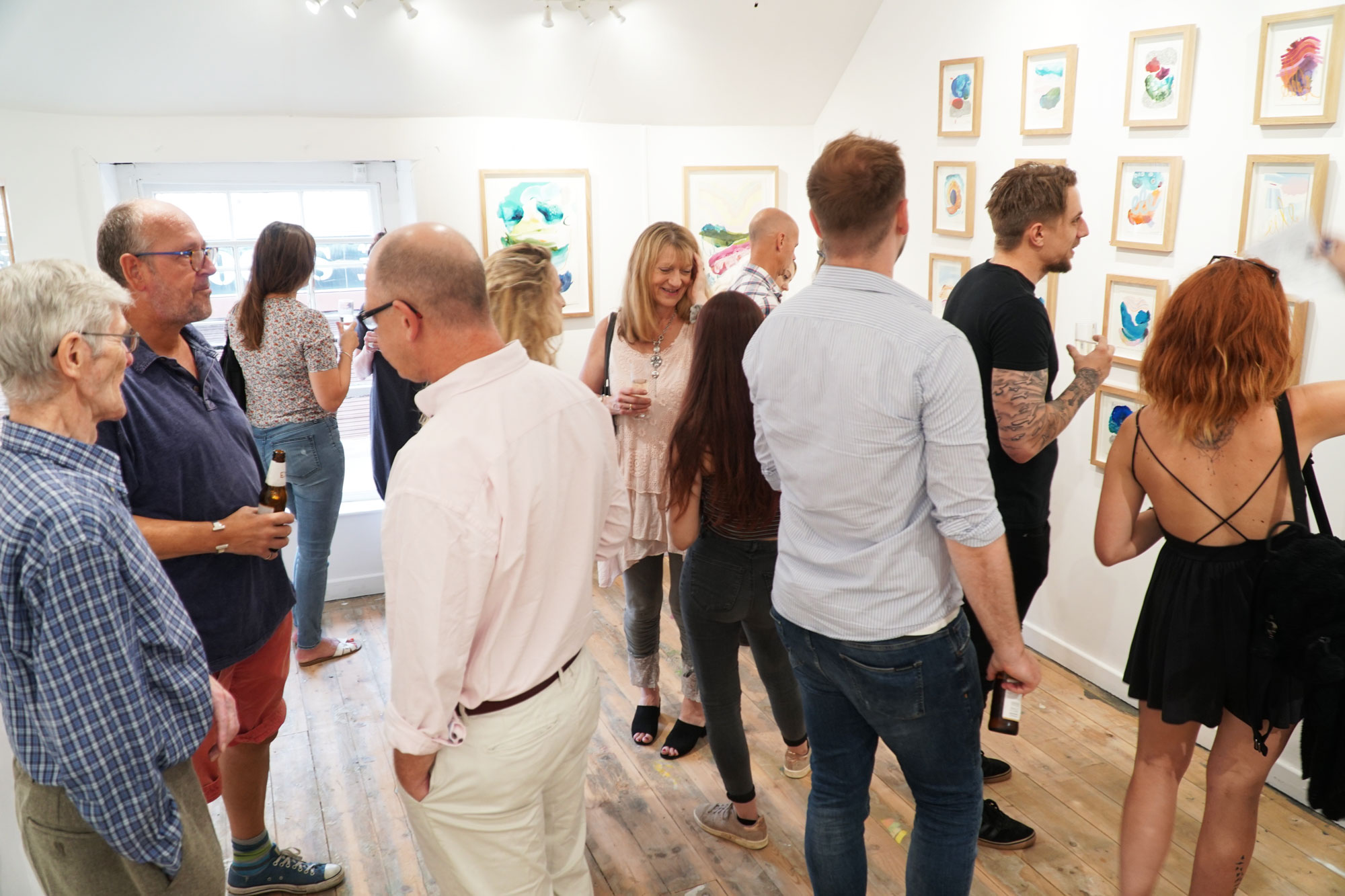 The Extra Gallery Space
Something I haven't talked about yet is the extra gallery space we renovated downstairs in the music shop. Within the last few weeks leading up to the show, we decided to exhibit paintings from my earlier collections (labelled as the "back catalogue"). Putting these paintings on display to the public is exposing my journey as an artist, so far. Hanging on the freshly painted white walls, is an abstract London scene painted in 2014 at university, a variety of expressive and colourful works created when I was in the whirlwind of raw grief and some experimental mixed media canvases.
I was quite reluctant to exhibit these works at first – but many visitors seemed to be fascinated by the development of my practice. Phew!
We are going to be using this downstairs space for workshops in 2019 (e.g. life drawing, still life, abstract painting workshops etc.). To enquire about this, please get in touch.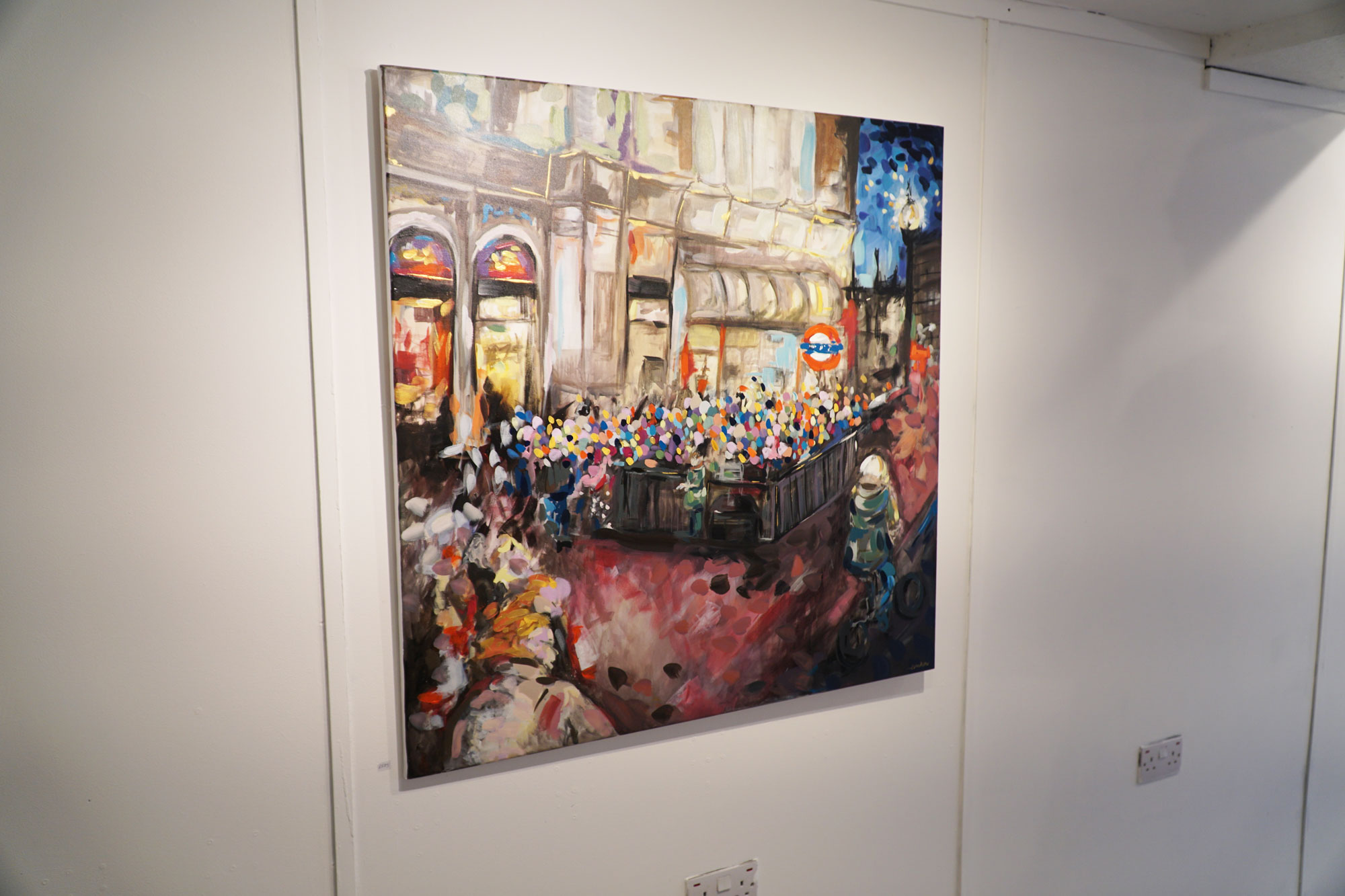 An Honest Feeling
Despite the wonderful success of the opening night, I have to admit – I struggled.
I struggled talking and being constantly in the limelight. This was well and truly out of my comfort zone. After admitting these feelings to my friends and family, they were all shocked and said I seemed totally confident all night. When – in fact – for most of the night, I just wanted to escape to the bathroom to splash cold water on my face or to have time to myself. I must be pretty good at hiding it.
Having so many people from different walks of life (some I hadn't seen in a few years) meeting together in the same room, was extremely overwhelming and I found it difficult to juggle so many different conversations. The sweltering heat of the space didn't help either – the whole night was pretty sweaty, to say the least.
Nonetheless, I feel so very grateful for the support from everyone that made it to the show. At the end of the night, I stood outside across the road and stared up at the gallery window, smiling. Seeing all of these faces together and knowing that they were there to cheer on my career as an artist made me feel very emotional and appreciative.
---
For all of you who are unable to see the exhibition, here are some more photographs taken on the opening night: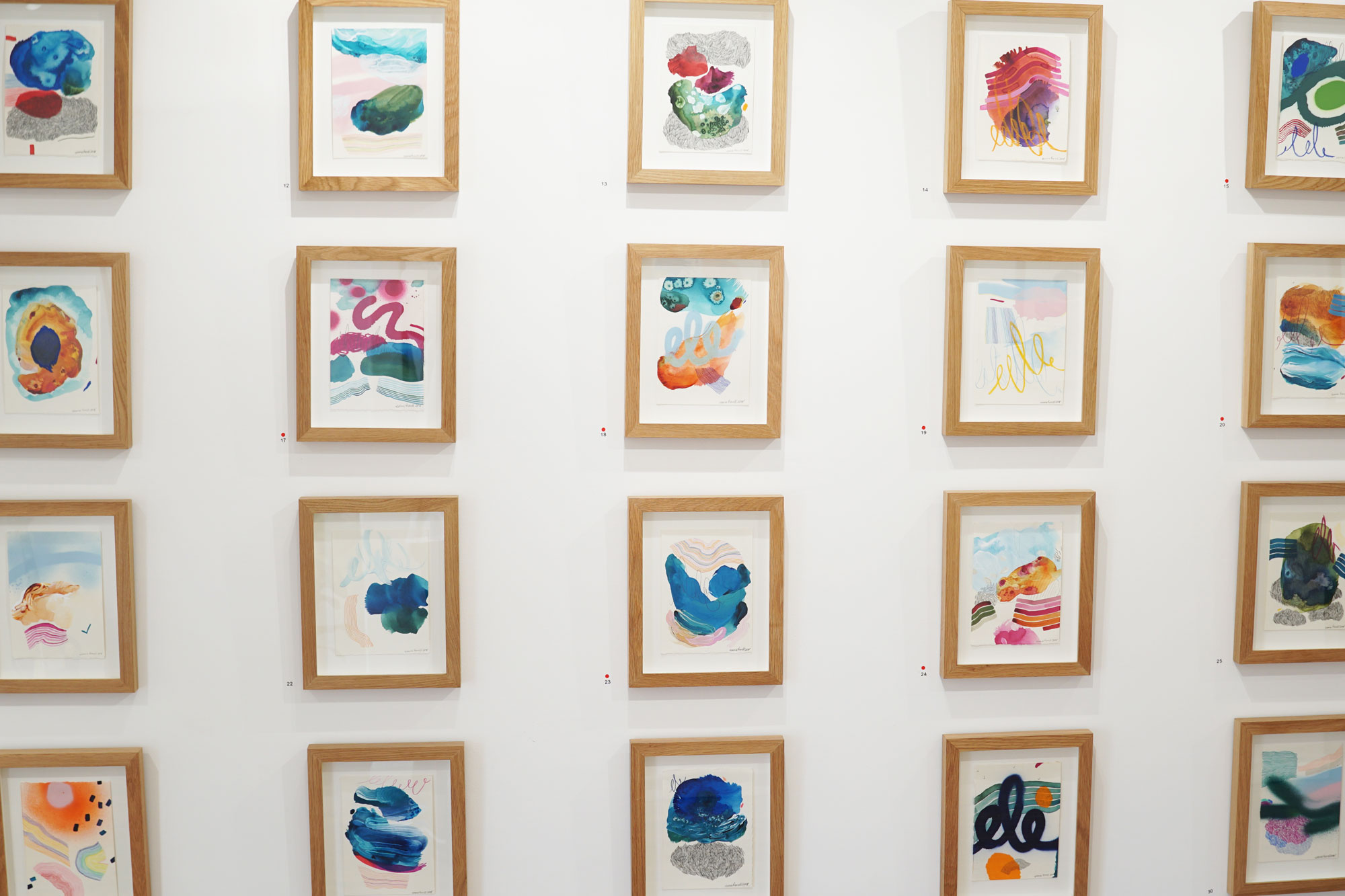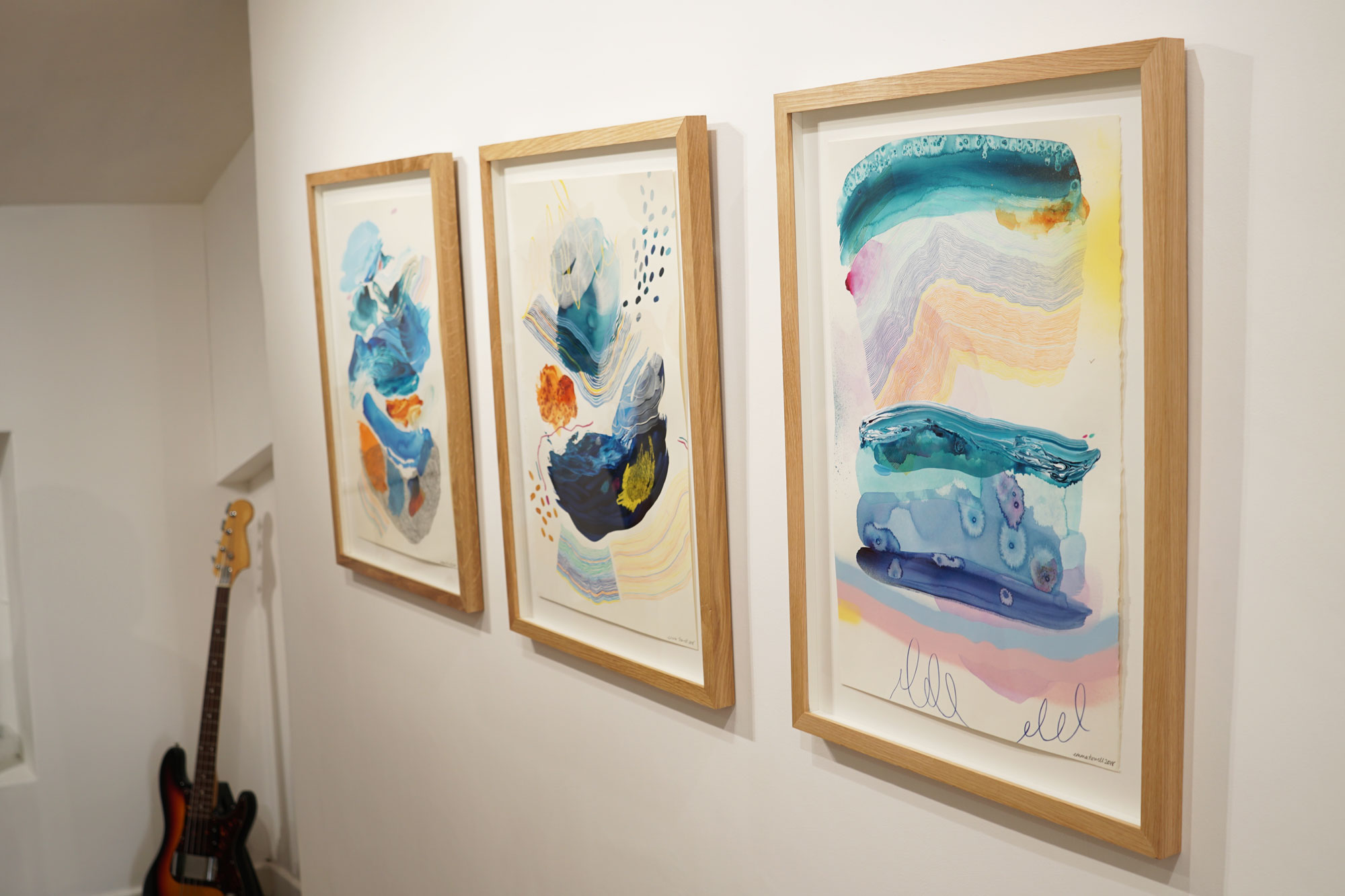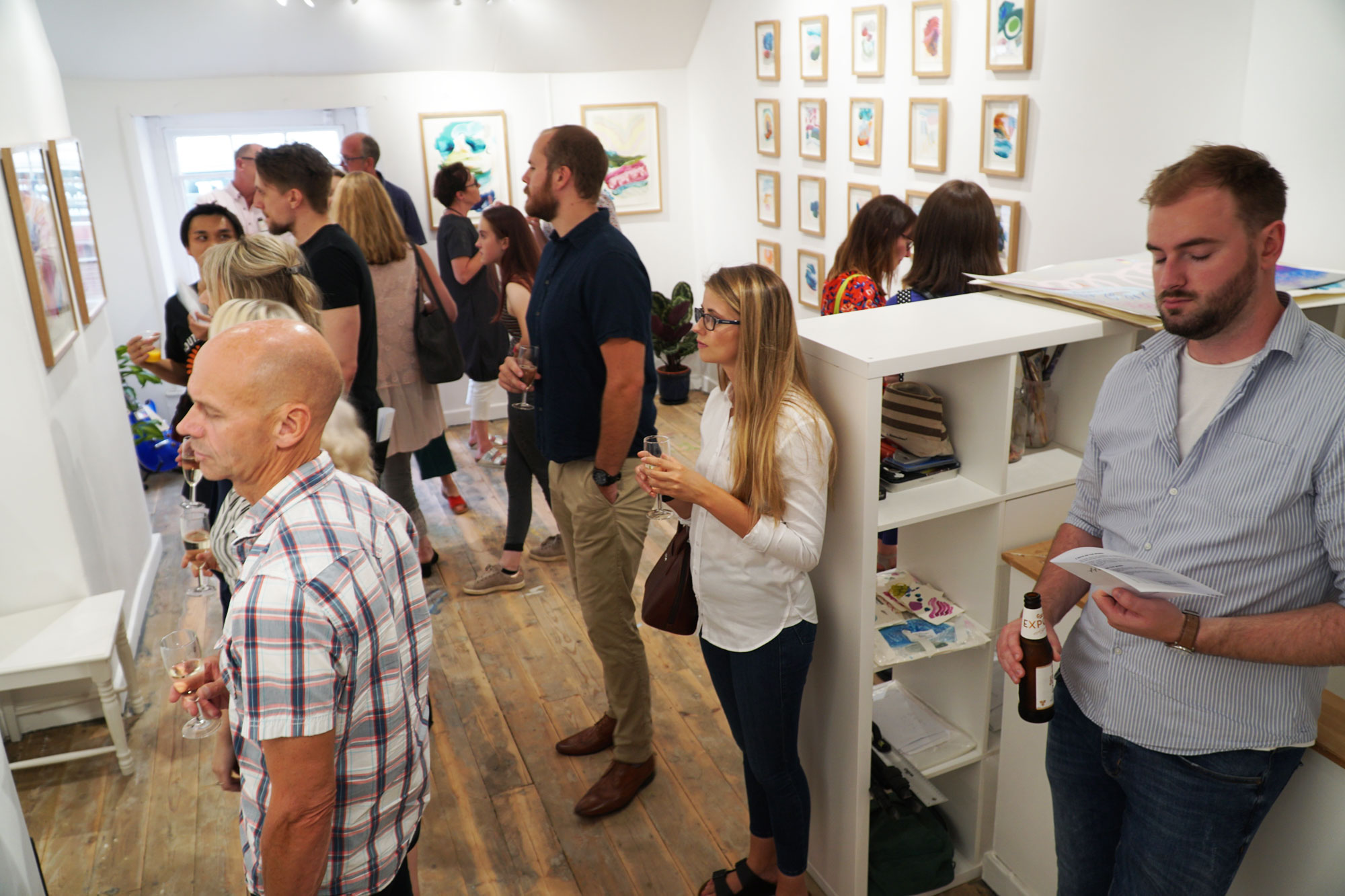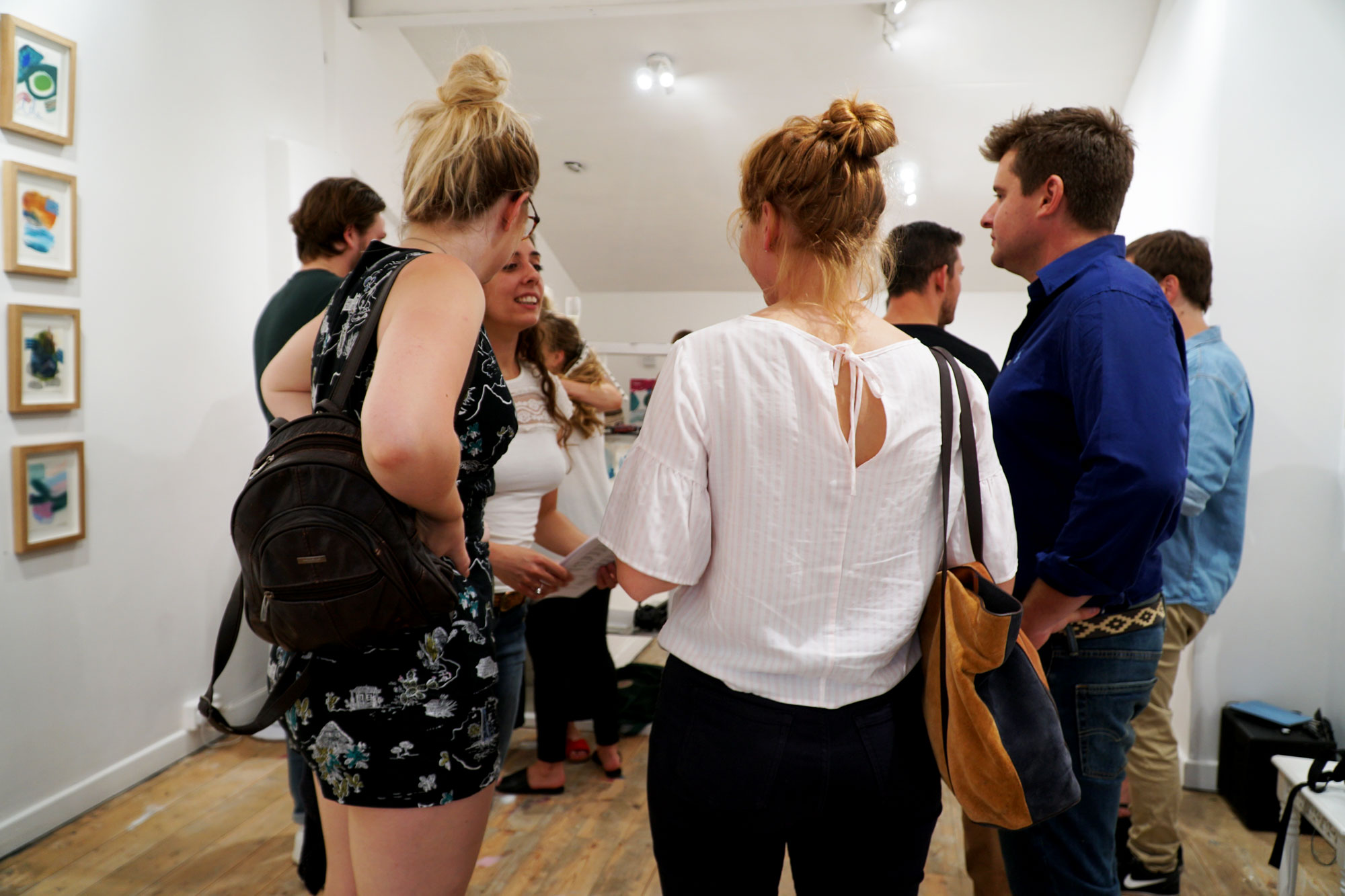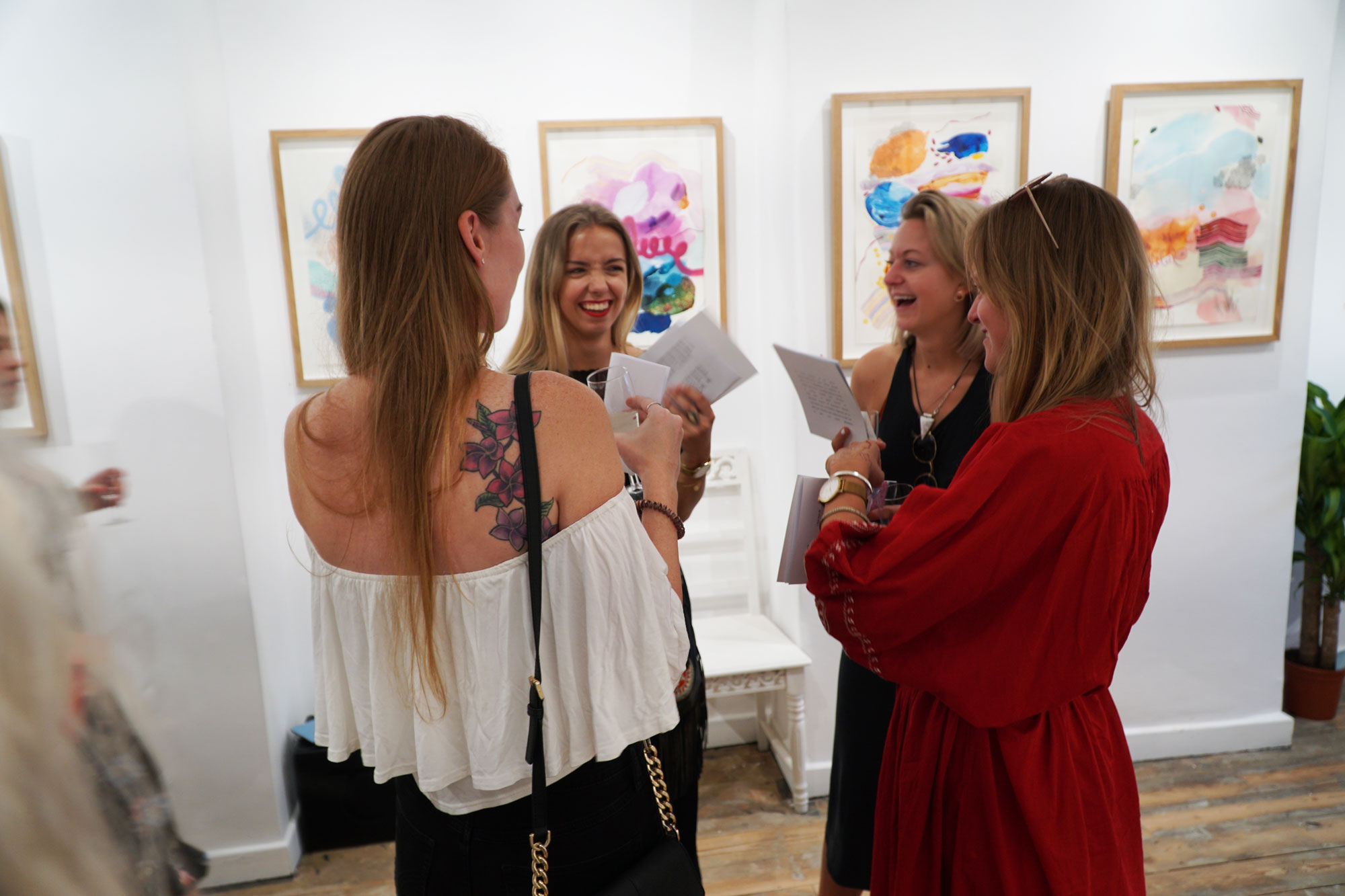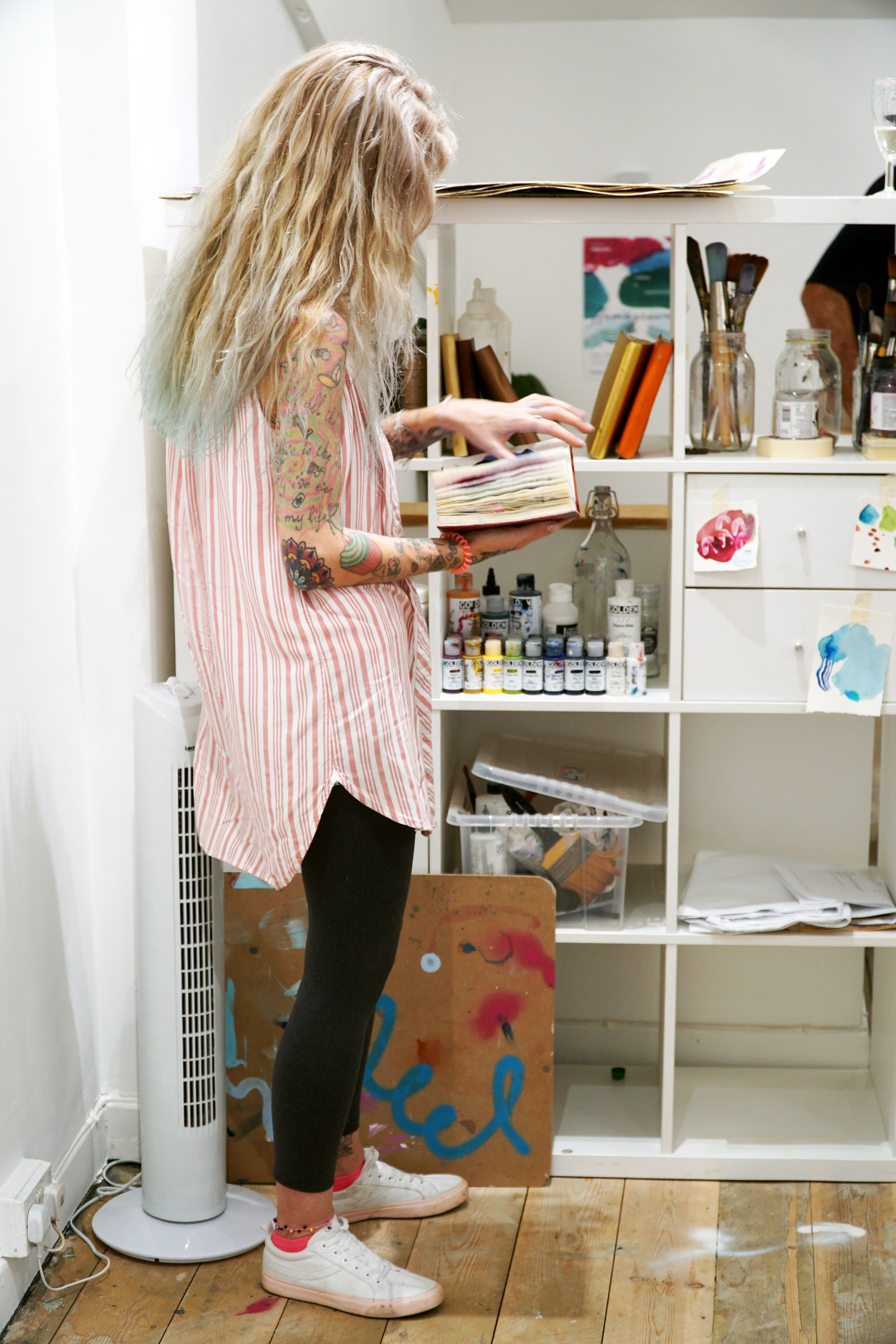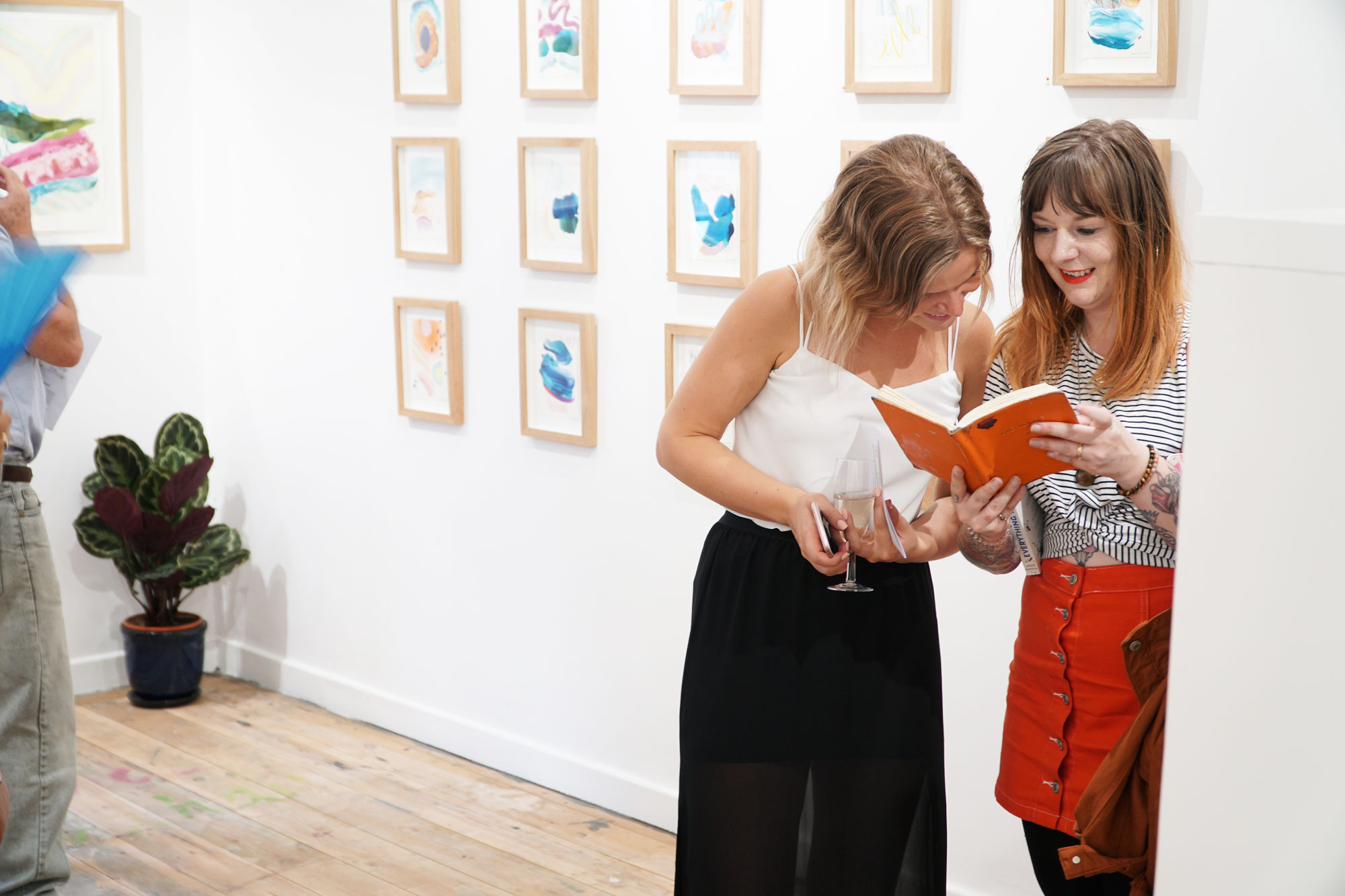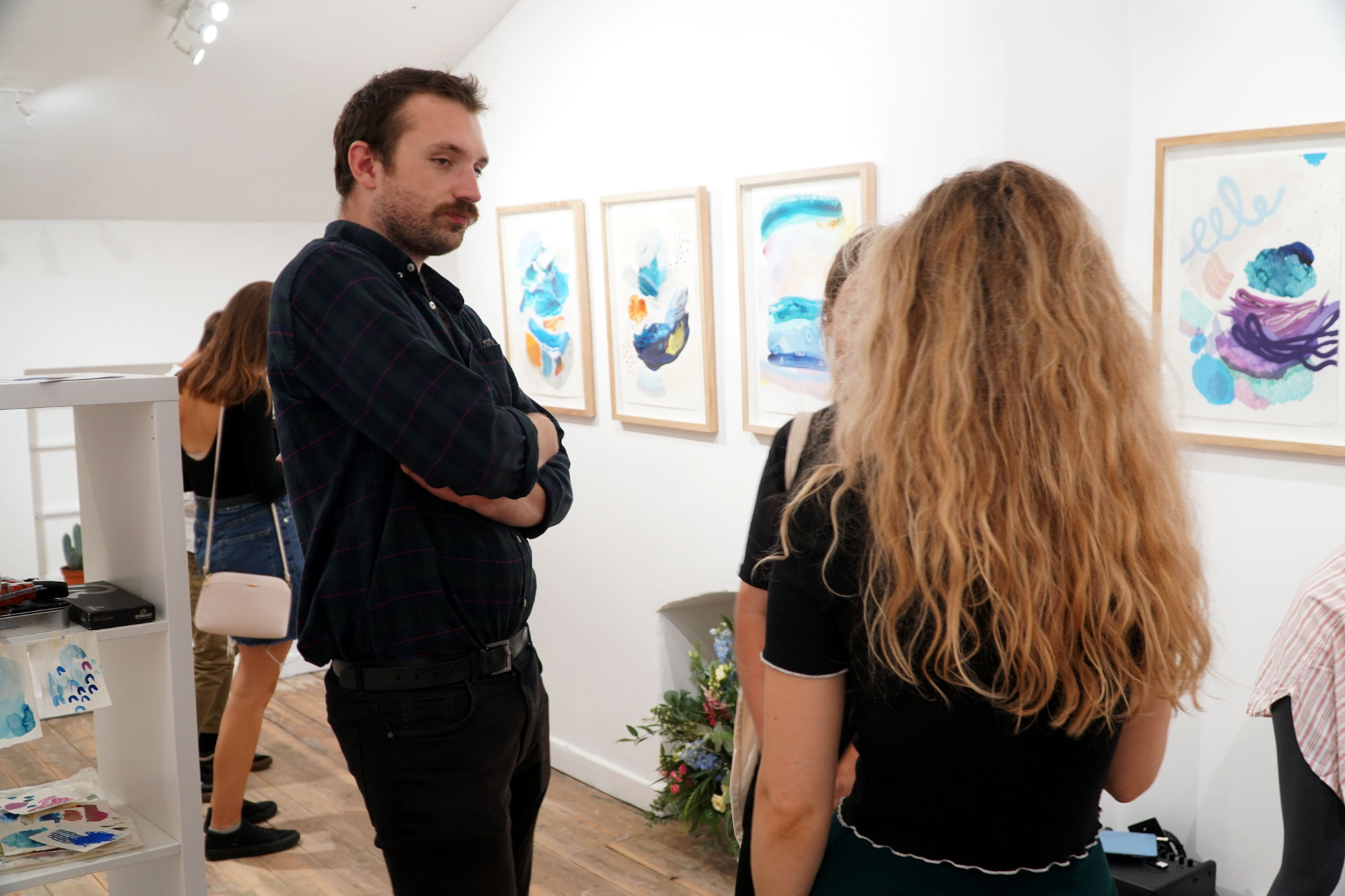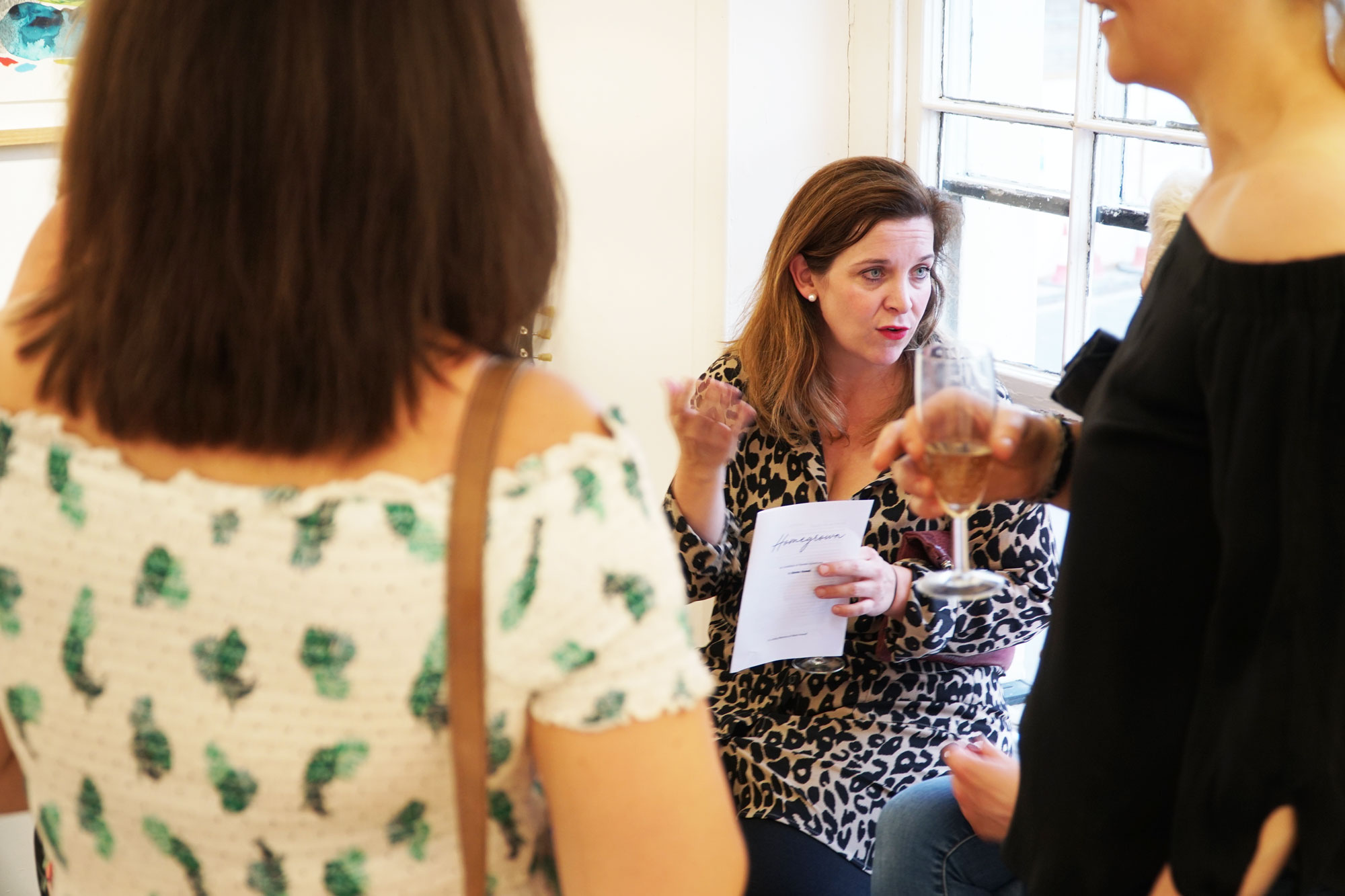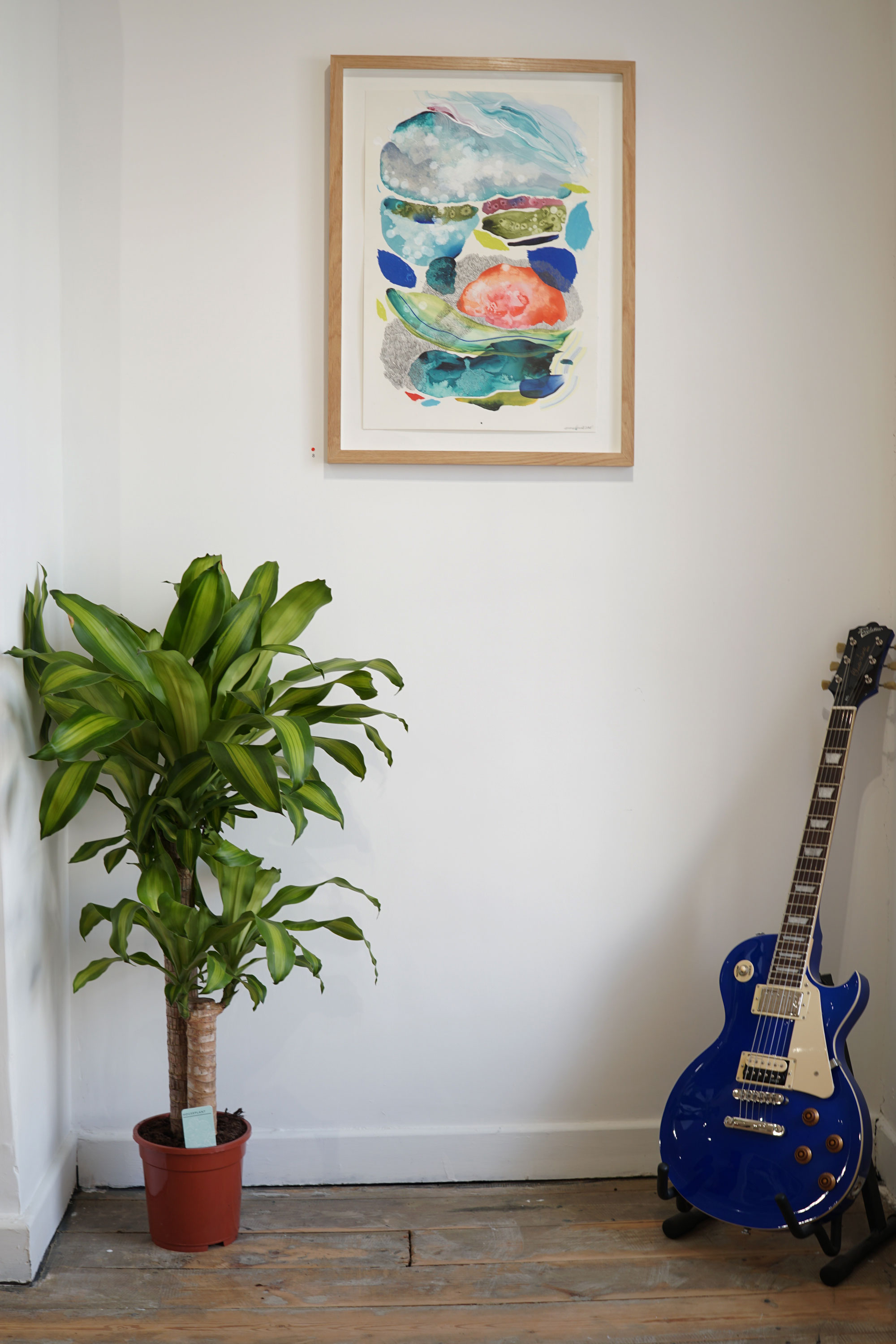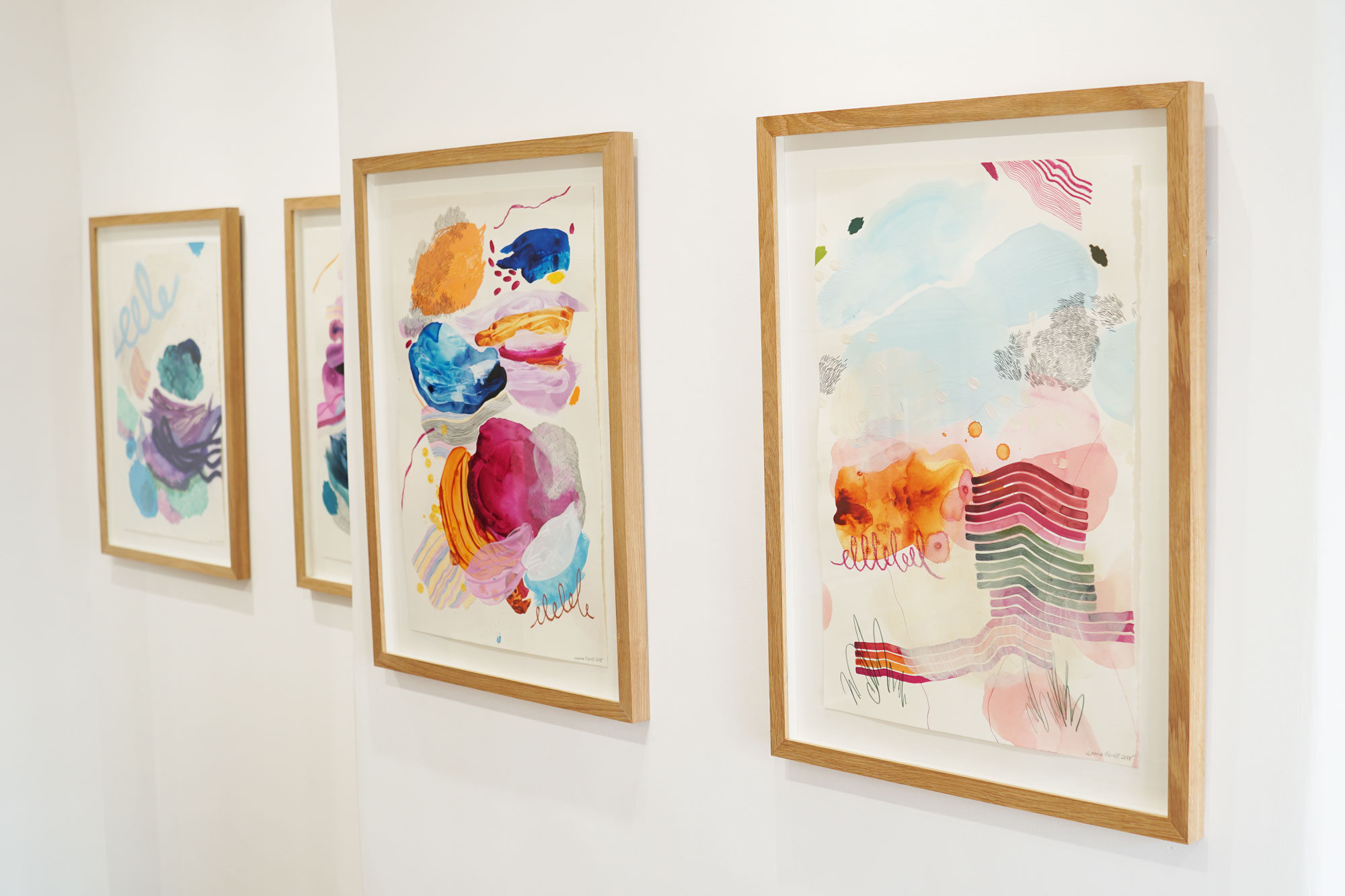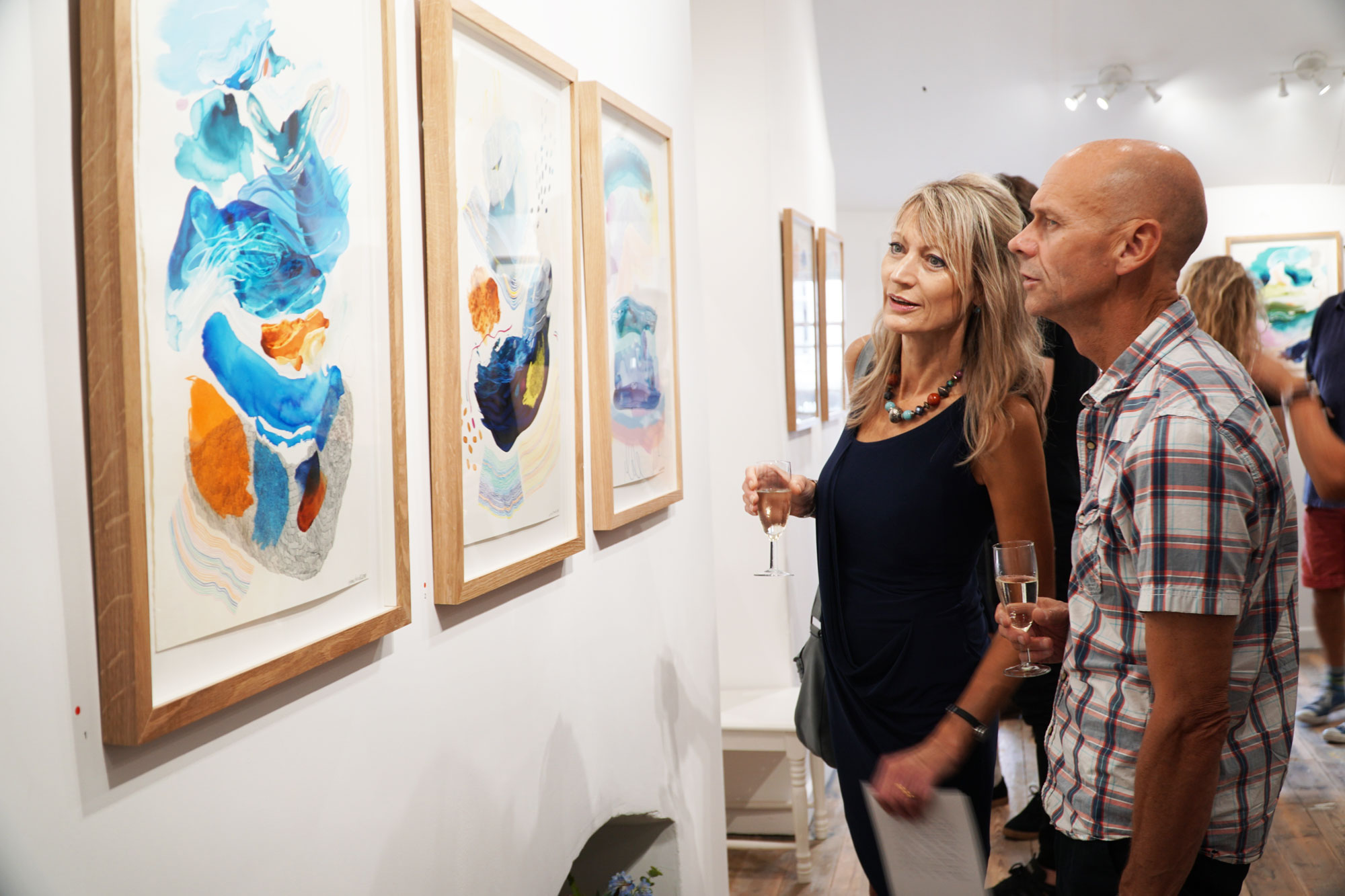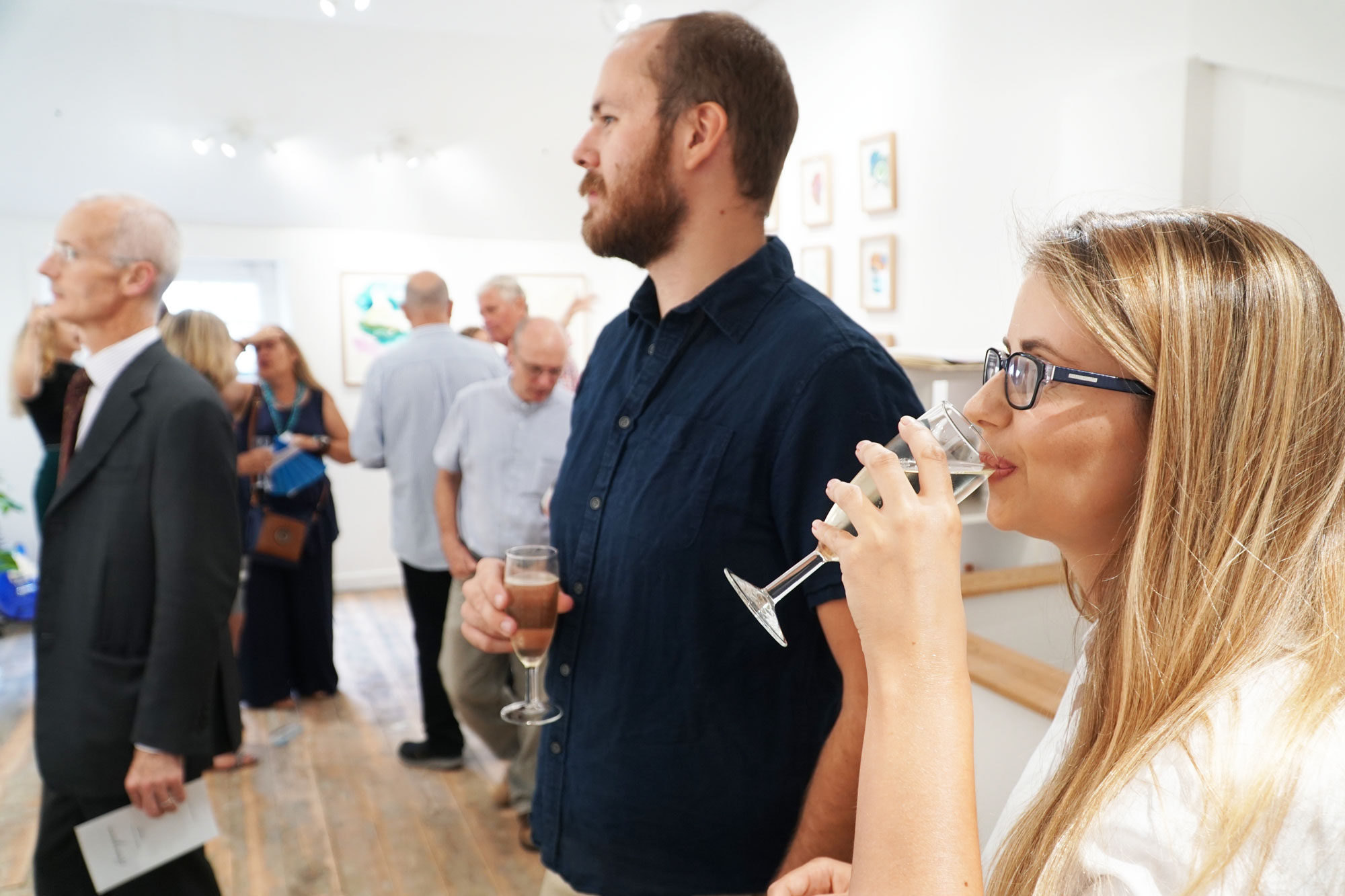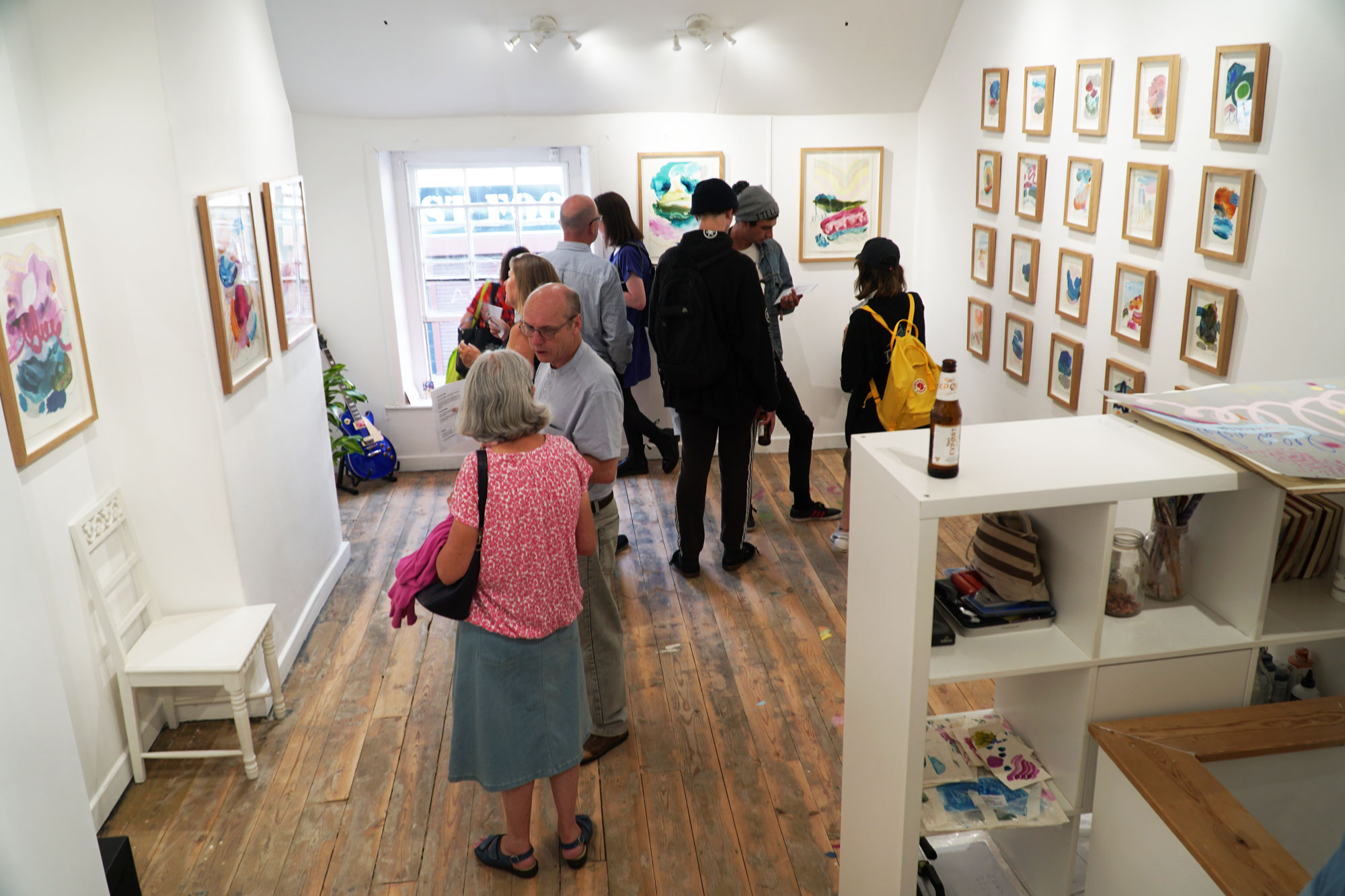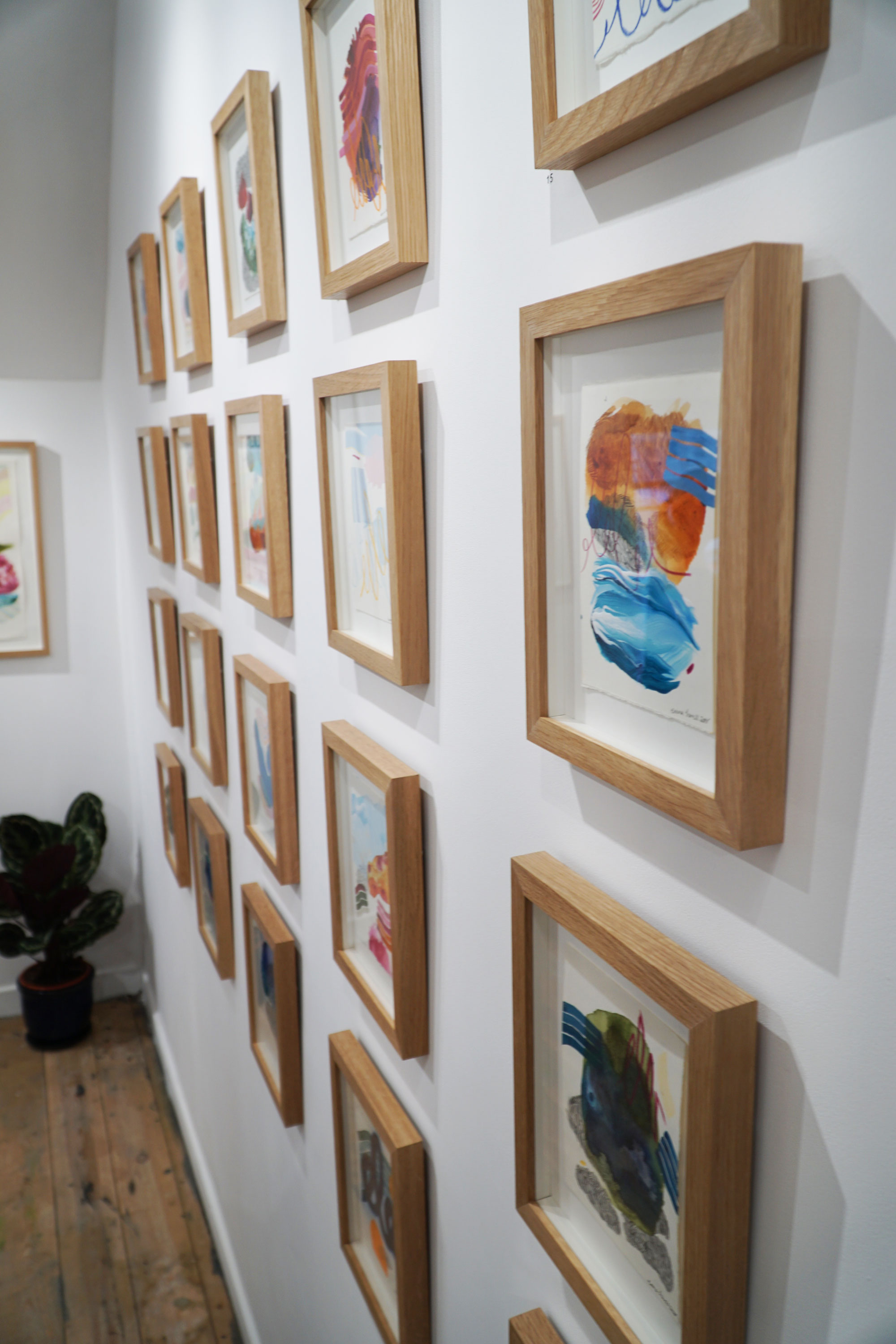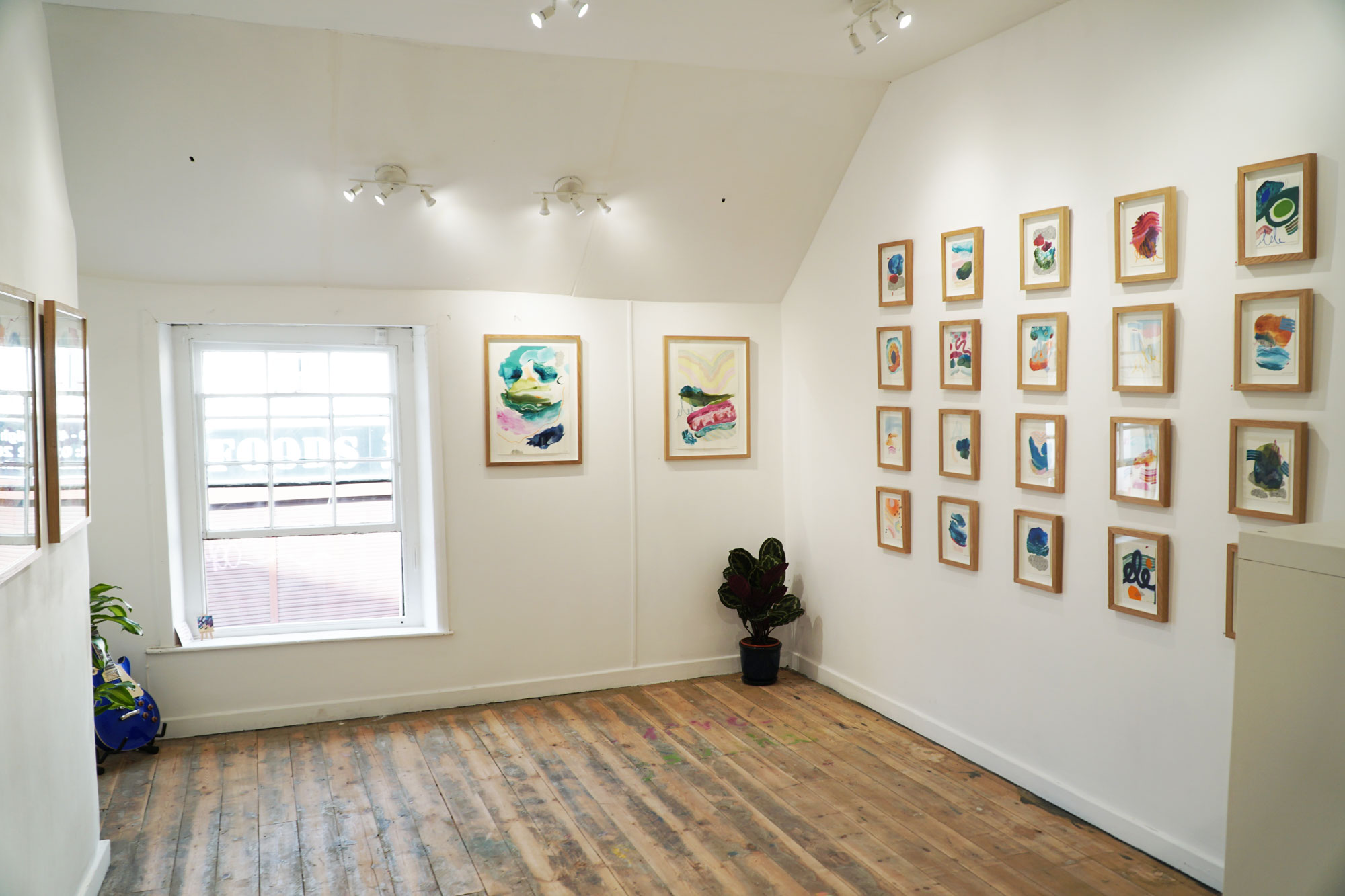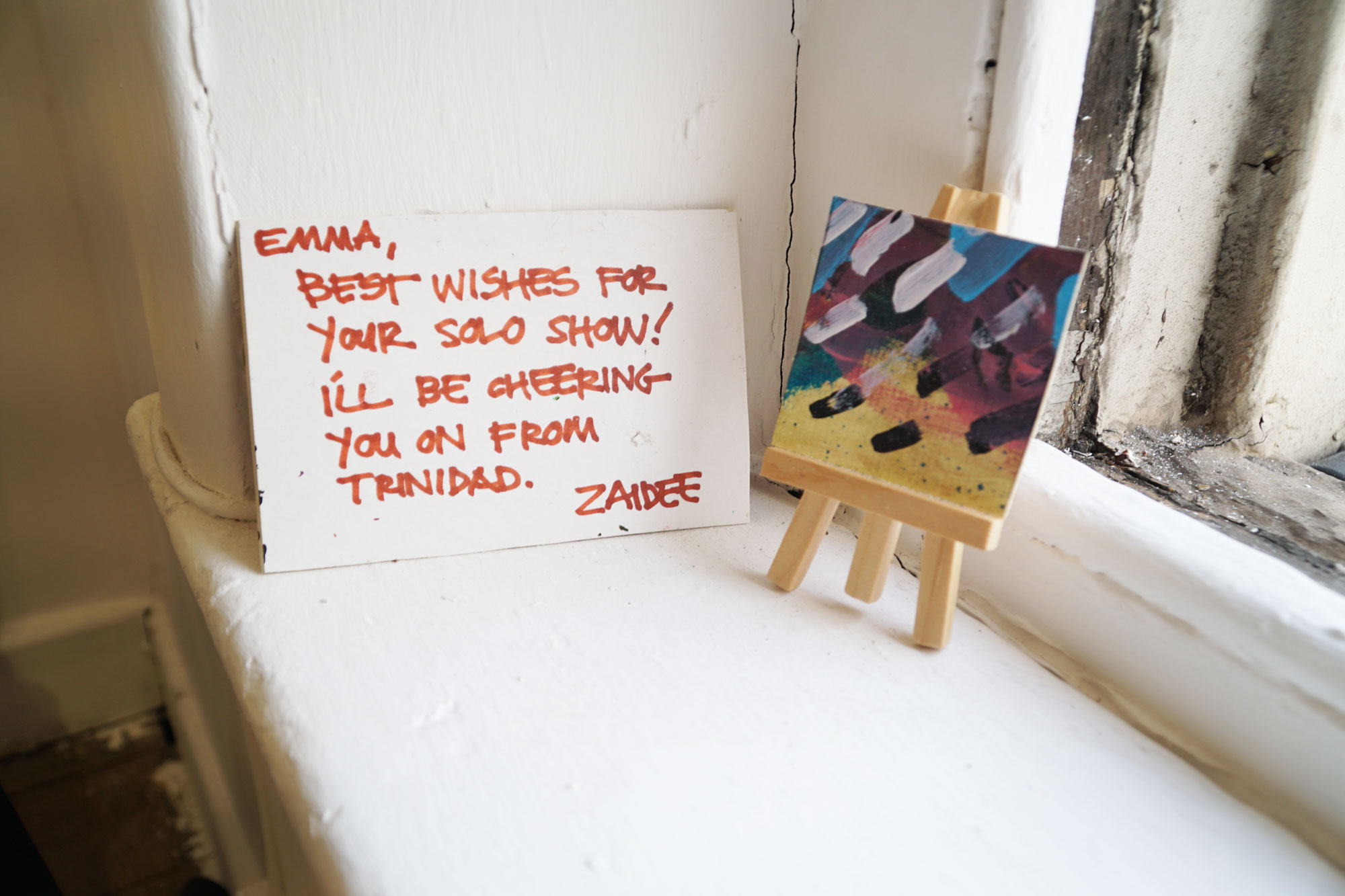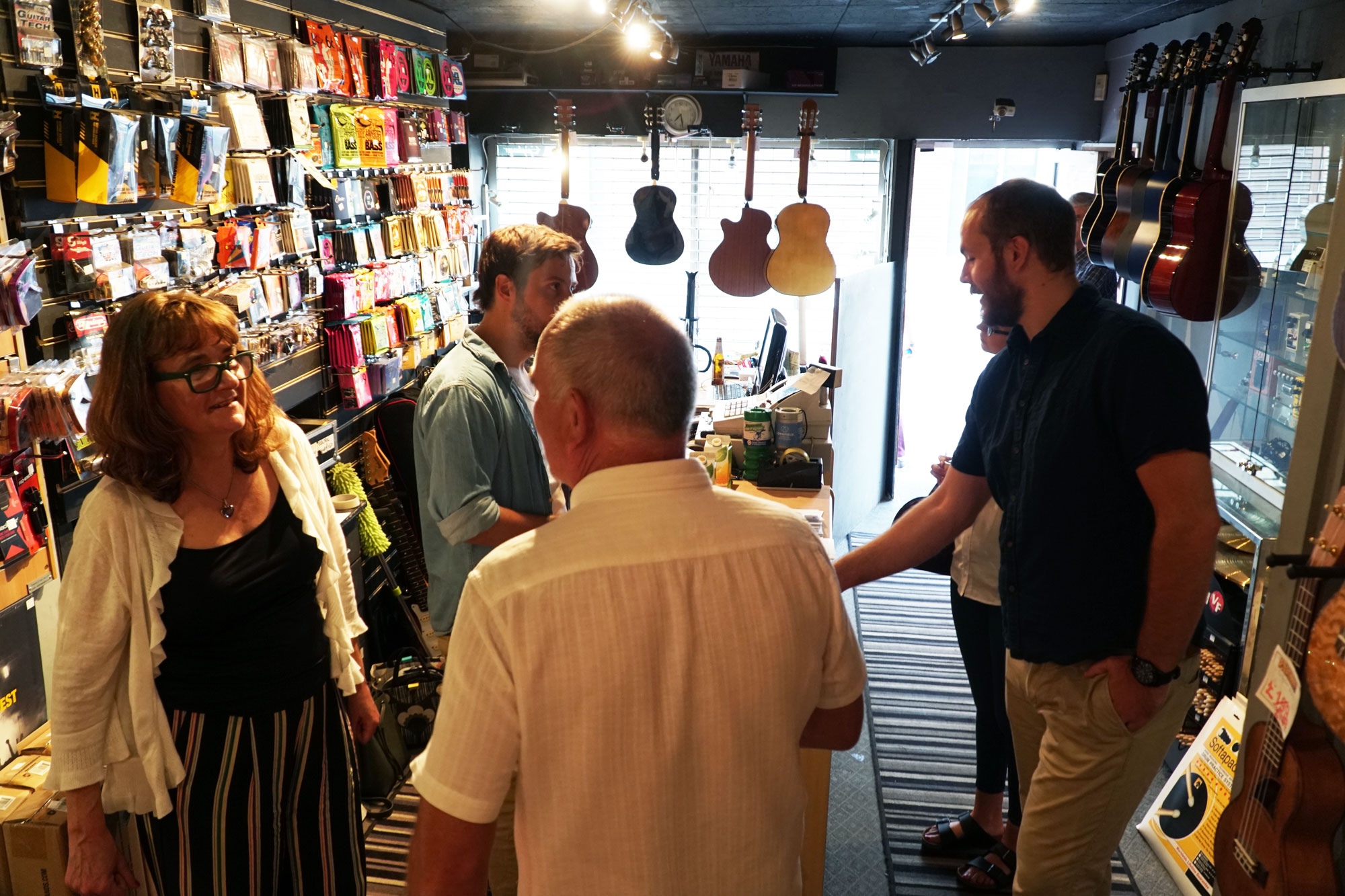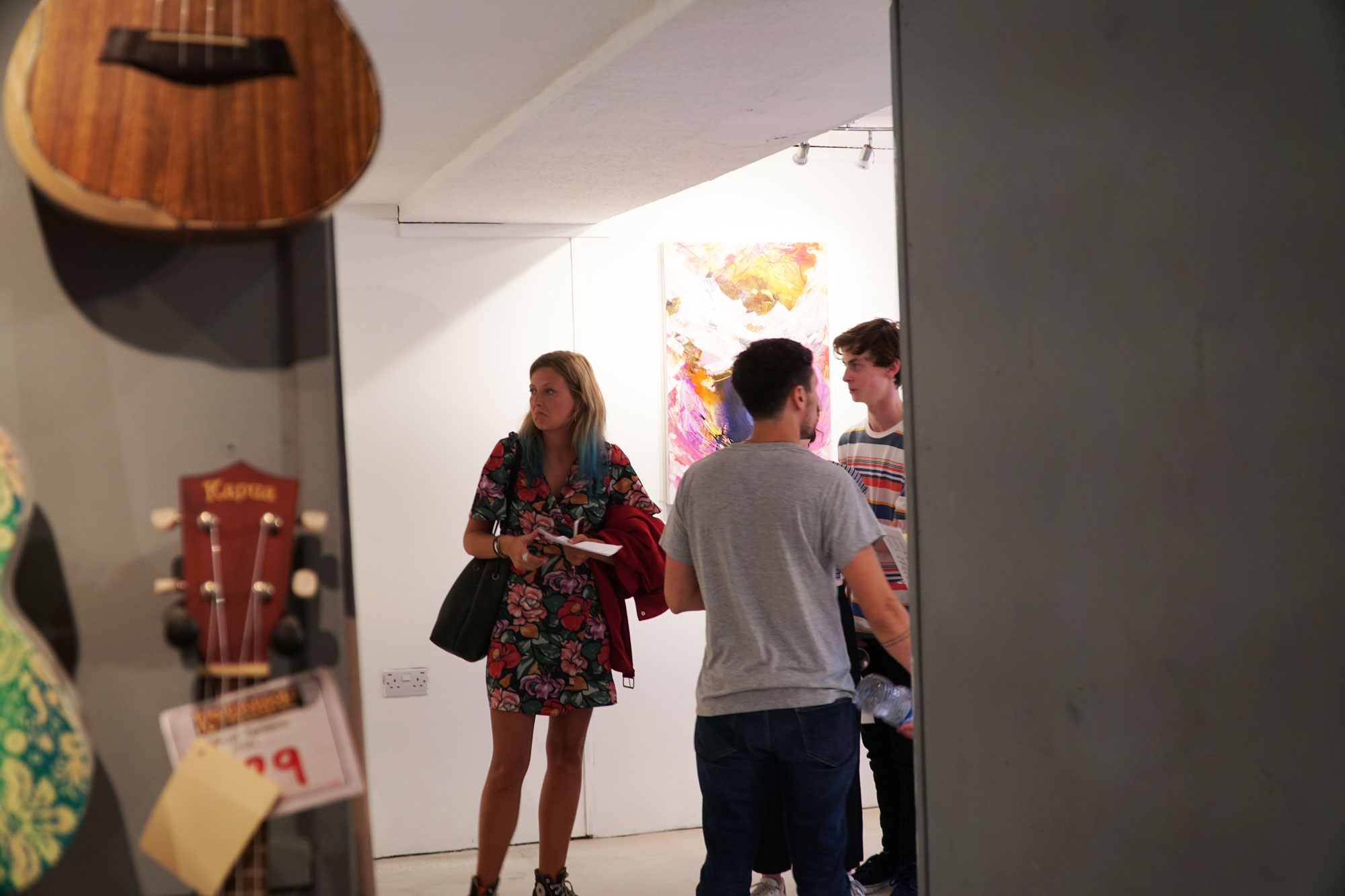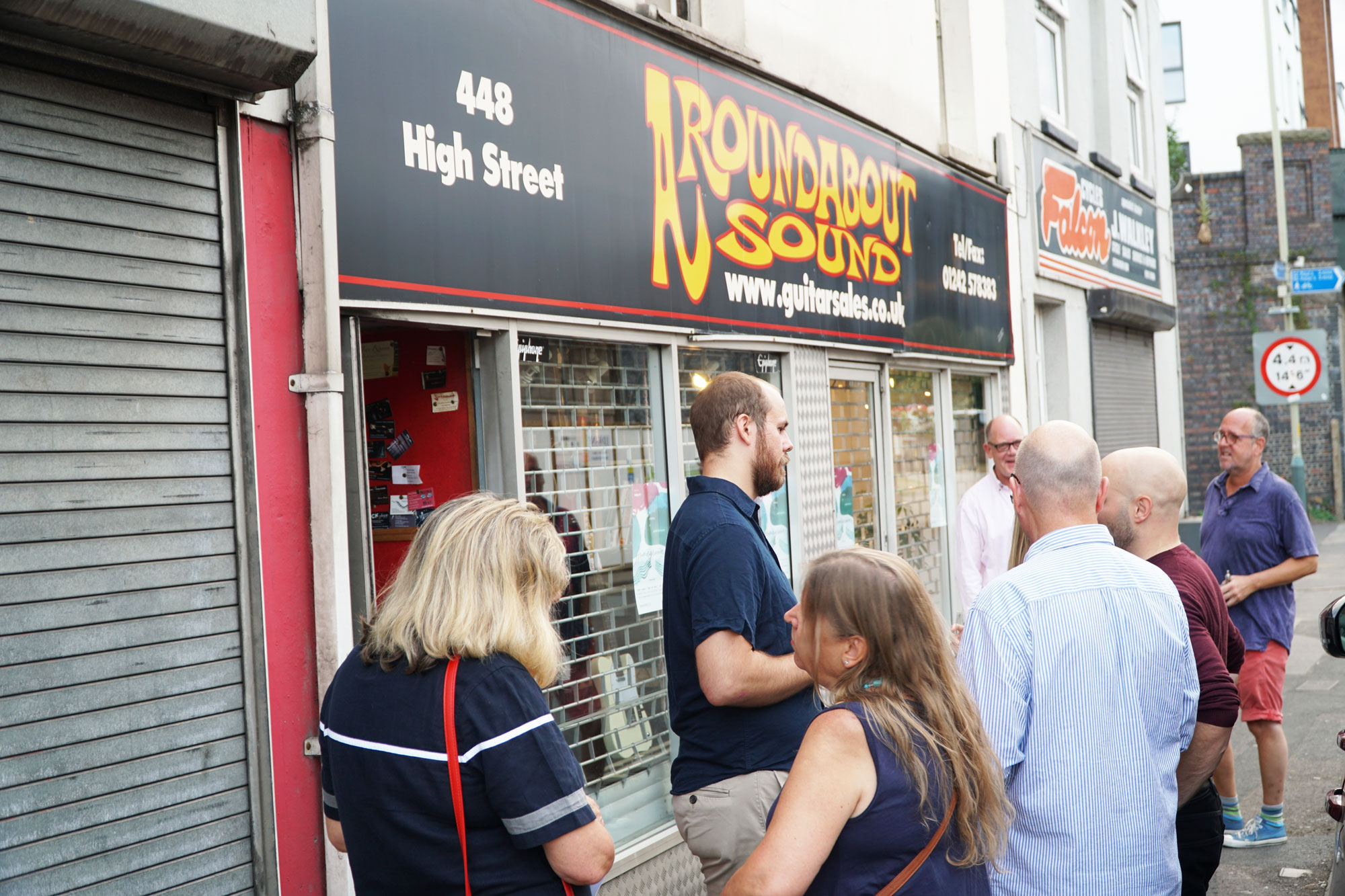 You can browse the remaining paintings that are left on my art page.
Photography by Matt Beard.