Emma Howell
19 October, 2022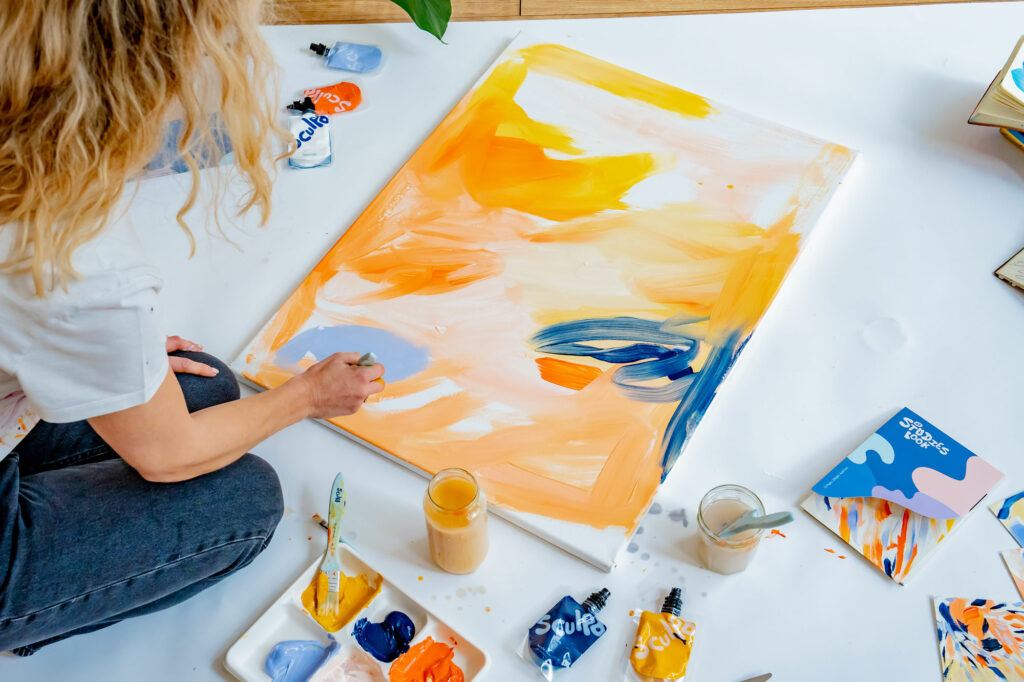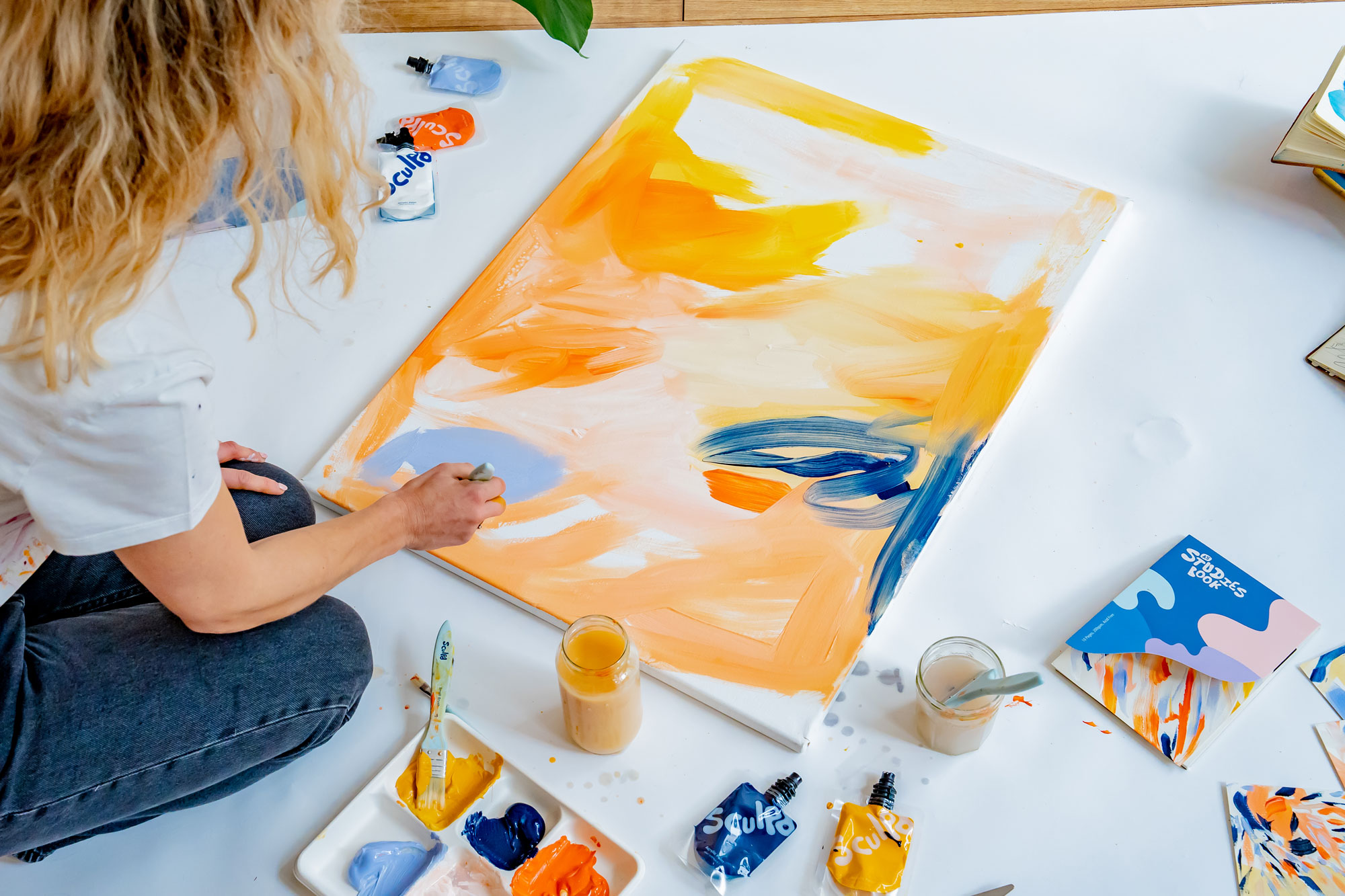 Earlier this year, U.K. pottery aficionados, Sculpd, approached me to try out their up and coming Abstract Canvas Painting Kit. Of course, I said yes. As someone who truly believes that we should all dip our toes in the water of our own individual creativity, I loved the idea of a 'novice' or someone who claims they 'can't paint' having a go at building their own masterpiece from scratch, at home.
The team came to visit me at my last exhibition at Sixteen Gallery, where I was filmed putting their kit to the test – building the canvas frame, stretching the fabric and then slathering the soft acrylic paint across the blank surface. But first of all, I experienced the unboxing of the kit, just as a new customer would – and I've got to tell you, it's pretty epic.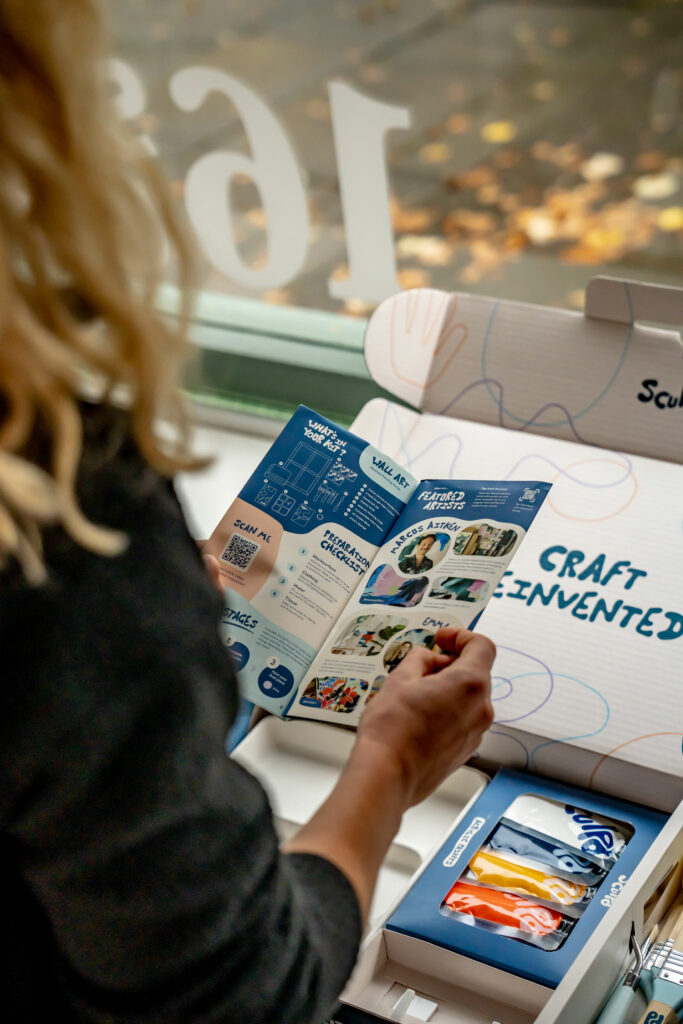 You'll find a thorough but simple step-by-step guide on how to create your own abstract painting, with tips on composition, mark-making and knowing when your masterpiece is finished. In addition, you get a perfect range of painting tools (brushes, sponge and palette knife), a sturdy palette with compartments, five shades of silky soft acrylic paint (in a bold, neutral or pastel colour scheme), a study book to practice your colour mixing and mark-making, all parts to actually build the canvas and hooks to hang it once complete. Honestly, they've smashed it.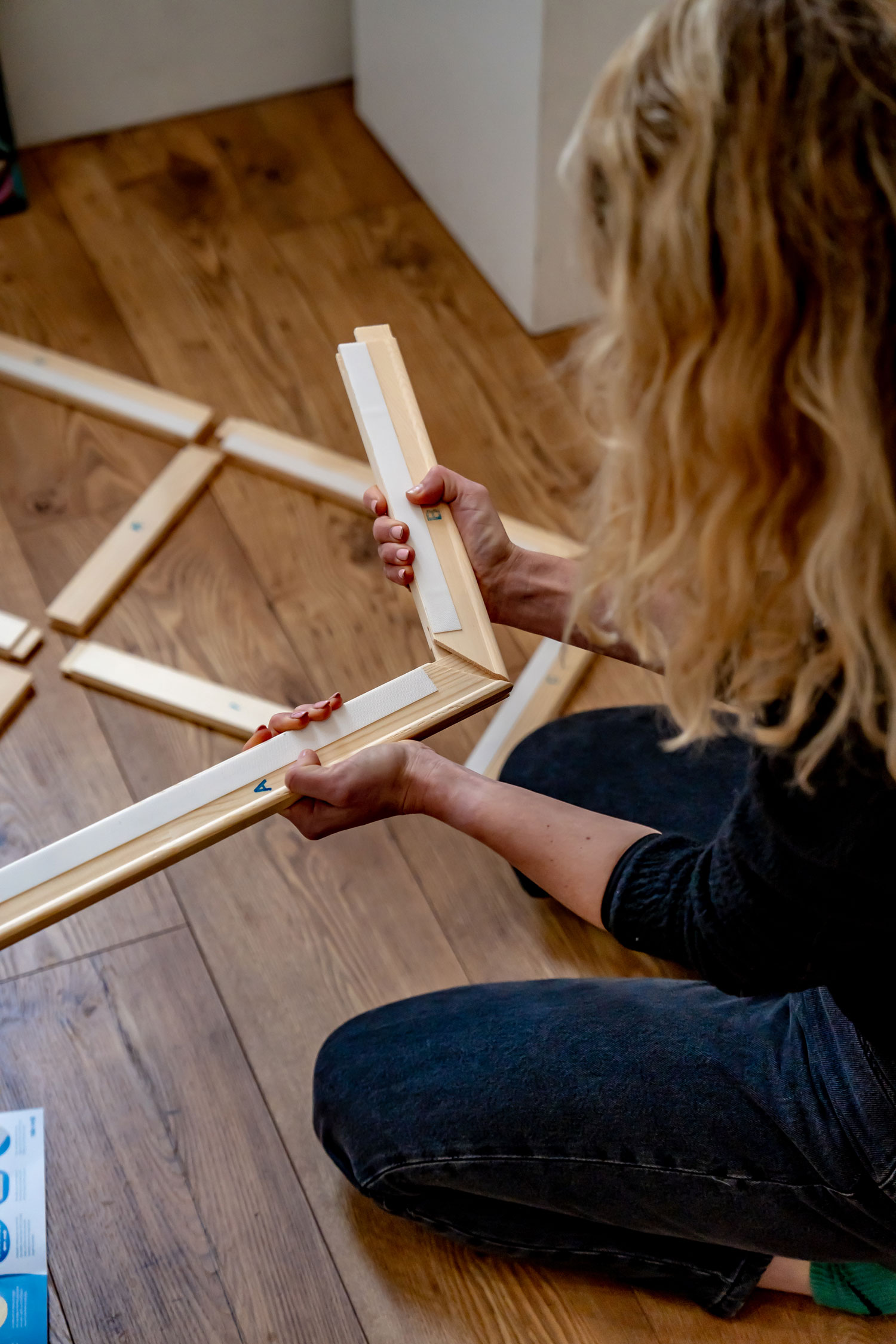 Once you've unboxed the kit and got to know your bearings, the canvas is super simple to stretch yourself – the wood slots together perfectly and the fabric is easy to stretch and manipulate. It's extremely evident that the Sculpd product team have paid extra attention to the quality of this product. You'll be seriously impressed with yourself (and Sculpd) by the end of it.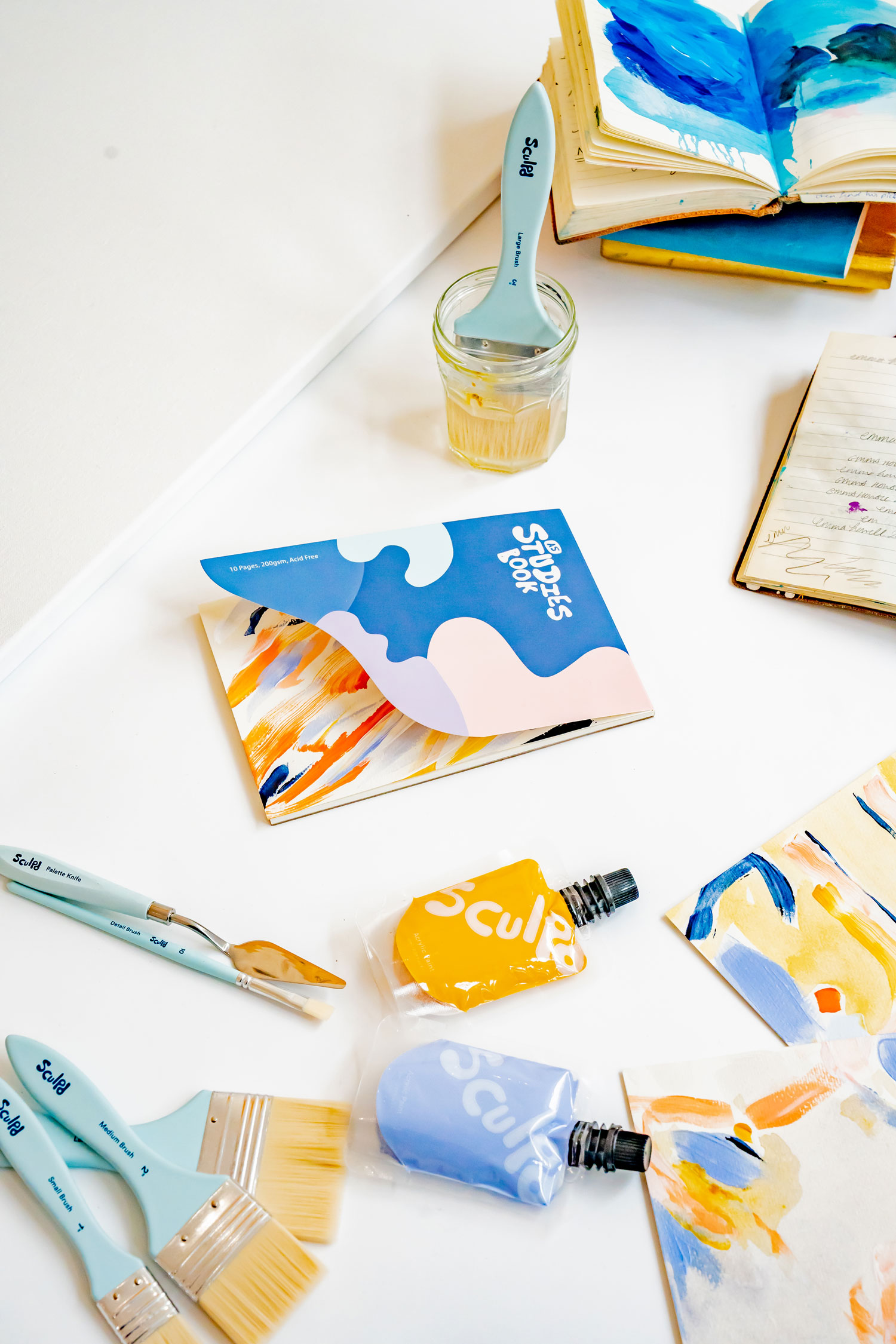 Time for painting – so, before I tackled the large canvas (60x80cm), I made sure to utilise the blank study book included in the kit. With this, it's a good idea to get the hang of the paint (the colours, how it flows etc), let your hand feel the different tools, practice some mark-making and figure out what kind of composition you want to aim for. The guide included will also help with this – Sculpd developed it with a handful of abstract artists around the world, so we've all shared some top notch hints with you here!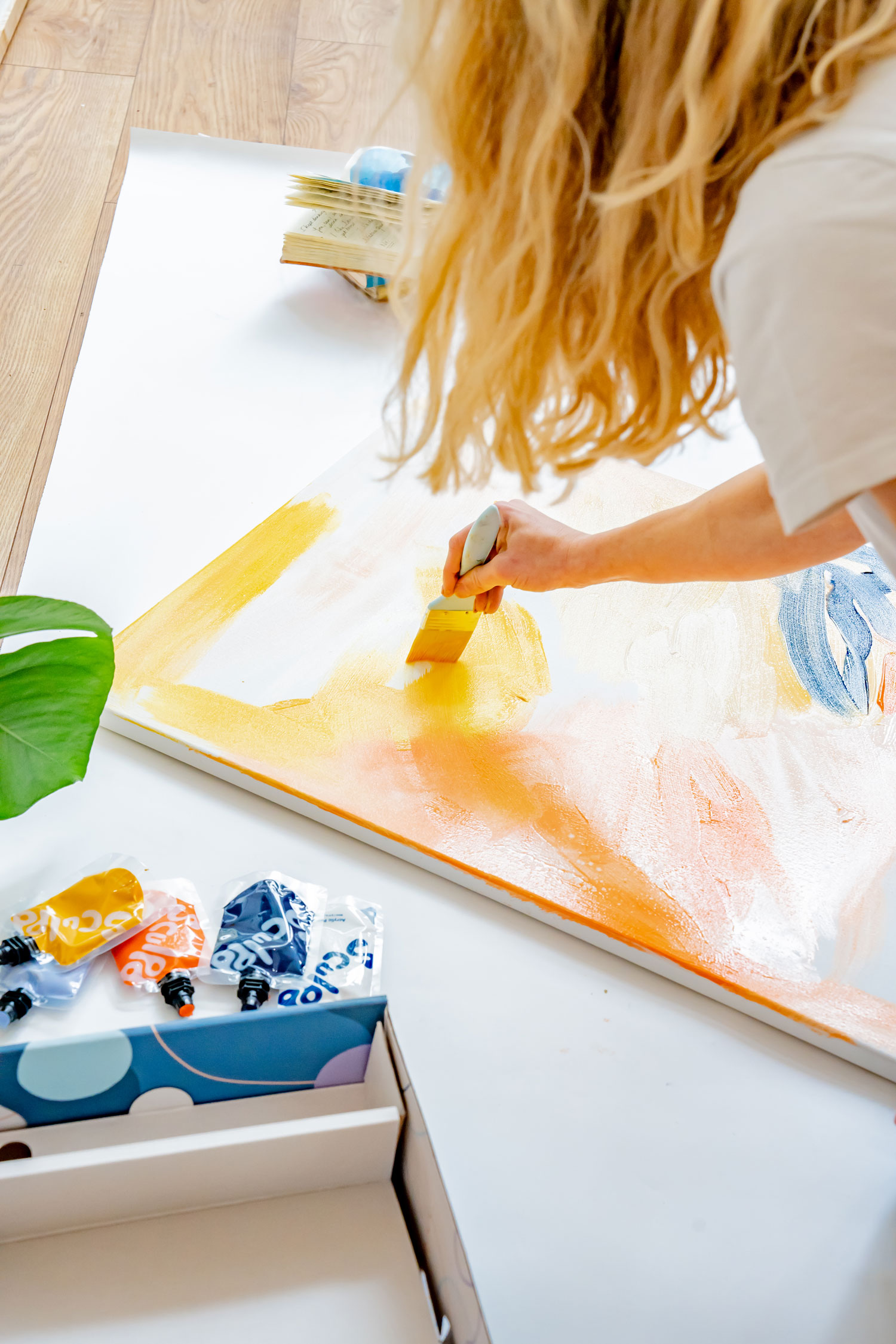 When you get to the final piece, remember you're doing this for fun. Experiment, flip the orientation, throw paint around, step away from it for an hour, head over to Instagram for some inspiration, work from your studies.. There's absolutely no pressure and zero rules here – do whatever feels right and trust your gut. You can paint.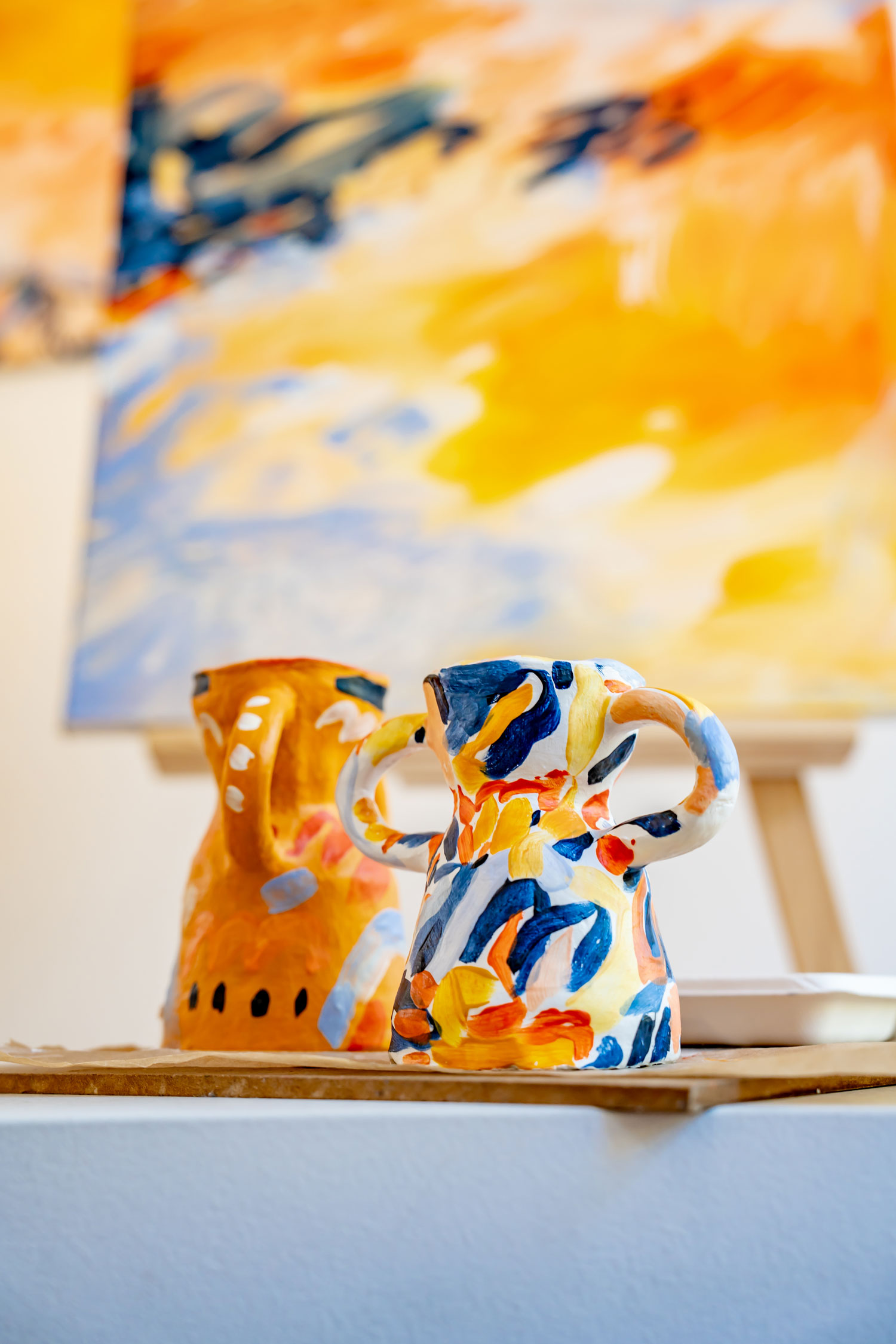 The three canvas pieces you see above were all made with the materials supplied by Sculpd, and you can totally do the same. It's a great activity – mentally and physically. If you're not quite brave enough yet, perhaps get a friend or family member to try it first for their Christmas present. 😉
FYI, the colour scheme I used was titled 'bold', but you have two others to choose from.
Oh, and obviously, Gibson met the team. He did his usual 'crunch face' at the crew (a.k.a showing them his teefs), but it's just a hello and he (luckily for me) behaved himself. He even worked his way into some shots. Typical retriever: absolutely hogging the attention (that's fine with me).
All images supplied by Sculpd (2022). This was a paid partnership. Huge thank you to the team for this incredible opportunity. Can't wait for the world to start painting.