Emma Howell
23 August, 2017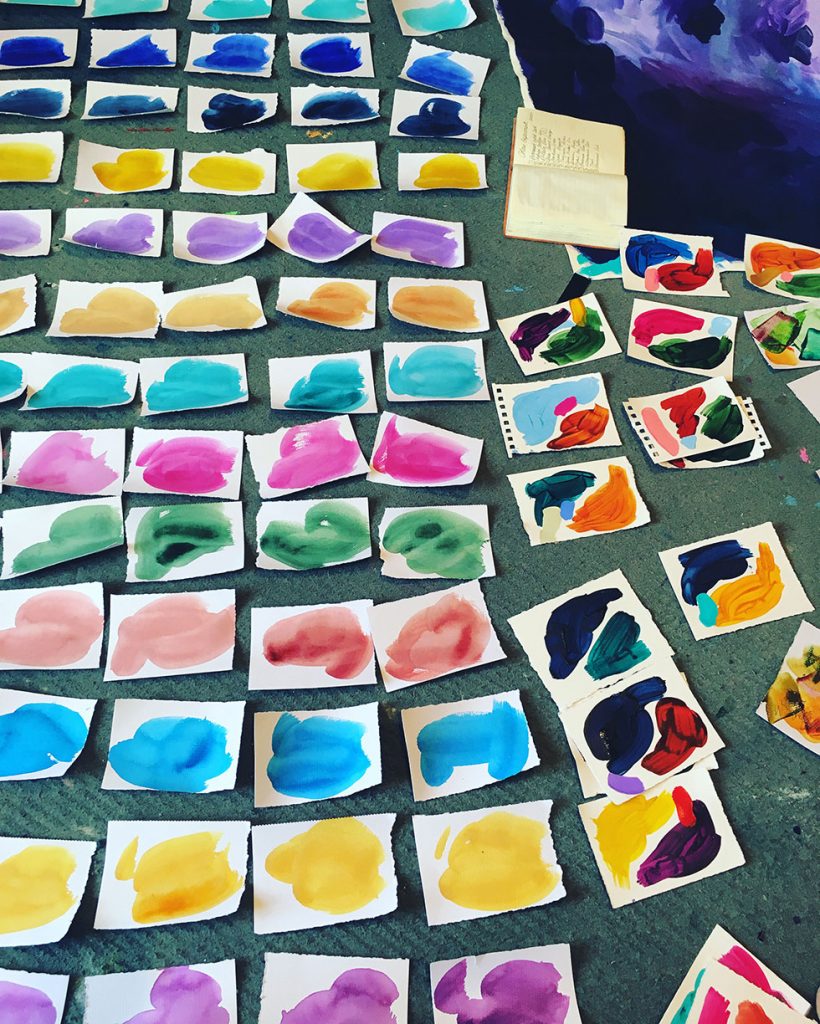 If you've ever seen my posts and stories on Instagram, you'll know that my approach to making art is perhaps a little unconventional. Well- us artists all have our own weird ways of expressing ourselves, don't we?
I don't think it's an issue if people find my practice weird or difficult to understand- I see this as a benefit. Do you need to understand? Do you want to understand? Or do you just like seeing the colours, the textures and the end result? On the contrary, do you want to understand? It's an interesting notion.
For quite a while, I felt uneasy and self conscious about putting my artwork and studio practice 'out there' for all the world to see. For as long as I can remember, I've interpreted the world and documented experiences through scribbling, doodling and writing. There are many pages of my notebooks that may seem very illegible, messy and farfetched to some. Perhaps you'd assume that they were markings from a small child. Nope- all me.
In one of my earlier blog posts, I talked about how we all see the world differently, and in another post about how we should be taking advantage out of our environment (the colours, the sounds, the textures etc.) and how we shouldn't see things as boing. Well, this is essentially why I fill notebooks- to document, to remember, to use in my studio practice, to laugh at, to work on top of later..and the rest. If you were to look through these notes and scribbles, it would be a similar experience to trying to read a language you don't know.
I'm doing this documentation a lot at the moment. I spent the first half of the year solidly making artwork for therapy. I had so many ideas for collections and I wanted to make them all at once (Vibes, Happy Santorini, Aloha Māla). The feeling of mixing colours and slopping them onto a surface was so invigorating- it was meditative, emotive and I felt like a person again (read my story here for context). So, now that these precious collections of mine have now been released for purchase, I'm now at a point where I've gone back to the drawing board.
Over the last few weeks, I have made an effort to really get in tune with who I am as an artist- asking myself why I do the things I do, what I want to show, where I want to go (in terms of my career) and by when?
It's so important to ask yourself questions like this- especially if you're one who suffers from depression or is stuck in a job you absolutely hate. My boyfriend always tells me that before I do anything, I should ask myself why. Ok- I have to admit, it really irritates me when he tells me to do this, but it does make sense. If you consistently question yourself, your goals will start to feel more within your reach. It may take a little longer than planned because you're working it all out- but in the long run, asking questions like why, what and when, helps you get to know yourself and discover what you really want. You can take a leap of faith and dive in at the deep end if you want, but will this translate into reaching a goal? Not always- maybe if you're lucky.
I can't tell you how many times I resisted clearing out the dump that is now my studio because I didn't have faith in myself. I never questioned- I just said to myself 'there's no point' or 'it will take way too long to set up' or 'being an artist isn't a realistic career'. As soon as I sat down and made the effort to write down the whys, the hows, the whats etc. things started to happen.
---
So, what am I doing? I'm being an artist, creating honest artwork. And why? Because I finally feel comfortable in my own skin and I want this to be a forever kind of feeling.
In my studio at the moment there are many seeds being planted that will surface hopefully at the end of the year- maybe early 2018.
Have a think about what your goals are, and however much of a pain it may be- ask yourself all those questions.
All my arty love.
If you don't already, follow along with my journey as an artist on Instagram. I will be documenting a mini project in Crete at the end of September- don't miss it!